Skincare Brand to Know: Essence of Humanity
A new skincare venture by Essence of Humanity is built around the idea of giving back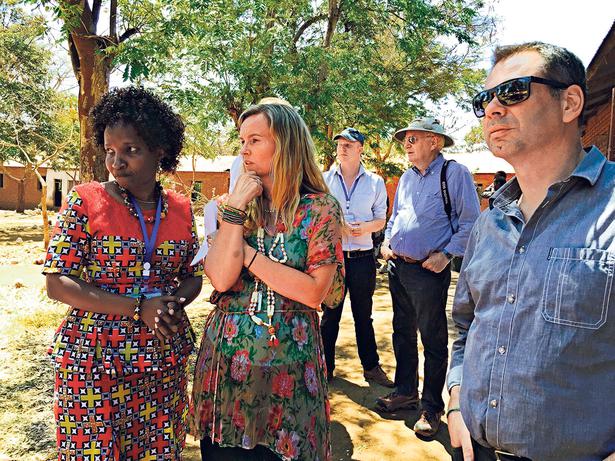 Friday March 31, 2017
Two New Zealand women determined to make a difference have teamed up to take conscious consumerism to a new level. Their social business, Essence of Humanity, is launching a natural skincare range, from which all profits will be invested back in the fight against child poverty.
Cassandra Treadwell and Stacey Fraser each have the individual track record to lend credibility to their ambitions. They hope that other women, who while they may not necessarily be able to afford to donate to charities regularly, will be drawn to buy their range as a win-win way of helping out.
"If I can purchase products from which I know the money goes back to the people who need it, I would love to do that, and I hope others do too," is how Cass explains it. "It's mainstream skincare, but it's with a conscience."
The Wanaka-based mother of four has been the driving force of the So They Can charity for nearly 10 years. This has raised millions to help women in Africa into micro-businesses and to fund schools, clinics and further education.
Stacey was a formulator at Trilogy Natural Products and now works as an independent consultant. She lives on the Kapiti Coast and has spent time in Africa with Cass. The women first met about four years ago, when Cass lobbied Trilogy to buy Tanzanian sunflower oil grown by a women's co-operative she was working with through So They Can.
Her idea had been that the oil might be used in its plant-based skincare. Instead it became the carrier base for two successful limited edition roll-on fragrances, from which Trilogy donated a portion of profits to the charity.
READ: Maia Cotton's Beauty Routine
The idea of making skincare stuck with Cass, however, because she believed it could provide ongoing markets for African ingredients and a funding stream to aid those in vulnerable communities build better lives. Rather than a collaboration, she decided to develop her own "100 per cent" social enterprise, set up as a registered charitable trust with a mandate to fight child poverty.
Thanks to the backing of two philanthropists, one Canadian, one local, Essence of Humanity was born. "They love the concept of the sustainability of a social business," says Cass.
In Stacey, Cass found a receptive partner with the practical skills to research and develop her skincare concept. Stacey was excited to blend nutrient-rich ingredients from Africa with the likes of kiwifruit and flax seed oil from New Zealand.
The benefits of baobab and antioxidant rich rooibus are known already, but other extracts, such as mongongo nuts and Kalahari melon seeds have less of a profile outside their home continent. Yet, often these oils have been used medicinally and cosmetically for centuries.
A buttery cleanser, moisturising cream, face oil and balm make up the range, which has been designed to nourish all ages and skin types.
The products have an uplifting light natural fragrance described as "New Zealand fresh meets African happy". The packaging also reflects a fusion of cultures.
African attitudes of ubuntu or human kindness, have much to teach the fenced-off materialistic west, says Cass. Giving helps not just those who receive, but also rewards those who give, contributing to overall well-being, she maintains.
Several years ago she gave a TED talk about charity funding and why new approaches were needed.
She says what convinced her a social enterprise was the way forward was its ability to blend business and philanthropy.
The term "social business" was popularised by Nobel prize-winning Professor Muhummad Yunus to describe a cause-driven business set up to address a social problem, in which those behind it can recoup only what is invested, but no dividends beyond that.
Communicating this difference from the many businesses that now promote their use of fair trade ingredients and contributions to various causes, is a challenge Essence of Humanity faces.
GALLERY Vivienne Westwood's Sweatshop-free Stitches
The women say they are up for that challenge, and are passionate about juggling the start-up with their other roles.
• Essence of Humanity products are priced from $30 and are available at theessenceofhumanity.com
Share this:
More Beauty & Wellbeing / The Latest