Estee Lalonde on Makeup, Feminism and Vlogging
As she launches her book Bloom, we talk to vlogger Estee Lalonde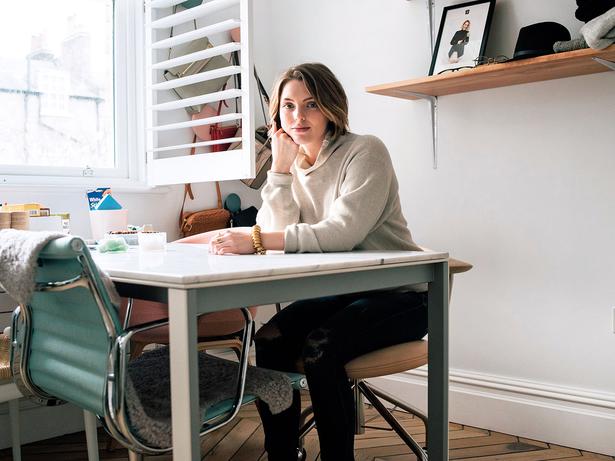 Wednesday Oct. 26, 2016
For those seeking beauty advice, the makeup counter is no longer the only port of call — largely thanks to the rise of vloggers (aka video bloggers) who frequent YouTube. Sharing advice and 'how to' videos on everything from perfecting a 'no makeup' makeup look, to staying positive during hard times.
With more than a million subscribers, London-based beauty and lifestyle vlogger Estee Lalonde has captured an audience that just keeps coming back for more. It's through her new book Bloom that the 26-year-old wants to encourage her followers to find confidence and a path that is right for them.
Tell us a bit about your upbringing, and how you came to live in London?
I had such a wonderful upbringing in Ontario, Canada. I'm so close to my family, which made it extra hard for me to give it all up and move to London to be with my (then long-distance) boyfriend. I moved to England when I was just 19 and luckily everything worked out for the best!
How did you get started in terms of your blog? When did you start getting traction?
I started blogging about three months after I moved to the UK. I didn't have any friends and besides my boyfriend Aslan, I didn't know a single person in England. I discovered the online world of blogging and decided to get involved since I had lots of free time. I thought it would be a good way to meet new people and, in fact, my first friends were bloggers (and we're still friends today). I wouldn't say I started getting traction for a good couple of years, which goes to show that I really enjoyed it as a hobby.
How did it turn into what it is now?
I'd say once I got around 500,000 subscribers on YouTube I started taking it more seriously as a potential career option. I quit my part-time jobs and dedicated myself to making content every single day.
Why did you decide to make vlogs?
Vlogging is so fun because it gives people a real glimpse into your world. I was someone who loved watching vlogs that I thought it was about time I started contributing to the community and making my own.
Tell us a bit about your experiences with social anxiety and depression. Why is it important to talk about them?
Anxiety and depression are two things I've dealt with from quite a young age. I decided to talk about my struggles in my book Bloom because I think it's important for others to realise that they're not alone if they're going through something similar. I also wanted to talk about it because I want to show the world these things don't have to stop you from accomplishing your dreams.
What is it about makeup that you find so compelling?
I first started to get into makeup because it was a distraction from my homesickness and anxiety. Makeup is fun, plain and simple. I love that taking a few minutes in the morning to apply a few of my favourite products can be the difference between a good day and a great day.
At one point in your book you mention you had a rebellion of sorts against makeup - why did you get to that point? And how did you overcome it?
I think I had a rebellion against makeup because I didn't have any sort of work/life balance. Makeup stopped feeling fun for me and started becoming a responsibility, which made me so upset because I had once loved it so much. After having this rebellion for quite some time I realised I wasn't mad at the makeup, I was mad at myself for not setting up boundaries. I love beauty and makeup, but I also have a lot of other interests I wanted to explore on my YouTube channel.
What would you say to someone who was critical of makeup from a feminist point of view?
I consider myself a feminist and my stance has always been to do what makes you happy. If you're a person who doesn't want to wear makeup then don't.
As someone who does have a big following, do you feel you have a responsibility as a role model?
I do feel like I have a responsibility in a sense, because I have a platform that can be used to do great things. I hope that through the things I talk about on my channel, I can have a positive impact in this world.
How do you balance the commercial side of beauty vlogging with being honest with your subscribers?
For me the two go hand in hand. If I didn't have viewers who believed in me, I would be nothing. I have always been honest and upfront with my viewers and I've been building trust within my community since the very beginning. They are awesome!
How do you approach the side of the beauty industry that exploits people's insecurities?
I think that side of the beauty industry is very unfortunate. I try to create a space on the internet where everyone feels free to be themselves. I'm trying to help them feel better about themselves through personal growth as well as the odd lipstick here and there.

• Bloom by Estée Lalonde. $45, published by Ebury Press.
Share this:
More Beauty & Wellbeing / Wellbeing