The Test Drive: Estee Lauder Perfectionist Pro Rapid Brightening Treatment Ferment 3 + Vitamin C
Viva beauty editor Ashleigh Cometti aims to battle the blotches with Estee Lauder's newest line of brightening solutions
SPONSORED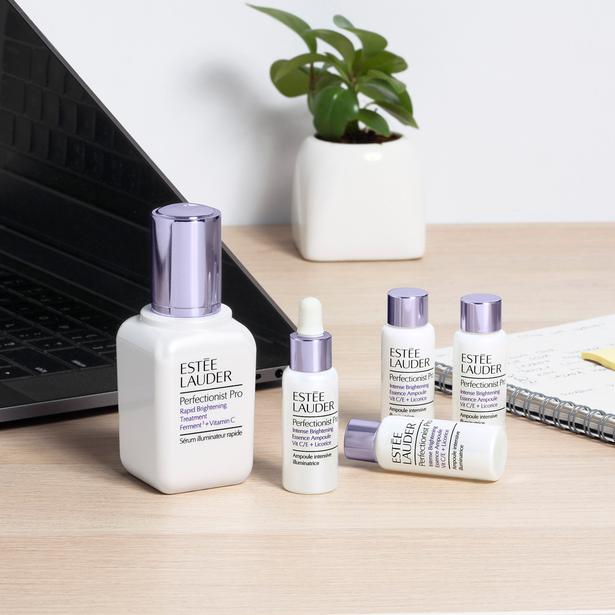 Thursday March 11, 2021
Hyperpigmentation is the beauty buzz word on everybody's lips — with our pursuit of a brighter, more even-toned complexion pushing us to great lengths to pip pigmentation at the post. And as the final days of summer merge into autumn, there's no better time to take stock of the state of your sun-kissed skin.
Freckles, dark marks and sun spots are just some of the more commonly known signs of hyperpigmentation you'd expect to see after months lazing about by the beach or pool, but the term also describes acne scarring, skin discolouration from skin conditions like eczema, hormone-induced melasma and age spots.
Blotches causing you bother? You've got melanocytes to thank for that. Sunlight, skin rashes, hormonal imbalances and acne and the like have the ability to stimulate these pigment-making cells to go into overdrive, depositing their excess pigment (melanin) into the skin's epidermal layers.
While its myriad root causes vary greatly — there's no denying that the overproduction of melanin in the skin is a common skin concern.
In response, a slew of products has landed on our desks promising to lighten, brighten and restore skin's appearance, not least the new Estée Lauder Perfectionist Pro Rapid Brightening range.
Read on to discover how Viva beauty editor Ashleigh Cometti incorporated Perfectionist Pro Rapid Brightening Treatment Ferment 3 + Vitamin C into her post-summer skincare regimen, and how her results stacked up after four weeks of consistent use.
The promise
The newest serum to join Estée Lauder's range of efficacious skincare is said to deliver rapid results for women of all ages and stages, largely thanks to its combination of potent ingredients and breakthrough science.
Tough on dark spots but gentle enough for daily use, this brightening and spot-correcting serum helps improve sallowness, texture and skin tone, restoring radiance where it's needed most.
Its breakthrough formula harnesses the brand's patented brightening complex, which takes a two-pronged approach to address hyperpigmentation. Three potent ferments combine with vitamin C to halt the overproduction of melanin in its tracks, while reducing the appearance of existing dark spots.
Ferment 3 is the amalgamation of 30 years of Estée Lauder research in industry-leading fermentation processes, and sees yeast ferment, molasses ferment and algae ferment combine in a proprietary complex that works to soothe irritation and combat redness, and boosts the skin's own renewal processes while targeting discolouration at a cellular level.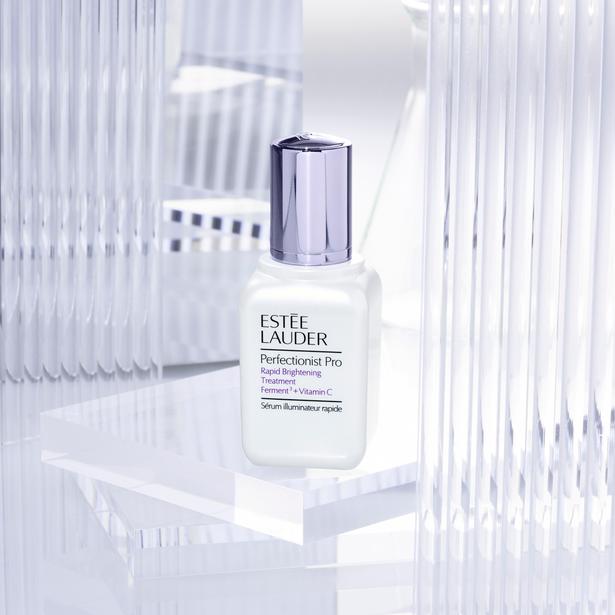 Vitamin C is known for its antioxidant-rich properties, meaning its particularly good at defending against environmental damage and preventing future post-inflammatory hyperpigmentation from developing.
Plus, it's suitable for all skin types (including acne-prone skin) and is free from parabens, phthalates, sulphates, sulphites, drying alcohols and mineral oils.
The practice
When I was five, I returned home from school one day with a sprinkle of freckles dotted over my nose and checks. No one was more surprised than my mother, considering it was the middle of winter and she'd practically dipped me in SPF since before I could walk.
Since then, my former sprinkle of freckles has more than multiplied, and with each passing summer I've spotted a new crop of dark marks and sun spots across my cheeks and forehead too.
Pregnancy also didn't help, and I'm now the not-so-proud owner of a smattering of melasma under my eyes.
I'd like to think of my current skincare regime as more of a beauty ritual — a moment of "me" time that bookends my busy day.
I've long been a fan of Estée Lauder Advanced Night Repair (if you know, you know), and found that the Perfectionist Pro Rapid Brightening Treatment was highly complementary in texture to this vital daily step of mine.
READ: Three Women, Three Decades, One Serum For Everyone  
I applied two pumps of Perfectionist Pro Rapid Brightening Treatment Ferment 3 + Vitamin C all over my face and neck twice daily after using Advanced Night Repair but before applying my moisturiser and SPF.
As with any product promising brightening, wearing SPF is a must. If you're making headway in brightening your skin, why undo all your hard work by exposing your skin to more pigment-making sunshine? Consider layering Perfectionist Pro Multi Defense UV Fluid SPF 45 on top, it contains eight antioxidants to protect skin from environmental damage.
The ultra-lightweight texture spreads easily and is absorbed quickly, meaning there's no pilling when applying a creamier moisturiser on top.
Whenever I see the word "ferment" (on the back of a bottle of kombucha, for example), I automatically assume the smell that follows will be one likened to vinegar. But this wasn't the case, instead this serum highlights the same soft scent for which Estée Lauder products are known.
I relished in this sensorial experience by massaging in the serum using a butterfly application technique, following the shape of a 3 over my forehead, cheeks and chin, which left my skin feeling more hydrated and looking plumper.
The price and place
Estée Lauder Perfectionist Pro Rapid Brightening Treatment Ferment 3 + Vitamin C is priced from $158 for 30ml, and Estée Lauder Perfectionist Pro Intense Brightening Essence Ampoule Vitamin C/E + Licorice, $218, is available from Estée Lauder counters nationwide and online from Esteelauder.co.nz.
The verdict
One of my biggest personality flaws is that I'm terribly impatient. So, upon spying the word "rapid" in this newbie's moniker, my interest was immediately piqued.
Upon application, my skin instantly felt more hydrated and softer, and this only continued across my four-week trial of the product.
After the first week, I noticed my skin texture had changed — it had a certain glow about it which I'm chalking up to the boosted hydration levels in my skin. I'm notoriously bad at remembering to drink water, so this after effect was a welcome change for me.
Into the second week, my skin appeared brighter overall, and some of the post-inflammatory hyperpigmentation I had around my cheeks and chin was beginning to lightly fade. I felt more confident with no makeup on, and noticed my skin looked healthier and more radiant.
By the third week, I experienced one of the most unexpected (but appreciated) results of my trial so far. My pores appeared smaller. My skin is notoriously oily, and reducing the size of my pores has been my modus operandi for most of my adult life. Now, my skin texture looks more refined along with being more even and brighter.
Today marks four weeks since I first incorporated Perfectionist Pro Rapid Brightening Treatment into my regime, and I must confess I'm a convert. My hyperpigmentation has considerably lessened, and while I still have a few stubborn spots I'd like to be rid of, I'm certainly heading in the right direction.
Now, my skin appears more even-toned, clear and radiant, and even my very unobservant husband has noticed how revived my skin appears. Beyond brightening, my skin feels healthier, more hydrated and nourished.
I'll continue to use Perfectionist Pro Rapid Brightening Treatment Ferment 3 + Vitamin C as part of my beauty ritual, as with any product long-term maintenance is the goal.
During my skin journey, I was introduced to sister treatment — Perfectionist Pro Rapid Brightening Essence Ampoule, a super-charged serum designed to be used as a rescue moment for skin across 28 days.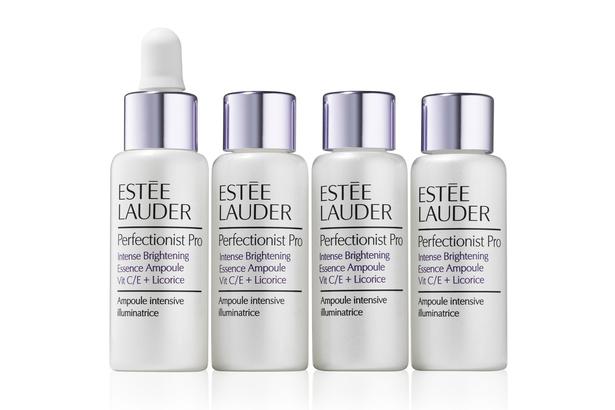 The highly-concentrated treatment comes as a set of four vials, with one vial being used each week until the course is completed. It helps to jump-start the brightening process, improving skin tone and texture, and the appearance of pore size, acne marks and pigmentation.
I'm excited to trial this next, giving my skin a more intensive boost of brightening in the wake of summer.
Are you ready to discover your brightest complexion yet? Visit Esteelauder.co.nz for more information.
Share this: