SPONSORED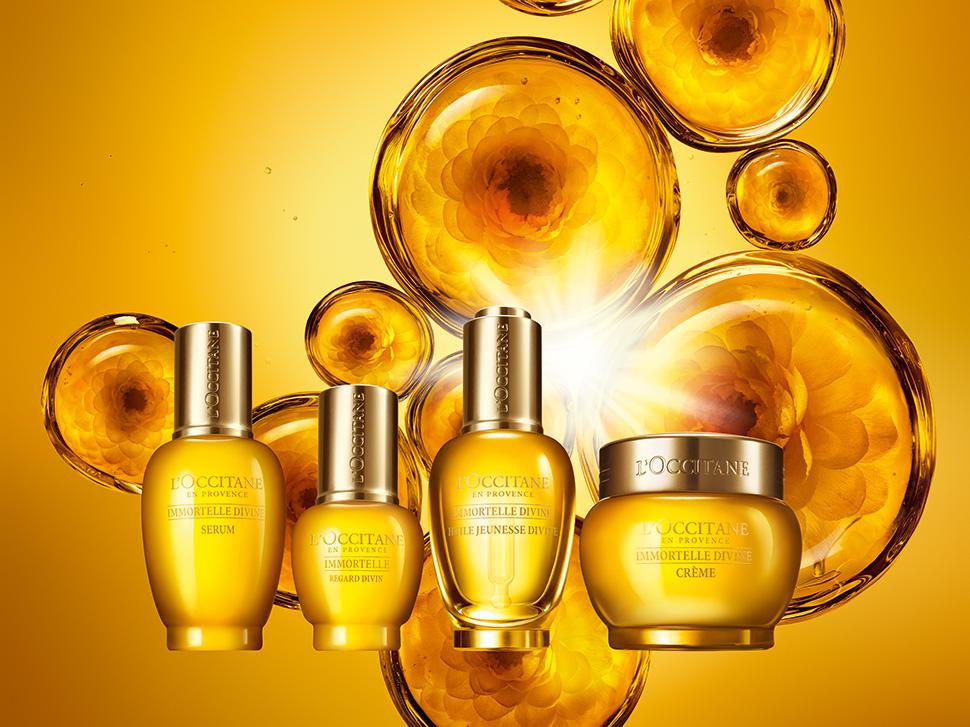 Everlasting beauty thanks to L'Occitane Immortelle Divine
Skin not as luminous as you'd like? Try looking to French skincare brand L'Occitane en Provence for some Divine inspiration.
Wednesday Oct. 4, 2017
With minimalist makeup providing one of summer's biggest beauty trends, having smooth, dewy-looking skin is more important than ever. But, short of praying to the skin gods for heavenly intervention, how do you achieve it?
You start by taking a look at the Immortelle Divine range of luxe natural skincare products developed by L'Occitane en Provence, a French company renowned for not only taking inspiration from the land but for also helping to conserve it.
Imagine a sun-drenched hill in Corsica overlooking an azure Mediterranean. The sun's warmth nourishes a field of pretty yellow flowers; the air is heady with their fragrance. You're in the natural environment of the Immortelle flower, a plant that doesn't wither even after it has been picked.
More than 50 hectares of the Immortelle plant, tended by the company's many Corsican growers, are harvested each year and distilled into an essential oil that's the key ingredient in Immortelle Divine, one of the brand's most popular skincare ranges.
"The innovative Immortelle ingredient found in every Divine product is truly unique and unlike any other anti-ageing ingredient on the natural skincare market," says Amy Yen, the Training Manager of L'Occitane in New Zealand.
 "This highly effective ingredient means 'everlasting'; even when the Immortelle flower is picked, its petals remain a vibrant yellow forever."
 So unique is the ingredient that L'Occitane has achieved a number of skincare patents for its discovery, says Amy.
The Immortelle flower's extraordinary natural anti-inflammatory and antioxidant properties are included in the entire Immortelle Divine range, but its biggest impact is felt in the brand's hero product – Divine Youth Oil, which has been recently relaunched in New Zealand.
With sea buckthorn to moisturise, rose hip oil to boost the skin's protective barrier and borage to revitalise – as well as the all-important Immortelle essence – the new-generation Divine Youth Oil has a silky, fast-absorbing, featherweight texture that leaves the skin glowing.
Packaged in a shapely bottle that makes it look as much like a prestige perfume as luxury skincare, the oil also helps fight all the visible signs of ageing – wrinkles are minimised, smoothness is enhanced and skin tone is evened out.
Some 90 per cent of women who trialled it said their skin felt firmer; 95 per cent said it was more elastic. Up to 85 per cent said their skin looked more radiant; 75 per cent said their pores were tighter and less visible.
"Divine Youth Oil truly is the secret to beautiful skin," says Amy.
"It contains Immortelle oil as well as seven other botanicals to help rejuvenate the skin, protecting it from environmental stress and dryness and also boosting its own natural barrier function."
Results can be seen from the first application. "Your skin looks visibly plumper and more radiant. But the longer-term anti-ageing and repairing benefits are even more noticeable after a few weeks of continued use.
"It is the perfect complement to the existing Divine Immortelle skincare routine."
The Divine Youth Oil is a potent skin-nourisher, helping to enhance the skin's own natural healing and regeneration capabilities. A multi-purpose solution to prematurely ageing skin, it can be used both day and night, but it is particularly effective used before bed in conjunction with night cream.
"If you apply Divine Youth Oil first, it means that all the active ingredients it contains can penetrate deeper into the skin, nourishing and protecting it while you sleep," says Amy.
"Not only will you go to bed with plumper, more even-looking skin but you'll also wake up looking radiant."
With summer on the horizon, now is the perfect time to take stock of your skin and get it looking its best, says Amy. "Because without all those layers of makeup to hide behind, your complexion has to look lovely all on its own.
"Immortelle Divine is the ideal solution."
For more on L'Occitane's Immortelle Divine range, visit our website.
Share this: