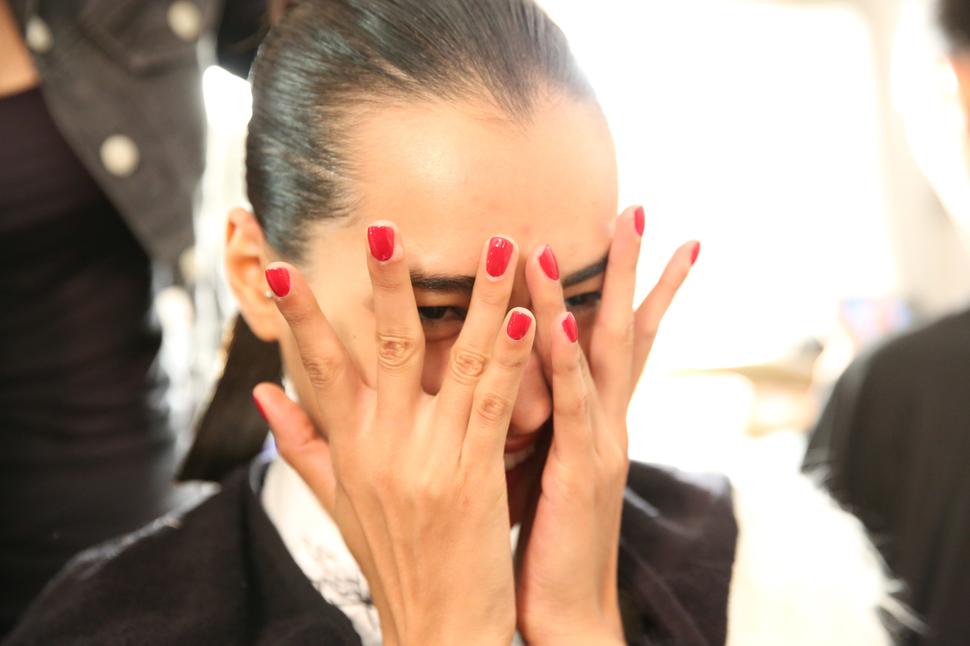 Expert Eye: Tanya Barlow's Nail Advice
Top nail artist and manicurist behind Hello Tanya nails answers your beauty questions
Thursday April 23, 2015
I am terrible at painting my own nails — do you have any tips on getting a perfect polished look at home?
The game changer for me when I started painting my own nails was cleaning up around the cuticle area! Using an old lip or eyeliner brush, dipped in acetone, you can use it to carefully remove pesky polish that may have flooded the cuticle or the sides. Using two or three very thin layers of polish is much better than 1 thick layer of polish. You can also use your pinky to stabilise your hand if you find it difficult to paint your non-dominant hand.
Is it bad to paint your nails all the time?
The main concern most people have with painting their nails all the time would be the staining — this comes from using heavily pigmented nail polish colours. Your best way to avoid this is to use a base coat beforehand. Another thing to keep in mind to maintain nail health is to regularly remove nail polish when it's chipped, gently push cuticles back (please don't cut them!) and nourish with cuticle oil. If you're concerned about chemicals in nail polish, try going for "3 Free" and "5 Free" nail polishes.

My toenails look discoloured, with white patches — is this from wearing polish, and is there anything I can do to fix this other than cover it up?
White patches appearing on nails could be from a number of factors, not necessarily from wearing polish, including nutritional deficiency, fungus infection, toenail injury or improper footwear. Some home remedies for combating white spots include tea tree oil, as well as a 1:1 ratio vinegar soak. Soaking your feet for 30 minutes once daily can help in decreasing a fungal or microbial growth and helps improve skin complexion. It'll also help return the natural shine to the nail!

How do you actually stop biting your nails if the bad tasting polishes don't work?
Nail biting is a difficult one! Especially as it's something you don't notice you're doing until those nails are already being nibbled. One method I've heard of is to "protect" one nail at a time. Be mindful of one particular nail for a few days — try your best to avoid it, and notice how much better that one nail looks compared to the other ones. It'll have grown a little, and you can try picking another nail to "protect" until hopefully you've successfully avoided biting them all. And if you feel the urge to bite, perhaps focus on just one nail to nibble on, and start again!

Best way to encourage growth?
Unfortunately, there really isn't a magic formula that will encourage nails to grow faster, but there is definitely evidence to support that moisturising does help maintain nail length. Our nails are also porous and sensitive to water, so when in contact for too long can become weaker and tear more easily. Try to let them dry fully if submerged for too long, and be sure to keep your cuticles moisturised. You can also try eating more protein, and green leafy vegetables full of B vitamins, or even a biotin supplement.

Are there any natural nail polishes?
There are plenty of nail polish brands that are "3 Free" (formaldehyde, toluene and dibutyl phthalate, DBP), and "5 Free", (the above, as well as formaldehyde resin and camphor). These are ingredients that can raise health concerns if exposed to them for a long period of time. "3 Free" brands include OPI, Essie, Butter London and Nars, and "5 Free" brands include Zoya, SpaRitual, Chanel and Dior.
Share this: