Which Eye Treatment is Right for You?
There are so many eye creams, balms and serums out there — here's a guide to help you choose the best one for you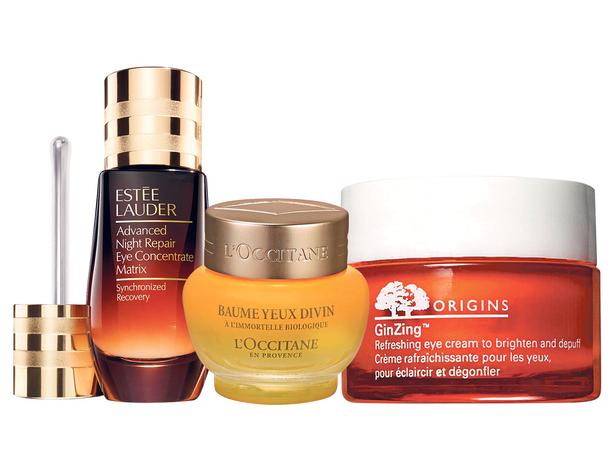 Thursday July 27, 2017
Most of us are forever squinting at screens, feeling tired and tense. No wonder that when we look in the mirror, with eyes made more dry from wind and air-conditioning, we fixate on the faults.
Step back and see your eyes as others do and you'll realise you are magnifying the lines, dark circles and puffiness that, up close, are brought into focus. But who wants these flaws to be visible at all? Hence the many eye creams that compete for our attention.
Choosing the right one is a mission, so it's no surprise many of us figure extending our moisturiser to the eye area will do the job. Up to a point it will, but if you are after a specific effect, then a specialised cream comes into its own.
To identify what may work best for you, focus on your primary concern, be it smoothing, brightening, tightening, de-puffing or disguising dark circles. It may turn out you're more in need of an eye mask to revive, or a concealer to colour correct.
An eye primer may give you the right base for makeup, whereas applying too much of the wrong eye cream by day can lead to panda smudges. If that happens to you, be sure you dab any cream on sparingly with your ring finger and let it absorb before you start waving the mascara wand in the vicinity.
A rollerball is a good on-the-go refresher that delivers a cooling slick finish, or opt to smooth on a gel texture product, which will sit more lightly on your skin than cream, especially for day wear.
READ How To: The Purr-fect Cat Eye
By night a more intensive application of cream may be in order and an eye serum too, if you're inclined to layering on the treatments. We've chosen a range of options to give an indication of what is out there. Try eye masks from time to time also, they're enforced shut-eye after all.
Estee Lauder Advanced Night Repair Eye Concentrate Matrix $138
The latest in the well-regarded ANR range, this multi-repair formula uses a matrix technology of polymers to cushion skin while the gel-like liquid, containing hyaluronic acid, strengthens and nourishes. A massage applicator is part of the revival process. Eyes apparently experience more than 10,000 natural micro-movements, by blinking alone, which Lauder says would equate to walking 8km a day, so no wonder the orbital area needs propping up! Department stores and pharmacies.
L'Occitane Immortelle 50ml Divine Eye Balm $120
This is a recent discovery for me and I love the texture, which really does melt in. It feels rich and hydrating, but much lighter than some creams. A good all-purpose choice, made with shea butter and plant oils said to help improve micro-circulation. Visit Nz.loccitane.com
Origins GinZing Refreshing Eye Cream $47
Take as a morning tonic to help de-puff and brighten eyes that haven't had enough rest. Caffeine and ginseng perk up circulation and optical brighteners disguise dark circles while moisturisers play their part in a prized product suited to all skin types. Visit Meccabeauty.co.nz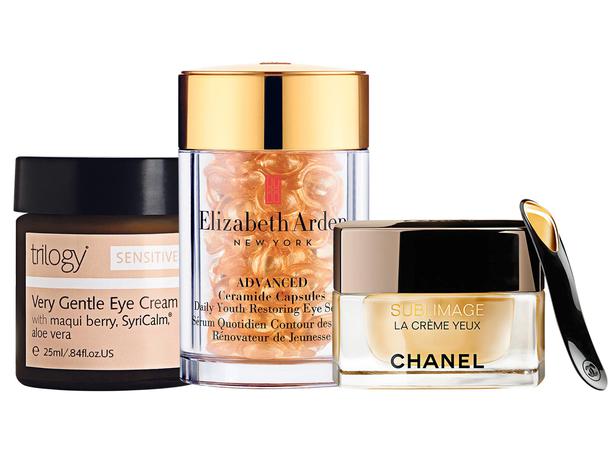 Trilogy Sensitive Eye Cream $50
Lightweight yet nourishing botanical blend with a calming complex for tricky skin is also a good all-round introduction to eye creams. It's part of Trilogy's revamped Sensitive range in stores from next month.
Elizabeth Arden Advanced Ceramide Capsules Daily Youth Restoring Eye Serum $115
Arden's trailblazing individual-dose biodegradable capsules have been updated and now the two-month supply contains added lipid-replenishing and brightening ingredients. Ceramides represent nearly half the lipids in the stratum corneum, but decline over time to our appearance's detriment. The eye area is early evidence of this, so keeping it smooth is an investment. From Farmers and pharmacies from July 31.
Chanel Sublimage La Creme Yeux $324
Chanel's premium Sublimage anti-ageing range is a lap of luxury, delivering lush skin creams with vanilla plant extract, including this velvety one for eyes. Massage in night and morning with the supplied applicator, leave 10 minutes and dab off any residue, or treat as a mask. From the Chanel boutique, Britomart, and selected department stores and pharmacies.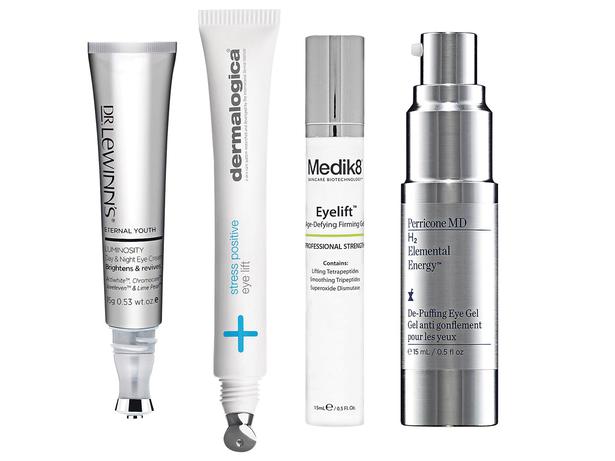 LeWinns Eye Cream; Dermalogica Eye Lift; Medik8 Eyelift Gel; Perricone Eye Gel. Pictures / Supplied

LeWinns Eternal Youth Luminosity Eye Cream $80
The Luminosity range focuses on enhancing radiance and brightness. For the eyes this means a mix of instant brighteners, including gold, to brighten and lighten dark circles, plus ingredients chosen to help support skin over time. From Farmers and selected pharmacies.

READ: How to Be Bold with Makeup

Dermalogica Stress Positive Eye Lift $115
This cooling cream gel has been designed as a fast-acting way to combat signs of stress, with an energising application of algal and plant extracts and hyaluronic acid to brighten and soothe the eye area. Massage tips make the most of the well designed applicator. From selected salons, visit Dermalogica.co.nz

Medik8 Eyelift Age-Defying Firming Gel $99
This top clinic range contains peptides to nourish skin layers and help reduce the appearance of wrinkles.

Perricone H2 Elemental De-Puffing Eye Gel $119
The weightless gel cools and refreshes and can be used morning and night. The immediate soothing, smoothing effect is backed up by Perricone's energy complex which imbues deep hydration. Visit Meccabeauty.co.nz

Share this:
More Beauty & Wellbeing / Features & Profiles