Face Brushes You Need
Finesse your makeup by extending your selection of face brushes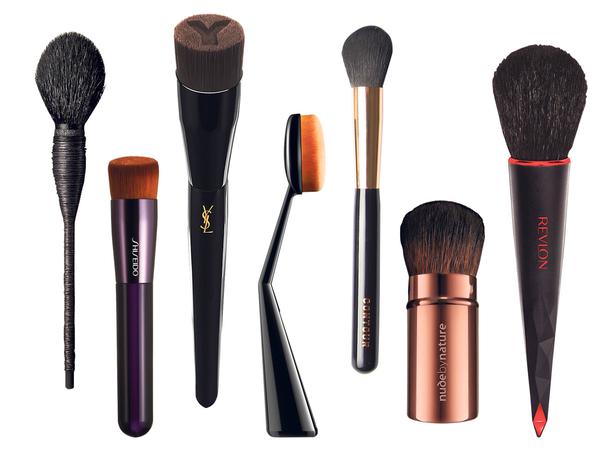 Thursday March 10, 2016
Most women use just a few makeup brushes daily. This isn't so silly, best to know how to use the tools you have before buying a whole bunch more, but if you are keen to expand your expertise consider adding something other than what you often find in standard brush kits. The brushes featured here may look a bit different than the usual foundation, powder and blush brushes most of us are familiar with, but they are worth acquainting yourself with.
Personal and product preference will guide what style of foundation brush you end up preferring — or it may be that you stick with fingers — but tailored tools definitely aid application.
I've learned a lot from watching makeup artists at work, of which blending is key, so I am always interested in their recommendations. Bobbi Brown's head of artistry for Asia-Pacific, Kai Vinson, suggests building a kit slowly and mastering the use of each brush as you go.
Considering Bobbi Brown makes some of the best brush sets out there, this is considered advice. My advice is to consider booking a counter session to help show you the way. If you already have a kit but are only using half of it, this will extend the value you get from it, or if you are unsure of what to buy, a lesson can help you prioritise.
Vinson reckons sorting face brushes is the starting point to being your own best artist. Nude by Nature's Owen Allison agrees. "Technique is everything around brushes." He is an advocate for buffing, saying using a flat-top brush and working foundation in is the quickest way to go for that invisible makeup look. Then "polish" the skin with a kabuki or powder brush by rolling on powder and brushing across.
Smashbox's global lead pro artist, Lori Taylor, says with the current focus on facial contouring and strobing, it is particularly important to know correct product and placement. Contour should not be taken too far across the face or in a downward stripe because this can have an ageing effect. Instead brush inward and across in one direction from the base of ear towards the nose, stopping two fingers width out from there, with blush applied above.
Angled blush and blending brushes give good control.
Interestingly, the once ubiquitous lip brush is now one of the last most artists recommend that you acquire for everyday use. Lipstick applied straight from the tube to your natural outline, or with a subtle pencil underneath for stayability, is simpler. Eye brushes can be limited to 3-4 options to line, blend, and softly shadow, along with a brow brush which can be a repurposed mascara spooley. So put your face first, with these complexion perfectors.
1. Nars Yachiyo Kabuki Brush $88
If ever I've had a case of brush crush it is with this beauty. The handle of hand-spun black wisteria evokes traditional Japanese tools and the tapered dome head and densely packed fibres are designed to apply powder product masterfully. Suitable for contouring, highlighting and sculpting the face. From Mecca Cosmetica, see meccacosmetica.co.nz
2. Shiseido Perfect Foundation Brush $60
The flat-top brush is gaining ground, with makeup artists saying it is faster to apply a full-face of foundation with this style than with the more usual flat-sided brush. Shiseido improves on the design by ensuring the soft synthetic bristles are tightly packed so product isn't lost in the lengths and by adding a slight incline to the head so it can be better worked around features. The short handle makes the brush easy to wield and pack. Can be used to apply liquid or cream and then powder (after a wash). From selected department stores and pharmacies.
3. Yves Saint Laurent Y Brush $89
Logo fans will want this sleek black flat-top design, with its Y writ large. The decoration is practical as well, being a reservoir to measure out a precise amount of liquid foundation. It allows for two pumps of the new Touche Eclat Le Teint. Dot and spread across the face, then buff to a flawless finish. From selected department stores and pharmacies.
4. Cailyn 'O' Wow Brush $59
Aid your airbrushing, with ultra-fine fibres that deliver a streak-free finish. This kinked brush has a domed, angular-shaped surface that narrows to a point suitable for working into the hollow of the eye and around the nose. Try it to apply moisturiser and primers as well as foundation. The brush is sold with a slip-on cap to protect bristles. From selected beauty salons. Stockists ph 0800 144 562.
5. Mecca Contouring Brush $39
The shaped brush gives a good sweep for powder and liquid highlighting and contouring products, while the tip is narrow enough to allow for subtle shading around the nose and inner brow areas. Pair with Mecca's Complexion brush for bronzer and blush. A plus is they name the purpose on the side in case of any confusion. From Mecca.
6. Nude by Nature Retractable Travel brush $24.95
This clever portable kabuki-style brush is one of a new set brought out by the mineral makeup brand, designed to make artistry tools more affordable. It can be handily pre-loaded with foundation powder. The collection of 9 brushes, which can be bought individually, feature matte handles with a smart bronze wrap. From selected Farmers and pharmacies.
7. Revlon Powder Brush $17.99
Revlon worked with BMW's design team to update its brushes, introducing ergonomics and a sleek European precision as well as appealing colour to the tools. This fluffy powder brush, with an easy-to-hold weighted diamond-faceted handle, is the most expensive of an affordable range that is well worth checking out. From selected pharmacies and department stores.
Share this:
More Beauty & Wellbeing / The Latest