10 of the Best Face Serums
Serums are skincare's secret weapons and your most intensive armoury against ageing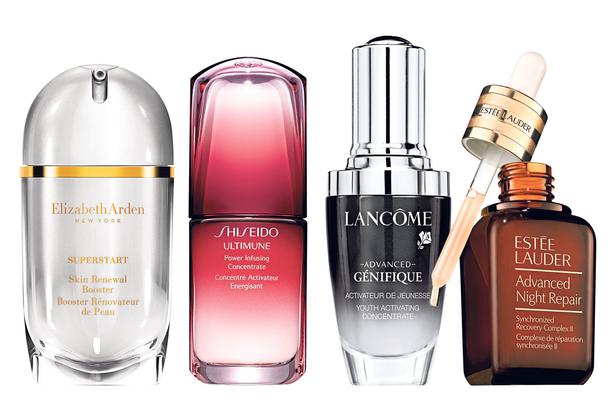 Wednesday Oct. 7, 2015
Joining the ranks of skincare's troops waging war on the ravages of time come the advance guards, known as pre-serums or boosters. These pre-serums, designed to be layered with either multi-purpose or specifically targeted serums, are usually liquid or gel-like in texture and contain antioxidants or peptides. Where they differ is in "prepping" skin condition as well as treating it, thus adding an extra element to serum use.
Serums are designed to carry the highest concentration of active ingredients in skincare. In comparison, day and night creams, while they often have anti-ageing ingredients, are more diluted in a thicker emollient mix. Their primary function is to moisturise; that of a serum is to treat. The approach ranges from broad-brush to more focused on particular issues, such as brightening, firming or hydrating. It is only over the past decade that serums have become a relatively commonplace skincare step in New Zealand, although they have been around for 30-plus years.
Estee Lauder's pioneering Night Repair serum was particularly ahead of its time in looking to both repair DNA damage and function with night-time sleeping and skin repair rhythms.
The contents of the little brown bottle have been tweaked over the years and its now Advanced Night Repair sits in the pre-serum category, in that it can be used alone or in conjunction with other serums. More recently arrived pre-serums include Lancome's updated Genifique (50ml, $179), which looks to genomics and improving luminosity and Shiseido's Ultimune (30ml, $118), which focuses on bolstering skin's internal immunity and defences.
They are about to be joined next week by Elizabeth Arden's SuperStart Skin Renewal Booster (30ml $106, available from Monday). The company says this is more than a pre-serum, with its focus on supporting the skin barrier layer using probiotics for a healthy surface micro-flora, as well as the expected inclusion of anti-ageing actives.
Aside from pre-serums, the other big development in the serum sector is the fast-growing cosmeceutical market in clinics and day spas. These products are often said to be more concentrated than skincare sold in department stores and pharmacies. Both fall into the category of cosmetics rather than pharmaceuticals, so there is no guarantee a so-called cosmeceutical serum will be more effective than a serum bought from a shop.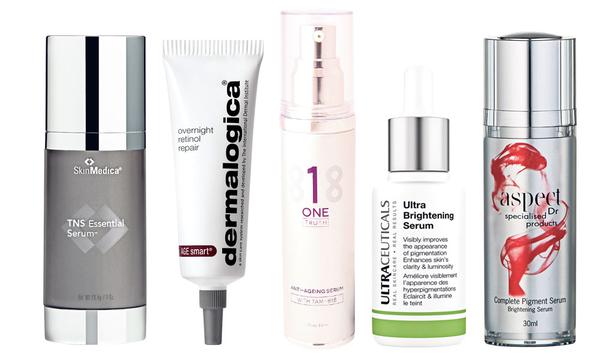 Skin Medica TNS Essential Serum; Dermalogica Overnight Retinol Repair; One Truth 818; Aspect Dr Complete Pigment Serum. Pictures / Supplied.
Skin Medica TNS Essential Serum RRP $377
This favourite of Auckland's top medical skin clinics multi-tasks with a tissue nutrient solution and a cocktail of antioxidants, peptides, hyaluronic acid, a skin lightner and growth factors and cytokines. Prescription Skincare recommends it with sunscreen by day and vitamin A at night. It could smell better. Stockists ph 0800 238754
Dermalogica Overnight Retinol Repair $174
Encapsulated retinol at superior over-the-counter strength comes with buffer cream to help customise amount applied while tolerance is established. Plus peptides, ceramides, vitamin C and soothing bontaicals. From skin centres, see dermalogica.co.nz
One Truth 818 $299
A New Zealand collaboration with telemorase patent king Dr Bill Andrews in a first using his compound in skincare. The velvety serum absorbs fast, while hydrating the surface and reducing sensitivity. One Truth Founder Rachael D'Aguiar says the big difference is that other anti-ageing products that accelerate cell turnover are accelerating ageing shortening of the telomeres, whereas Andrews research centres on helping lengthen them to slow the rate of skin cell ageing. onetruth818.co.nz
Ultraceuticals Ultra Brightening Serum $159
This Australian made product suitable for all skin types uses a blend of brighteners including niacinamide and oxyresveratrol to act on mild to advanced hyperpigmentation, along with chemical exfoliating agents (AHAs, BHA). Stocksits see ultraceuticals.com
Aspect Dr Complete Pigment Serum, RRP $129.95
A skin brightener that helps lighten age spots, freckles, some hormonal marks and uneven skin tone and has antioxidant protections. Calming and soothing it draws on a Canadian prairie plant for its lightning effect. Stockists ph 0800 238754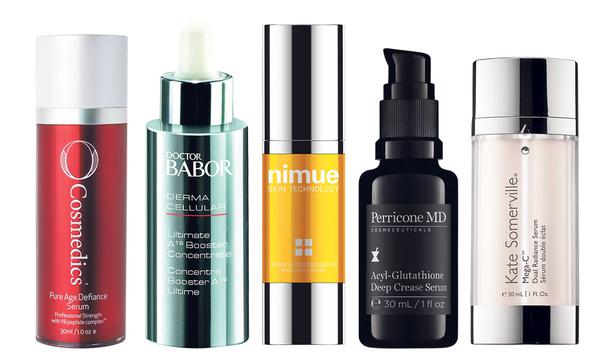 O Cosmedics Pure Age Defiance Serum $120
The Australian range's hero product is a youth accelerator with a trademarked so-called V8 peptide complex for anti-ageing action. It accentuate healing and rejuvenation to offer long-term muscle relaxant benefits. For stockists, ph 0508 776232
Dr Babor Ultimate A Booster Concentrate $299
Active concentrate with high-dose Retinew A16, said to act in a similar way to retinol to stimulate skin renewal and refine its surface appearance for a fresher look. The long-established German range is from Forme spas, see formespa.co.nz
Nimue Super Hydrating Serum $165
This booster treatment from South Africa helps mop-up free radicals to pep-up skin while also hydrating. Helps reduce redness and irritations and can be used for treating under-eye puffines and dark circles. Stockists ph 088 144562
Perricone MD Acyl-Glutathione Deep Crease Serum $252
Dr Nicholas Perricone was one of the first to speak out about inflammation's ageing effects on skin and the role nutrition has in this. He was also an early adopter of peptides and three are in this serum alongside acyl glutathione to ease expression lines while vitamin C aids luminosity. meccacosmetica.co.nz
Kate Somerville Mega-C Dual Radiance Serum $142
Dual-phase delivery system keeps vitamin C and omegas in separate chambers for stability until pumped out to help boost, brighten and firm skin. Nourishing sea buckthorn oil and vitamin E helps replenish skin's lips. meccacosmetica.co.nz
Share this:
More Beauty & Wellbeing / The Latest