Drag Queen Felicity Frockaccino's Beauty Routine
Ahead of this weekend's Pride Parade, drag queen Felicity Frockaccino shares what it takes to create her beauty look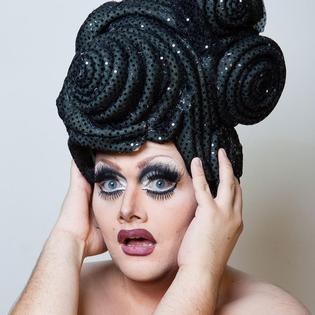 One of the stars of this weekend's Pride Parade is drag queen Felicity Frockaccino, who will be performing in the parade as Adele. 
The man behind Felicity is 28-year-old Shay Evans, a Sydney-based Kiwi who grew up in Otaki near Wellington. Shay first started experimenting with drag 12 years ago after falling in love with theatre and performing.
"After watching Priscilla, Queen of the Desert, I got dressed up and went to the Wellington Gay & Lesbian Fair back in 2005. I felt like I could be my true self there and found a whole community who loved and cherished what I did. In Wellington, I was performing almost every single week until my move to Sydney in 2012 where I started to do drag as a full-time job."
His drag name combines the name of an actress friend, his favourite drink and what he was doing at the time, which was sewing frocks. He describes Felicity as his alter ego, and says she is a "big brassy camp character".
"She loves people and getting to make friends. I call her a social lubricator, a party shaker and someone who reminds you of your favourite aunty."
He also impersonates Grammy Award-winning singer-songwriter Adele who he is flying over from Sydney to perform as in the Pride Parade. He'll sing a retrospective of all her hits to close the glittering event.
Shay says that when he's in character as Adele, her beauty look is softer and more feminine than that of Felicity's. Here, he shares his beauty ethos, routine and favourite products.
First makeup memories
I was about 8-years-old and fascinated by mannequins and window dressing. The first makeup product I used was my grandmother's lipstick. I applied that lipstick like no tomorrow. I started learning makeup when I was at college after being told by a teacher, "You'll never be good at makeup, you can't do that". I've always been quite defiant when someone tells me I can't do something. I will always learn how to do whatever I put my mind to and do it well. "Can't" is a word you can use for a motivational way of life.
Beauty ethos
I believe everyone is beautiful in their own unique way. Love the skin you're in.
Drag makeup routine
I hope you're ready for the list, it's very extensive! I use a medical adhesive called Pros-Aide to cover my eyebrows, applied using a disposable mascara wand; then I powder them down with Ben Nye Translucent Powder. My next step is applying the foundation base. I use Kryolan 4W TV Paint Stick, a N2 Contour colour and a 070 TV White Paint Stick for my highlighting. These are blended to perfection using a beauty blender, using that simple tool has saved hundreds on sponges. To create my eye shape I use a black Inglot Gel Liner in number 7, applied using an angle brush from the London Brush Company.
I blend out my eye shape using a bullet tip brush from M.A.C, applying a brown shadow from Australis as my nose contour and eye blend colour. 
Finally the lashes! I use four pairs of Elegant Lashes #301 on the top and one pair of smaller lashes on the bottom. When I'm impersonating Adele, I use a pair of Elegant Lashes 199 on the top and singular lashes applied to the bottom. 
For lips, I apply a pink or red shade, usually from M.A.C Heroin or Flat Out Fabulous. I lastly apply a mix of fine and salt grain craft glitter to make them pop.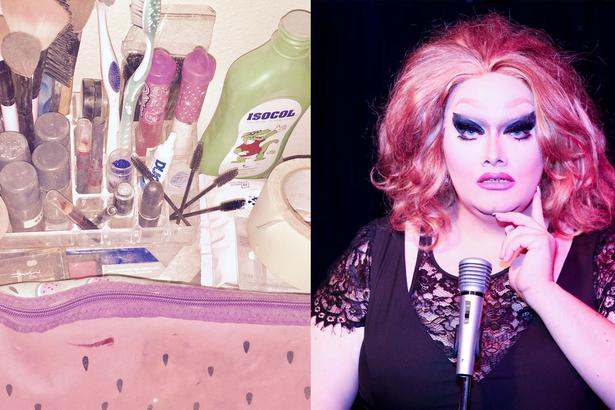 Top five beauty products 
1. Kryolan TV Paint Stick: Can't live without it.
2. Elegant Lashes #301: They create dramatic lashes.
3. Dove Face Scrub: Makes de-dragging a breeze!
4. Johnson & Johnson Refreshing Makeup Remover Wipes
5. Neutrogena Makeup wipes: These take drag makeup off instantly. 

Style icons
I've always loved Barbie - her style has been a huge inspiration over the years. Divine, the 80s punk drag queen, is also a huge influence on my drag style. I take fashion cues from the likes of Mae West, Leigh Bowery and Bob Mackie, to name but a few.
Best beauty trick
To always cleanse, tone and moisturise and don't sleep in drag. You will thank me when you have good skin when you're older.
Style and beauty evolution
When I first started drag, I was very clowny, unfinished, like a Picasso painting - but I definitely had a defined silhouette, 50s dress style. Now, I am refined, still clowny, very theatrical and polished. Finding your style takes a little time and patience, not money. Money can't buy you class or taste.
Favourite drag queens
There are too many favourites! Kita Mean, Anita Wigl'it, Yuri Guaii, Miss Mole, Amanduh La Whore, Kola Gin, Arabia Le Veil and Lady Trenyce to name a few.
Best thing about drag
Meeting new people, creating new experiences and creating something with and for the community. I adore my community.
Shopping for makeup, wigs and costumes
Makeup: I can buy almost everything online or through a few stores in Sydney. Scotty's, a makeup store in Broadway, Sydney, stocks the essentials like sponges, brushes, and Pros-Aide. 
Costumes: House of Priscilla is based on Oxford St in Sydney and is a fabulous store full of great costumes, shoes and jewellery bling. 
Wigs: ShowGirl:Wigs is a great wig shop for queens with a small budget. I generally buy my wigs at Clutching At Curls as they are great to style in updos. I also shop at Wigs By Vanity - these wigs are great out of the bag and are easy to style up or down, plus they have a stunning natural colour range.
Share this:
More Beauty & Wellbeing / Features & Profiles