Scottish Comedian Fern Brady's 'Take No Prisoners' Beauty Routine
From stripping her body and her face bare, this feminist performer knows how to rock expectations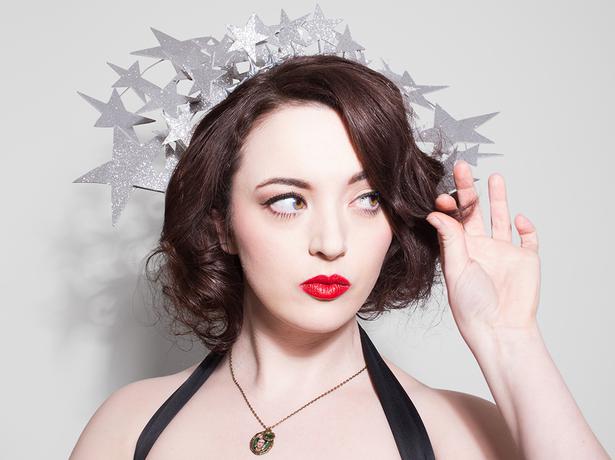 Monday April 16, 2018
When Scottish comedian Fern Brady says that as a 31-year-old woman she's only got about four years left to get famous, she's only half joking.
With awards and a growing reputation to her name, Fern's determined to use that time to kiss off some of the clichés of comedy. This includes skewering the not-so-funny joke that female comedians are "100 per cent" judged on appearance.

That she does this glammed up for her gigs, is your problem, not hers. "I got into comedy because I wanted to do a job where I could be myself and say what I want," she told Viva ahead of travelling here for the New Zealand International Comedy Festival.  
Fern is the sort of subversive feminist who might once have been called a mouthy broad — she's direct and challenging, but also self-deprecating and therein lies her charm and chutzpah.
From working as a stripper to reaching the finals of "So You Think You're Funny" at the 2011 Edinburgh Fringe, her ability to handle a crowd seems innate. She's now a regular on UK TV and radio comedy shows, writes a column for the Guardian, and speaks out on sex positive and body image issues.
READ: Charli Howard Opens up About the Modelling Industry
It was Fern's high school teachers who first suggested she try stand-up. "They were usually saying it angrily," she recalls.
At 16, a load of local business leaders came to her school to encourage entrepreneurship. "I had to give a presentation on my business idea. Everyone else was doing serious presentations even though realistically the only way people from my town get rich is by winning the lottery or Britain's Got Talent. I got up and did a piss-take talk and I remember the business people laughing a lot and saying I should become a stand-up, but my teachers were fuming at me for embarrassing them."
At university, Fern won a prize for writing funny newspaper articles which led to interning at a comedy magazine at the Edinburgh Festival, where she was asked to write "one of those dumb 'a comedy critic tries stand-up' articles.
"I tried it and secretly knew afterwards I was going to do it as a job, but I didn't tell anyone." Winning recognition in the best new act of the year line-ups in England followed success in her home country.
READ: The Funny Guy: Tom Sainsbury
A move to London has opened up more avenues, including writing columns for the Guardian. "I'm writing a TV pilot for the BBC and a play, in between doing bits of stand-up on TV," she adds.
Last year, she filmed a TV series for Viceland travelling around Europe with three comedian mates. "It was supposed to be about Brexit, but was basically us being filmed on holiday. I've no idea how entertaining that was for the viewers but I couldn't really believe it was my job and I felt very lucky." Fern understands the series Brexit Stage Left was shown in New Zealand, but her stage shows on April 27 and 28 will be her first live appearances here. For tickets, see Comedyfestival.co.nz
For a taster of this comedian's wicked way with words, read on.
What's the hardest performance art: stripping or stand-up?
I wouldn't call stripping 'performance art', anyone that does is a burlesque dancer and they're just strippers with an attitude problem. I often got laughed at when I was a stripper and wolf whistled when I walked on stage in stand-up — and both things are linked to me failing to meet some expected standard of femininity.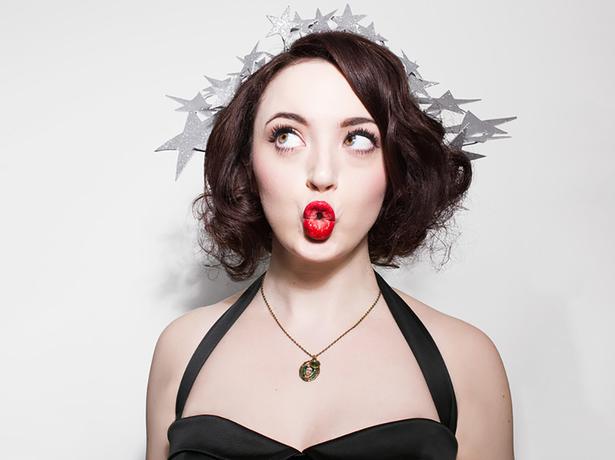 The charming stand-up comedian is not afraid to speak her mind. Picture / Supplied

How much are women comedians judged (or heckled) based on appearance and how does this make you feel?
They're 100 per cent judged on appearance but what annoys me is that no one likes to admit to this. Even though feminism is now enjoying a resurgence and being discussed in comedy, you can still only really be on TV talking about feminism if you're thin and pretty while male comics can look like sea monsters and coast by on charm and a bit of tooth whitening.

If you're a woman on TV you either have to be about 10lbs underweight or so fat that it's a political statement. Joan Rivers said no female comedian got into this because she was pretty as a child, so it's weird for me going from being called "Moustachio" all through my childhood to striving to look a certain way for work. I really didn't care about weight or appearance much until I got into this.

READ: Entertainer Esther Stephens' Beauty Routine

In your publicity shots you do look pretty glam, is that stage make-up or are you a red lipstick kind of girl?
Well, they're probably photoshopped as anyone who has seen me live will affirm, plus I just keep using those pics because I absolutely hate getting my photo taken. The first solo show I did I just had a drawing of my face for the poster, as getting my pics taken just fills me with dread.

Then I heard that if you get good pics taken you'll get more press coverage and reviews. So I built a crown of stars, put lipstick on and wore a dress, and sure enough, got way more work and coverage which is predictable. I do wear red lipstick at gigs because it photographs well and I'm pretty pale. I do generally wear a lot of makeup, but other than that, I'm pretty scruffy in how I dress.

READ: Reese Witherspoon Pays Homage to Bold Red Lipstick

Is makeup armour or accessory?
I don't really philosophise about make-up, soz. But you should read Sali Hughes, a Guardian columnist who does a lot of excellent writing about makeup and its history. 

What are your earliest memories of makeup and when did you first start wearing it?
I walked out of school when I was five because I wanted a pink Barbie lipstick. My mum kept telling me she'd buy it for me but didn't, so I decided to do it myself and was eventually found confused and disoriented in a shop trying to buy it with 20p. This showed a willfulness and determination that I believe has carried through into all areas of my life. 

Please describe your beauty ethos and its evolution?
Always wear sunscreen and don't drink alcohol or eat sweets unless you want to age dramatically. I know you're not supposed to have caffeine either, but I'd have a pretty joyless existence if I cut that out as well. I got food poisoning last year while I was on tour and noticed I looked really radiant after days of puking, so that's always an option if you're after a cleanse.

READ: Your Ultimate High-Flying Skin Guide

What's your everyday beauty routine?
I'm kind of a lunatic about skincare. I really don't care about nail varnish or manicures or that kind of thing, but I'm on it with skincare. I put this stuff called Liquid Gold on my face every other night and alternate that with The Ordinary Vitamin C Suspension 23 per cent on it every other night. I don't know if you have it in New Zealand, but almost everything they sell is a fiver and amazing quality, but it'll burn your wrinkles off the first time you use it, so it's for experienced skincare users only.

Then because I've exfoliated my skin down to the rawest layer like carpaccio, I wear factor 50 sunscreen every day.

I also recently started electrocuting my face with this nano-current ZIP thing about 3-4 times a week and that boosts collagen and makes me look 12. It did make me feel like I'd crossed a line with the skincare obsession though. I tried electrocuting my boyfriend and he flipped out and was frightened of me for days after. I like a bit of hyaluronic acid in moisturisers, I've toyed with lactic acid but glycolic is the best of all the acids.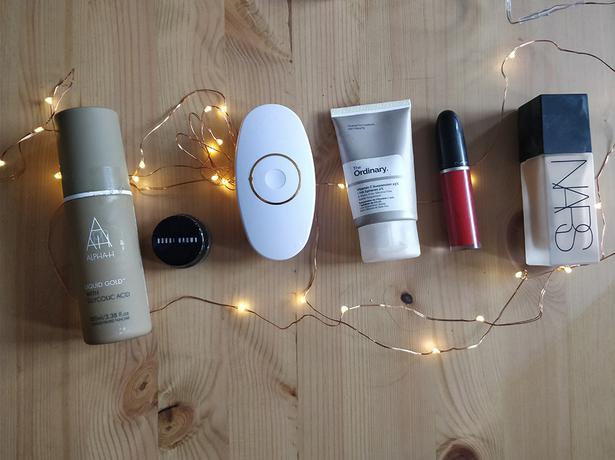 What are your five favourite beauty products and why?
1. Alpha-H Liquid Gold: BTW I'm not like their sales representative, but you gotta get into acids to exfoliate your skin. I keep telling people to use it when they ask about my skin and they wince as if I've told them to put battery acid on their face.
2. M.A.C lipstick in Feels So Grand: This is red liquid lipstick, it doesn't come off easily and it's not dry like Ruby Woo. I saw it on Jessa in an episode of Girls and looked it up. Chanel also does a good red called Gabrielle, that's the one I'm wearing in my pic.  
3. Bobbi Brown gel liner: I like this because it lasts for 18 months and thus reduces the number of times I have to deal with snobby makeup counter ladies thinking I'm a shoplifter, just cause I'm a 31-year-old that wears a backpack and still dresses like a student.
4. Nars Foundation: Same reason as above.
5. Zelens Daily Defence Sunscreen: This is pretty expensive but it's the only one I've found that doesn't go bobbly under foundation or look weird or somehow get into my eyes and make me cry. Maybe it's different in New Zealand, but people in the UK only wear sunscreen maybe once in summer then wonder why their skin looks like they've spent years working the fields. 
How quickly can you get ready to be on stage?
About half an hour. 
Beauty to you is…
A myth used to keep women under the thumb and a currency that will decline rapidly as you get older. I just started rereading The Beauty Myth by Naomi Woolf, it's great. In my heart, I'm a skinhead radical feminist.
I often think the time and brain power spent learning to blend eyeshadow perfectly in my eye socket could be better spent on stuff like writing my play or a book. But the fact is, I exist within a patriarchal structure that rewards me financially the more I look young and pretty, so what can I do, other than obsessively electrocute my own face...?
• Fern Brady will be performing on April 27 & 28 at the International Comedy Festival. Visit Comedyfestival.co.nz
Share this:
More Beauty & Wellbeing / Features & Profiles