Foodie Eleanor Ozich's Beauty Routine
The simple eating blogger, cookbook author and Viva contributor shares her beauty recipes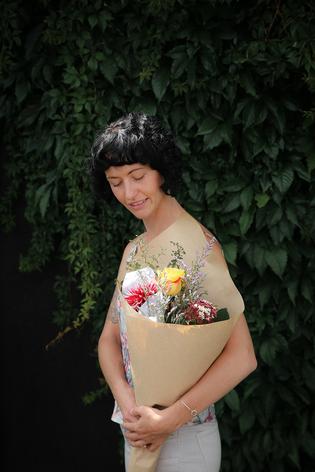 Eleanor Ozich champions food that is healthy and delicious. Easy on the body and easy on the eye. She applies a similar balanced philosophy to her approach to beauty, liking simple, good for you ingredients that contribute to a pleasing appearance.
The My Petite Kitchen cookbook author and regular recipe contributor to Viva, enjoys a predominantly plant-based diet. "The kind of food where you can taste all the flavours and ingredients," is how she puts it, served to "taste amazing." Some of her favourite ingredients also feature in Eleanor's beauty routine.
Eating and appearance
I absolutely believe that "you are what you eat". Whenever we go away on holiday, I'll enjoy the kind of food and drink that I wouldn't normally indulge in at home, and I always notice a difference in my skin and how I feel. Vegetables and fruit make up about 70 per cent of my diet; locally-grown organic produce is essential to inspire delicious meals. I enjoy protein from fish, eggs, legumes, nuts and seeds, and occasionally, I'll eat organic meat. Good fats are paramount for a glowing complexion, so I include plenty of coconut oil, olive oil and avocados in my diet, too.
Hydration matters
I'm sure we all know hydration is key to healthy looking skin, which is why I aim to drink at least 10 glasses a day. Since treating myself to a nice re-useable glass bottle, I've fallen in to a wonderful habit of carrying it around with me everywhere so I'm never caught out. Sometimes I'll add the juice of a lemon, or a splash of apple cider vinegar to help with digestion.
READ: Eleanor Ozich, The Guru of Good Health
Beauty is...
Feeling comfortable in your own skin. Because when you feel good, you look good, and you naturally want to take better care of yourself. It's simple, really. When you take a moment to watch somebody laugh, and I mean really laugh, right from the depths of their belly, it is one of the most amazing feelings to experience. To me, beauty is learning to be in a beautiful state all of the time, to laugh and smile as much as possible. Next time you look in the mirror, give yourself the big, proper smile. As silly as it sounds, this lovely ritual can boost your self-esteem and acts as a gentle reminder that you are in charge of your own happiness. You might be surprised at the positive thoughts it can inspire!
Daily routine
Personally, I've never been one to fuss over beauty cosmetics and much prefer to keep my skincare routine simple, using a small selection of natural products that don't cost the earth. When I wake in the morning, the first thing I'll do is drink a large glass of water (before I hop out of bed), then splash my face over with water to wash away any remnants of drowsiness.
I don't tend to wear much makeup during the day apart from a light Dr Hauschka foundation and a delicate dusting of Elizabeth Arden bronzer for a soft, golden glow. Sometimes I'll wear lipstick, or put on some big earrings if I want to brighten up my look.
READ: Eleanor Ozich's Guide to Vintage Shopping
To cleanse my face in the evening, I use a warm, damp facecloth and a little coconut oil to remove any makeup. Next, I'll mist my face and décolletage with homemade toner. To make, combine equal quantities of witch hazel and rosewater, which is said to help prevent signs of ageing and keep your skin feeling fresh and rejuvenated. I'll often carry a bottle in my handbag and mist onto the face when in need of a little pick-me-up throughout the day, too. To finish, I use Trilogy's Vital Moisturising Cream to help seal in the moisture.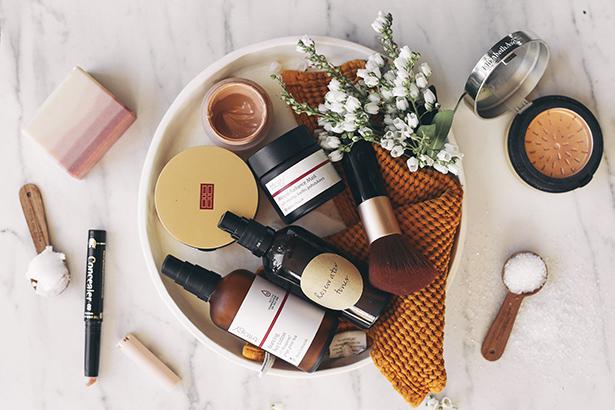 Top five products
• Coconut oil for its many uses - a gentle makeup remover, moisturiser, or combine with sugar for a body scrub, to name a few.
• Spahera Pomegranate Seed Oil and Pink Clay soap with Bergamot, Sandalwood and Pepper. It looks gorgeous on the countertop, and smells incredible, too.
• Dr Hauschka concealer, for those pesky blemishes.
• Epsom salts for indulging in a long, hot bath. They're easy on the pocket and infuse your bathing water with minerals and help with relaxation.
• Mavis and Osborn cotton waffle face towel. It's handmade and dyed here in New Zealand, and I just love its happy yellow colour.
Top five beauty foods
Coconut oil, extra virgin olive oil, apple cider vinegar, dark leafy greens and avocado. Simple, delicious ingredients that are easy to include in your cooking.
Beauty admiration
I do love the classic French look, tousled hair, minimal makeup, and a certain elegance that looks effortless.
Day to night tricks
I always dress well during the day, even If I am just pottering around at home as it makes me feel beautiful. If I'm going out, I'll pop on a pair of heels, and some lipstick to feel a little more fancy. My favourite lipstick colour is Playful by Natio.
COOK: Our Favourite Eleanor Ozich Recipes
Hair envy
Growing up, I always despised my curly hair. More recently I've embraced its wildness and leave it to do its crazy thing. I colour it black using a natural hair dye called 'Tints of Nature, which I find to be much gentler, it even smells nice when you're colouring it. To wash, I use a homemade hair rinse made out of raw honey, apple cider vinegar and filtered water. Honey doesn't strip the hair of natural oils and leaves it feeling soft, silky and shiny. To condition, I use Keune So Pure moisturising conditioner.
Treatment time
Whenever my skin is feeling a bit dull or tired, I'll treat it to Trilogy's Mineral Radiance Mask. It leaves the skin feeling revived and fresh.
Beauty goal
Set aside more time to enjoy the ritual of looking after my skin. Being a mum of three, I don't often take time out to indulge in self-care, but I'm working on switching up my routine to give my skin a little more tender loving care.
• See Eleanor's recipes on Viva.co.nz, or visit Eleanorozich.com
Share this:
More Beauty & Wellbeing / Features & Profiles