Foot Treatments to Try
We review an Ayurvedic foot massage and the signature Margaret Dabbs pedicure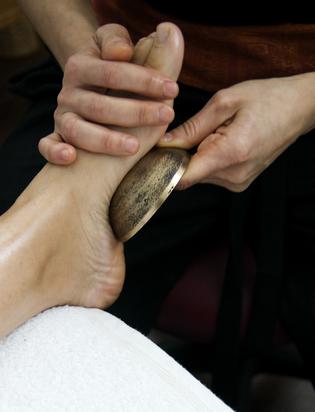 The Treatment: Kansa Vatki foot massage.
The promise: A soothing Indian massage of the feet and lower limbs using techniques practised for centuries in the Ayurvedic tradition. Focuses on marma (energy) points to leave the entire body feeling refreshed and relaxed. Ideal for those who spend long hours on their feet. 
The practice: At the heart of the treatment is a small bowl made of three metals used as a massage tool and said to help rebalance the tridosha of Vata, Pitta and Kapha. After being welcomed into the inviting warmth of the Spa Ayurda villa in Ponsonby and offered a refreshment my feet are cleansed. Unusually for a foot massage, I am asked to don a sarong and lie flat on the massage bed. This helps focus me on the rhythms of the massage, rather than looking around the room as is often the way when reclining in a chair. The idea is the treatment should draw excess heat from the body and improvedmy energy levels, leaving me in a calmed state with improved foot circulation and mobility.
Warmed ghee is applied which feels like a fluid balm. A combination of digital massage and the curves of the bowl are used to work over my calves and knead my feet in simple movements. At the end hot towels are used to thoroughly wipe my feet and I am served herbal tea in the room, with no rush to leave.
The place: Spa Ayurda, 213 Ponsonby Rd, Ph (09) 360 0007.
The price: $45 for 30-minute standalone ritual or may be added to other treatments to extend relaxation.
The verdict: My feet feel more loved and the lie down has definitely been a welcome time out. Fans of reflexology likely will not find this intense enough, but for anyone looking to kick back and relax, the massage provides a mini spa timeout. It makes for an inexpensive introduction to Spa Ayurda, recently named best Ayurvedic spa in Oceania. I'd recommend booking a facial or a full massage and possibly adding this as an extra for a more immersive way to enjoy a unique combination of Eastern and Western spa experiences.
The treatment: Margaret Dabbs Supreme Pedicure.
The promise: "The best pedicure I've ever had," East Day Spa founder Ina Bajaj told me of the Dabbs signature therapy she had in London. This prompted her to arrange to bring the treatment technique and products exclusively to New Zealand.  Dabbs is a trained podiatrist who began her own clinics and a foot care company to foster beautiful feet using sterilised tools and luxurious products. She boasts a celebrity clientele and has spas in Liberty, Space UK and Bulgari. Her Fabulous Feet range unusually contains organic emu oil for its anti-ageing, moisturising and healing properties. The oil has an anti-bacterial quality and was traditionally used by Australian Aborigines. It is scented with uplifting lemon myrtle and is a key ingredient across her range, including in a fine-textured foot oil and a hand cream sold for at home use.  
The practice: My curiosity was piqued by the recommendation of Bajaj, who owns spas here and in Bali, and travels globally to trial the best of what is on offer. I settled into a comfortable leather recliner at East's separate nail studio for a pre-cleanse and then the pedicure. Magazines and a herbal tea were at hand. Therapist Linh told me she would file not just my rough soles and heels, but also under the toes, for added smoothness. Nails were trimmed and filed and surface discolouration given a buffing. My neglected toe cuticles came in for plenty of attention, with a nourishing nail and cuticle serum applied. A scrub extended from my feet up my lower legs and after a foot bath my feet, ankles and calves were massaged. I was also advised to take a break from polish for a bit, to focus on rehydrating my nails over winter, although I did opt for some colour coating as an extra enhancement. To my mind one of the best things about a pedicure is being left with pretty polish because it lasts longer on toes than fingers.
The price: $90 for 60 minutes.  
The place: East Day Spa at Skycity Grand. Ph (09) 363 7050.
The verdict: Definitely a pedicure that leaves feet looking and feeling like objects worthy of display, wherever in the world you want to step out.
Share this:
More Beauty & Wellbeing / Wellbeing