Weddings: A Foundation For Any Occasion
Extend your wedding plans to finding a perfect foundation for all occasions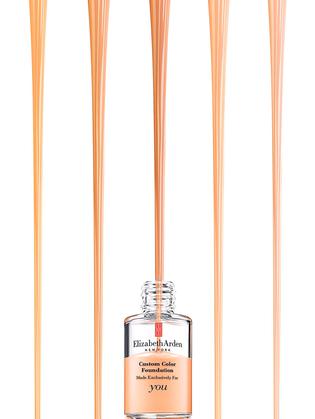 A "wardrobe" of foundations is a bit of a talked-up thing in beauty-land right now. The idea being that you need different foundations for different occasions.
At first this marketing line made me wince but then I had to admit I do break out different bases on different days. From a casual lick of cover for weekend brunch to a stayer for an evening out.
As occasions go, few focus as much attention on a woman's appearance as her wedding. Whether the event's chosen style is casual and relaxed or formal and traditional, every bride wants to look her definition of best.
Thinking through how you want to look is key to communicating the desired result. Fresh-faced or airbrushed? Radiant, refined or both at once?
This applies also to bridesmaids and mothers of the bride and groom. Guests, too, tend to make more of an effort at weddings than with other social engagements.
Picking beauty products to match the ceremony's location is a good starting point. Inside or out; sunscreen or no? Hot or cold; oil-control or moisture boost? Other factors to consider in finding the right foundation fit include skin type and age, natural look or polished preference, fashion forward or classic style, and whether you will have time and willingness to touch up.
Your trusty everyday look is not likely to be what you are after, so it makes sense to reassess your foundation and how you apply it. The "wardrobe" concept comes further into play if wedding celebrations are spread out over several days.
Estee Lauder senior global makeup artist Bobby Wang explains: "Different foundations are like having different dresses." How you "dress" your face at work is likely to be with good coverage, more professional and matte looking, he says. For a date, many women want a more glowing look.
When it comes to weddings, Bobby says time and effort spent in the lead-up will ensure skin looks its best on the day. It can reduce the amount of makeup needed. Primer under foundation provides the perfect canvas and staying power for a bridal look he loves. "Matte on the T-zone, but glowing on the cheeks."
Primers, like foundations, need careful consideration of your primary needs. Choices to promote longevity, pore and fine line smoothing, colour correcting, or to add glow or mattify skin are common across many brands.
There's a huge range of decent foundations out there, beyond those we've picked as good examples today. Those with darker or very fair skins may have to shop around to meet their match in New Zealand or go online for a bigger range.
For darker tones, M.A.C has a particularly big range here and Bobbi Brown dispenses expert advice on dealing with undertones. Revlon offers one of the bigger foundation wardrobes around in the mass market, with many shades suited to olive complexions. More brands, including Estee Lauder and the French companies are adding extra porcelain shades.
THE WHOLE SHEBANG
Your wedding, your way, so how about a truly personalised foundation blended and bottled on the spot just for you? Colour, coverage, and finish can all be individually calibrated.
Elizabeth Arden Custom Color Foundation, $88, exclusive to the Elizabeth Arden Boutique, 62 Queen St.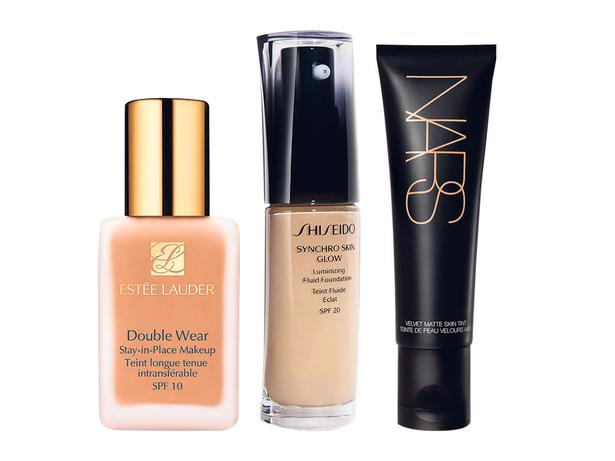 DAY TO NIGHT
A long-wear foundation is the best choice if you don't want to worry as the wedding day progresses. Choose a classic with a track record for medium buildable coverage that suits skins of all ages.
Estee Lauder Double Wear Stay-in Place Foundation, $69 from selected department stores and pharmacies.
UP THE AISLE
For a dewy glow without shine you want a light-feel hydrating, luminising foundation that adjusts to skin's need for some oil control.
Shiseido Synchro Skin Glow Luminizing Fluid Foundation SPF20, $69, from selected department stores and pharmacies.
AT THE BEACH
You'll need something with sunscreen, with good but not obvious looking coverage to disguise redness and absorb light perspiration. You will need something with more oomph than the average tinted moisturiser.
Nars Matte Velvet Skin Tint, $71 from Mecca Cosmetica stores and meccabeauty.co.nz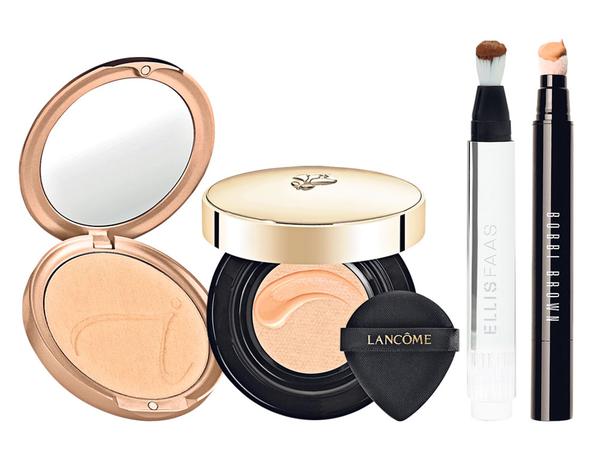 IN THE GARDEN
As a natural make-up fan with a sensitive skin you prefer loose or compact mineral powder makeup, which has the plus of some sun-screening capability. To make sure matte isn't flat, you know to add subtle illumination over the base powder and that a compact is easier to carry on the day.
Jane Iredale Purepressed mineral powder, $95, from selected salons or see janeiredale.co.nz
SPEECH TIME
The up-to-date mother-of-the-bride is heard as well as
seen. She's looking her best, having adopted one of her daughter's modern beauty buzz items, in a new skin-loving luxe format with rose oil. Before speaking she was able to refresh her look.
Lancome Absolue Cushion Compact, $150, in selected department stores and pharmacies from mid-April.
AT THE DANCE
You dash out the back after a good boogie, wanting to touch up your lipstick. It's handy to also have something small with you to fix the slight flush in your face.
Ellis Faas Skin Veil Foundation Pen, $80, from Mecca (as above); Bobbi Brown Retouching Wand, $78, from selected department stores and standalone stores, including Britomart.
Share this:
More Beauty & Wellbeing / Trends