5 Fresh New Ways To Work Out That Are Anything But Boring
Ditch the monotony of your average gym session with a workout to remember, and meet people who'll whip you into shape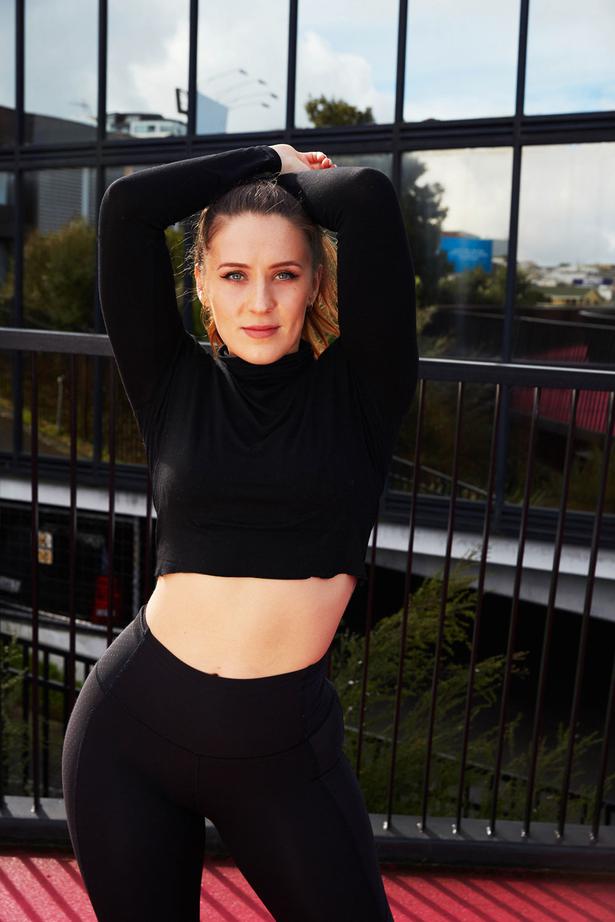 Wednesday Aug. 1, 2018
1. BALLET BARRE
A ballet barre is bound to conjure visions of graceful ballerinas in pastel wrap cardis performing perfect plies. Barrefigure, however, which borrows elements from ballet, is quite a different story.
Barrefigure classes are designed to expertly target each muscle group or, as professional dancer and instructor Bella Wilson says: "To work each body part to the point of exhaustion".
READ: Where To Work Out In Auckland This Winter
Fusing principles of ballet, Pilates, yoga and strength training, Barrefigure aims to tone, strengthen and lengthen the body. As anyone who has attended a class can attest, "strengthening and lengthening" is also known as working the body until the muscles are screaming and the body is shaking with exertion.
Bella might make it look effortless as she takes clients through their paces, but this workout is no walk in the park.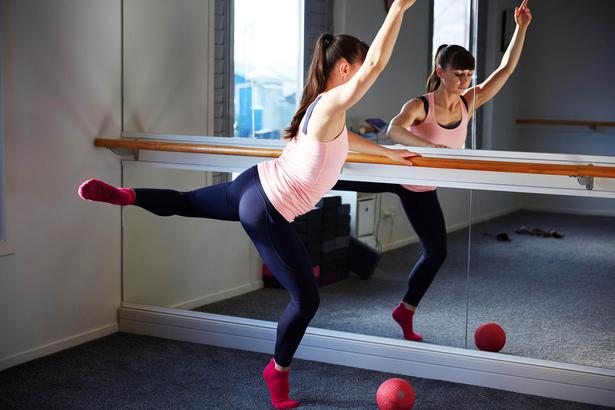 Founded by ex-Royal New Zealand Ballet dancer-turned Pilates and barre instructor Marysa Theiler in 2014, Barrefigure is a culmination of her professional ballet and Pilates training in New Zealand, Australia and New York, and later as a barre instructor at one of the first ballet barre studios in London.
"After my first class I instantly fell in love with it and knew it would be a hit in New Zealand. I loved the similarities to ballet and that I could apply my dance technique, and that it challenged me physically and mentally."
Classes are set to upbeat music and feature a series of upper-body exercises with dumbbells, planks and push-ups. More hard work happens at the barre, where legs are worked to the limit in the forms of plies and pulses. Glutes are targeted with exercises utilising straps, balls, lifts and lunges. Movements are small and precise and the reps high, designed to fatigue muscles fast while sculpting and shaping them.
"Classes are challenging," says Marysa. "Clients will feel every muscle in their body working. We want them to feel that post-workout endorphin rush and to be proud of getting through."
• Visit Barrefigure.co.nz to view the class timetable
2. ZUMBA BUT SEXIER
Named after the Beyonce lyrics "Okay now ladies, get in formation, prove to me you got some co-ordination", a new dance class with a difference is answering Queen B's call, encouraging women to shake off the day Zumba-style to an R&B and pop-filled soundtrack. Ok Now Ladies attendees have dabbled in twerking, booty rolling and burlesque moves, and sung Rihanna's S&M at the top of their lungs (true story).
READ: Workout Tips From Top Fitness Trainer Kirsty Godso 
Women's Collective founder Taryn Kljakovic created the class as a way to get in shape without having to visit a gym, which can sometimes feel like a chore. "My aim is to bring people together and to create spaces for women to feel damn good. So much is demanded from the modern woman and people are craving a space to let their hair down, to shake off the day and the weight of expectations on them."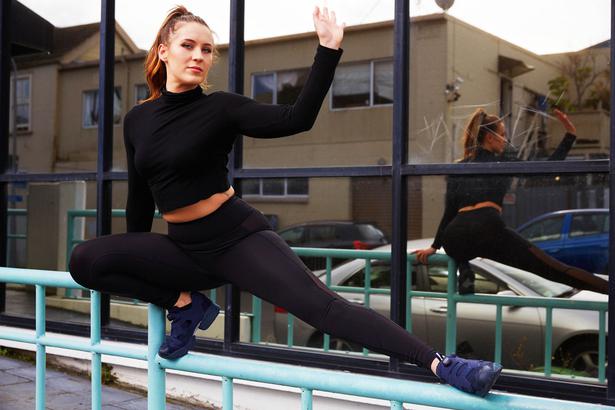 Launched six weeks ago, her idea is proving a hit. Hot off the back of the sold-out 'Couples' series, which featured music from the likes of last-name-not-required Justin and Britney, Selena and Justin; and Calvin and Taylor, the 'Icons' series is up next, celebrating the tunes of Madonna, Michael Jackson and Prince.
"It's all about the music," says Taryn. "I create themed classes so people can come along specifically to dance to their favourite artists. How much better is it when you know all the words?"
The hour-long cardio-based workout has elements of vogueing, "booty work", abs and core, barre and more. Instructor Bianca Paine is a professional dancer with Las Vegas' Cirque de Soleil Michael Jackson One show on her CV, and was one of the earliest members of Parris Goebel's The Royal Family Dance Crew.
"The way she moves is incredible," says Taryn, "but more important is her heart — she wants to disarm and unify attendees, to give them permission to let go of their day and to do something really great for themselves."
• Visit Facebook.com/OKNowLadies or Eventbrite for class details
3. OUTDOOR BOOTCAMP
Whether the ground is frozen from the winter chill or the sun is beating down in high summer, Kelly Hotham's clients turn up religiously to her twice-weekly Drill Outdoor Fitness class. They're put through their paces with an hour-long session designed to push them to the physical limit with HIIT (high intensity interval training)-based cardio, strength training and isolation work, bootcamp-style.
Kelly's loved by her clients for the inclusive environment she's created and the encouragement she provides to all shapes and sizes. She's been teaching the Mt Eden Drill bootcamp classes for six years, with a core group of men and women who have been with her from the start.
"My motivation for these classes is hands down the people who attend," she says. "I wanted to do something where I could make a positive contribution to the way people feel about themselves and this is it for me."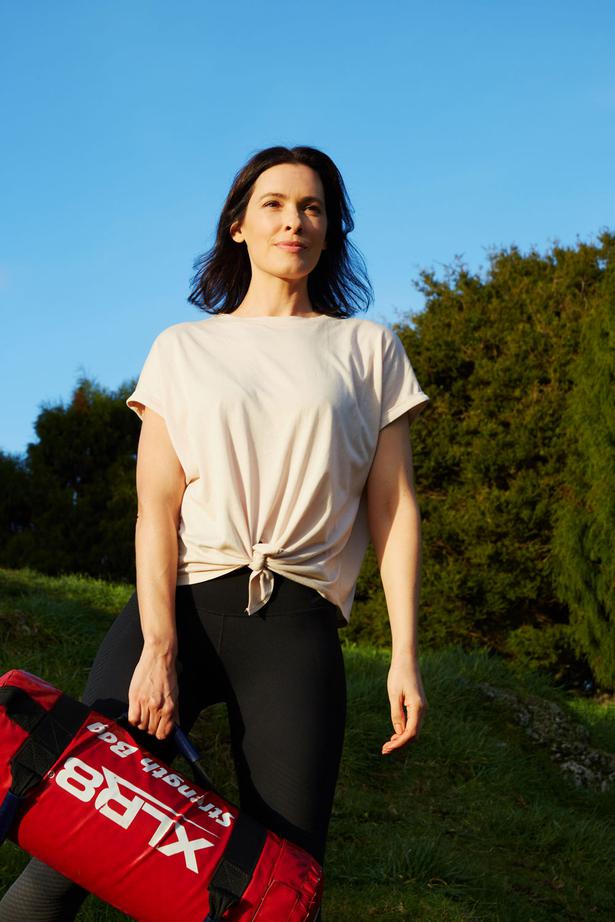 A fitness instructor with a NZ Institute of Health and Fitness accreditation, Kelly is also a model agent at 62 Models during the week, and appears in front of the camera as a model herself. She's well aware of the importance of body image but her classes aren't just about weight loss, they're about gaining strength, fitness and confidence in a fun group environment.
Plus there's nothing like getting outdoors to train, she says. "I love training outdoors and getting among the elements — and believe me there are a few, we train rain, hail or shine."
READ: Model & Yoga Teacher Ashley Hart's Beauty Routine
Each class is unique and clients won't know which piece of equipment they'll be using until they see the kettlebells, weight bags, medicine balls, resistance harnesses, hurdles, skipping ropes or boxing gloves gathered for them. It's this element of the unknown that ensures a high retention rate. Although Kelly admits she's scared off a few newcomers with the intensity of the training.
"I try and vary my classes to keep my clients guessing. And I do spend a lot of time thinking up different ways I can challenge — some would say torture — my group so it varies from strength based, to cardio, to isolation work, it's a real mix."
• Drill Outdoor Fitness runs classes in Auckland, Tauranga, Hamilton and Christchurch. Visit Outdoorfitness.co.nz
4. AERIAL SILKS
Skilled aerial silk performers make it look easy, gracefully twisting and contorting their bodies up two pieces of hanging silk until they reach the ceiling. At Aracnation studio in St Marys Bay, owner Jasmine Papprill has tapped into the wonder and excitement of this art form with her aerial silk classes.
Located in a beautiful brick-lined space, Aracnation welcomes students of all abilities to test out and become proficient at this unique form of exercise.
Just don't expect to look like a pro straight away, says Jasmine. "It took me a month before I was strong enough to even get off the ground."
READ: Comfortable Gym Gear To Motivate You
This was back in 2012, when Jasmine decided on a life change, getting fit and giving up alcohol for a long stint. After training at a local Auckland aerial academy, Jasmine completed a teacher training course at the New England Centre for Circus Arts in Vermont, USA, which is at the forefront of knowledge and safety when it comes to aerials. She founded Aracnation in 2014 and says it's a great form of fitness and you don't have to be a talented dancer or gymnast to enjoy it.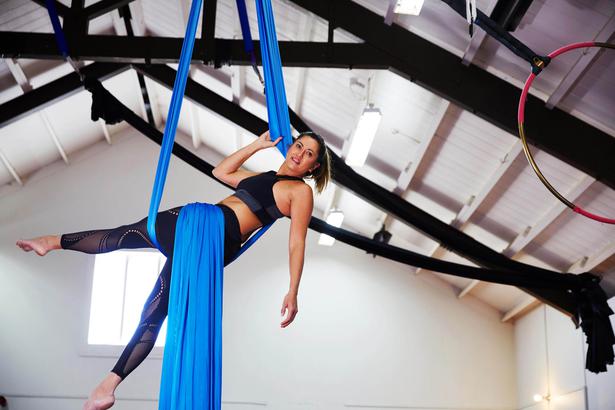 A typical beginner's class is 90 minutes and includes a warm up, followed by a standing foot lock. Newbies will attempt to arch forward and do a layback, with Jasmine or an instructor there to spot them.
A basic climb comes next, as well as learning the inverted frog position — which means hanging upside down. "They'll then stand up on the knot and wrap the fabric around them sitting down so they feel like they are in a cocoon. I'll swing them around so they feel like a kid again. It's a great first lesson and it gives them a taster."
An aerials class works the whole body but particularly the core and upper body. "In essence you are lifting up your whole body weight which is a natural form of fitness," says Jasmine. "You also build a strong mind and body connection, which helps in all aspects of life. At the beginning when you're building strength it can be a little tough but as soon as you have that it allows you to learn more cool tricks."
• Aracnation offers classes for beginners to more advanced levels. Visit Aracnation.co.nz
5. GLADIATOR TRAINING
"Classes are challenging. I'm not going to beat around the bush," says Ludus Magnus owner Joe Naufahu of his special brand of "gladiator style" workouts.
Ludians (as regulars are known) might find the word "challenging" a slight understatement — the sessions can be brutal. The Ludus Magnus gym on Newton Rd is the kind of place where 100 burpees are smashed out, giant tractor tires are heaved across the gym, and people don't walk, they gorilla crawl. Each session is an intense full-body workout where "you start burning fat for an extended period of time".
READ: Celebrity Fitness Instagrams to Motivate Your Workout
When you go into a battle like this, says Joe, you want people beside you, which is why the group dynamic of Ludus classes is so important. "With a group it becomes a lot more fulfilling and rewarding because people are there to help motivate each other, he says.
"People from completely different walks of life come in here to train together. It's the little things that lift you, like a slap on the back or a word of encouragement. Especially with these types of workouts. They're hard."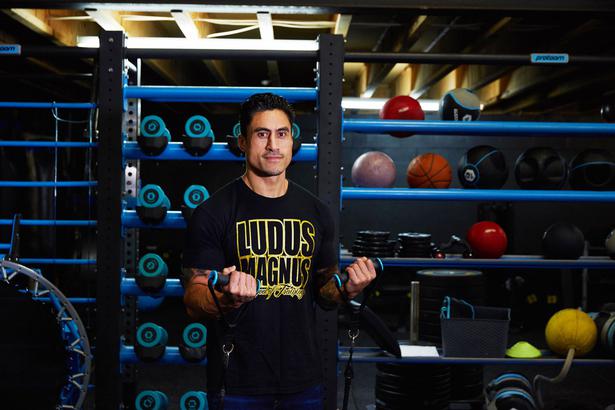 Joe founded Ludus Magnus in 2010, naming it after the largest gladiatorial training ground in ancient Rome. He wanted to create a place where people would be pushed to their limits, "but without pressure or stand-over tactics. It's a fun environment. The theory behind Ludus is that everyone has a gladiator inside them and they just need a little help getting them out."
Ludus is a functional fitness gym, meaning the body is trained in a way that emphasises its natural movements or everyday activities. That doesn't mean making cups of tea, we're talking squats, pull-ups, push ups and crawling.
Getting through an hour-long class makes for confident people outside of the gym, says Joe. "You might not enjoy it at the time but you'll get home and go 'shit, I did 100 burpees today'. People start believing in themselves more and what they can achieve. It makes tackling everyday tasks a lot easier."
Should people be intimidated by the Ludus gym? "That's something I have tried to break down over the years because it's not something we want to be," Joe says. "Egos get left at the door here, everyone is the same. It's always a surprise seeing people come in and killing it — you'd never pick them from the street."
• Ludus Magnus classes run daily. Visit Ludusmagnus.co.nz
Share this:
More Beauty & Wellbeing / Features & Profiles