Fun and Fashionable Beauty Accessories
Around the house or on the go, choose accessories that bring a fun and fashionable touch to your beauty routines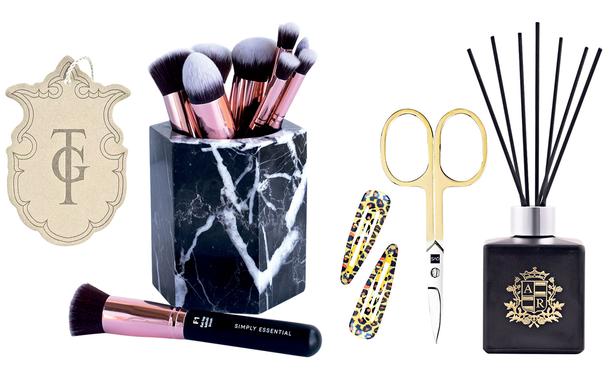 Wednesday June 15, 2016
HOME . . .
Village Scented Leaves in Sandalwood $34.90
A box contains five hanging leaves of perfumed paper to freshen your closets. Aromas available also include Green Fig, Moroccan Rose, Seashore, White Tea and Wild Lime. Visit cittadesign.com
Simply Essential brushes, $15.99 and $26.99
Priced by size, these soft, synthetic brushes helpfully have the purpose printed on the handle. Many makeup brands do artist-designed brushes particularly well, but if you're just beginning to build your collection, find what you use the most by experimenting, one brush at a time, with the likes of these. Look after them and they will last, but remember, good as these look standing upright to show off the rose gold trim, if you've just washed them do preserve the glue holding them together by lying them flat to dry. Visit thebeautycollective.co.nz
Via Leopard One Touch Clips $3.99
Who doesn't love a bargain? These cute little hairclips fit the bill. From selected pharmacies.
QVS Gold Plated Curved Nail Scissors $14.99
Smart and sharp, these fine scissors will keep your finger nails trim. Invest in heavier tools for toes. From selected pharmacies.
Abbey Rose Diffuser in Vanilla & Cinnamon $65
Set the scene for your beautifying with a cosseting home fragrance in your bathroom or bedroom. Abbey Rose is a
New Zealand brand with a diverse mix of scents, including in hand-poured soy candles with a long burn time. For another warm winter aroma try Honey & Spice. Visit abbeyrosecandles.co.nz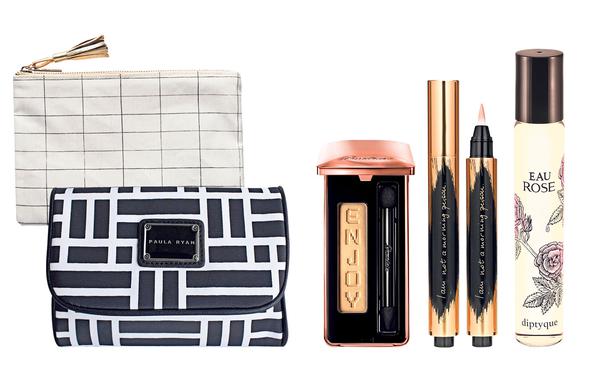 AWAY: Citta Grid Purse; Paula Ryan Purse; Guerlain Eyeshadow; YSL Touch Eclat; Diptyque Roll-on. Pictures / Supplied.
AND AWAY . . . 
Citta Grid Coated Flat Purse $34.90
Pack your makeup and brushes into this smart zip-up purse which can double as a clutch if you're looking to travel light. Visit cittadesign.com
Paula Ryan Labyrinth Purse $21.99
Stow your beauty stash in style. This makeup bag comes from pioneering New Zealand style queen Paula Ryan in one of her favourite colour combinations. It features a handy mirror inside and there is a matching roll-up toilet bag for $49.99. From selected pharmacies.
Guerlain Ecrin 1 Couleur Eyeshadow 13 $57
At this price we do hope you enjoy the exhortation. The beautiful packaging encasing this sliver of eye colour is certainly a call to indulgence. From Smith & Caughey's Queen St.
YSL Touch Eclat I Am Not a Morning Person Limited Edition $65
Smile while you conceal those dark circles and add facial highlights with this cosmetic classic, given an apt makeover with its message. From selected department stores and pharmacies.
Diptyque Eau Rose Roll-on $82
This eau de toilette is an infusion of roses handily distilled into a vial you can take with you for perfume touch ups. Visit meccacosmetica.co.nz
Share this:
More Beauty & Wellbeing / The Latest