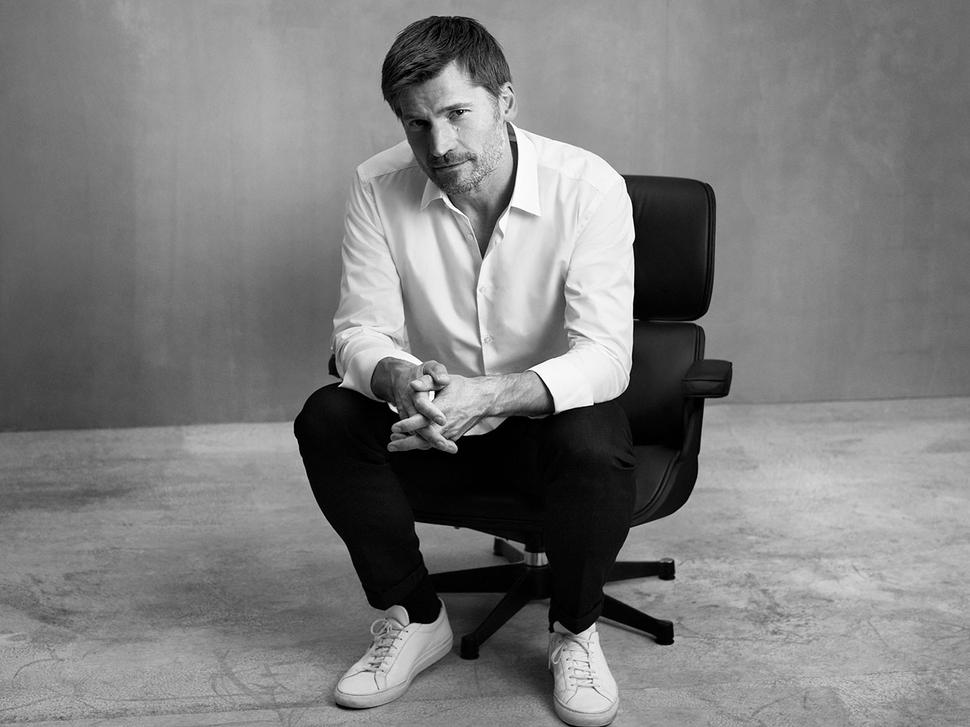 Game of Thrones Star's Off-Screen Battles
New L'Oreal Paris Men Expert ambassador Nikolaj Coster-Waldau is using his profile to fight for causes dear to his heart
Wednesday Jan. 17, 2018
Actor Nikolaj Coster-Waldau — who has fought through fire and ice on screen — is determined to see the real world weather the storm of climate change.
With his wife Nukaka hailing from vulnerable Greenland, the Danish-born star has seen first-hand the effects of rising temperatures and sea levels. As a goodwill ambassador for the United Nations Development Programme since 2016, he speaks out about climate action and gender equality.
The father of two daughters says celebrity offers the chance to use his profile to make a difference. His face is set to get even more well-known internationally as the ambassador for L'Oréal Paris Men Expert. At 47, he likes the idea of encouraging men to look the best they can, whatever their age. He is delighted that the company is a supporter of Movember, the men's health cause he already backs.
Could we be seeing his Thrones character Jaime Lannister emerge from a cliff-hanger encounter with dragons, for a new season with a moustache? Unlikely, we think, but while fans wait for a delayed return date, 2018 offers other chances to see Nikolaj on screen. He's set to star in Domino, a thriller directed by Brian De Palma for starters.
READ: How Game of Thrones is Influencing Fashion
Then there will be billboards and campaigns for L'Oréal's Vita Lift range. Nikolaj is embracing the opportunities that have come his way since he transitioned arch villain Lannister into one of Game of Thrones most appealing, if conflicted, characters.
Over the decades, he has been building up from smaller roles and has acted in more than 40 films, so doesn't take being a headline act for granted. His idea of heroism, he jokes, is not letting slip any Game of Thrones spoilers. His satisfaction comes from getting back to England from filming to spend time "being at home to be able to suitably embarrass my daughters, as is any dad's duty."
For more on Coster-Waldau's take on life and his skincare routine, read on.
What makes a movie hero?
Depends on the movie. But if we are talking bigtime blockbusters, then I guess staying alive for the sequels is a good start.
Who's your greatest movie hero?
One of my all-time favourites is Once Upon a Time in America. The main character, Noodles is neither hero nor anti-hero, he made a big impression on me. So take every DeNiro, Pacino, Duvall and Gene Hackman movie from the 70s, mix them up and you have the perfect film actor.
Why is it important for you to be engaged?
Thanks to the level of celebrity I now have, I have the position to raise awareness and get people's attention on causes that are dear to my heart. We have the power together to make things change, inaction is not an option.
How do you feel about the L'Oreal Paris Movember collaboration?
I'm looking forward to lending my support through Men Expert to this global movement which is having a real impact on men's health. For me, it's a plus to work with a brand that's engaged with a charity whose work is benefiting men across the world. I'm also looking forward to growing an epic moustache.
READ: Why You Should Be Double Cleansing
What goal do you have yet to achieve?
To see my football team, Leeds United, win the premiership in May 2018. It's going to happen, trust me. Oh, and Denmark in the World Cup final.
You travel lots with your multiple roles, what do you never leave home without?
After a flight, I am usually expected at a meeting or on a film set. I can look tired after a 10-hours of travelling and be stressed. I then have 2 lifesavers: the anti-wrinkle turbo gel with which my skin instantly looks brighter and fresher. The other life booster is my spray antiperspirant that makes me relax and stay fresh.
What hobbies do you enjoy in your downtime?
Mountain biking, I love getting out on the bike in the forest. Working out at my nearest Crossfit gym with a friend. Catching football when it's on. And right now, in this season, skiing with the family.
READ: How The Hair Industry is Moving Towards Sustainability
What's your favourite place in the world?
Greenland, where my wife's from, is one of the most magical places on earth. It's been eye-opening seeing the impact climate change is having there.
What was your reaction to being asked to be a L'Oréal Men Expert spokesperson?
First of all, I was surprised and thrilled.I definitely feel proud. L'Oréal Men Expert is known for its efficient products tailormade for us men.
Who is the Men Expert man?
If he is anything like myself then he wants great easy-to-use products that deliver what it says on the wrapping.
READ: Test Drive: Clinique for Men Cleansing Brush and Charcoal Face Wash
What's the secret to improving with age?
Don't worry. Be who you are. Life is change. Embrace that. And don't let a number define you. Keep winding people up, make everyone laugh. And for skin, there's Men Expert Vita Lift.
How do you keep yourself looking good?
Keeping up with a daily skin routine whatever time my alarm goes off. I'm 47, and though not always wiser about life in general, I recognise the value of a quality moisturiser to get my skin through a day on set of fire or ice, still in recognisable condition.
What's your daily routine?
Shower, shave, or not – I had epic facial hair on [movie] Shot Caller – then slay on a day's worth of moisturiser. And, when my eyes are crying out for it, eye gel is a real revelation. That is one heroic product.
READ: Which Eye Treatment is Right for You?
What are your top L'Oréal Men Expert products?
"I'm absolutely on board with Vita Lift: ageing better. It's satisfying to use one product [the cream] knowing it's going to do five different things to your skin. I love that the raw ingredient, don't ask me to pronounce it, is sourced from a vineyard, truly French saviour-faire.
What is self-empowerment to you?
Self-empowerment is self-confidence – one of the most attractive things about a person.
Share this:
More Beauty & Wellbeing / Features & Profiles