How Georgina Langdale Created Archeus
In a region teeming with artisan food and winemakers, creative locals are also using nature's ingredients in beauty products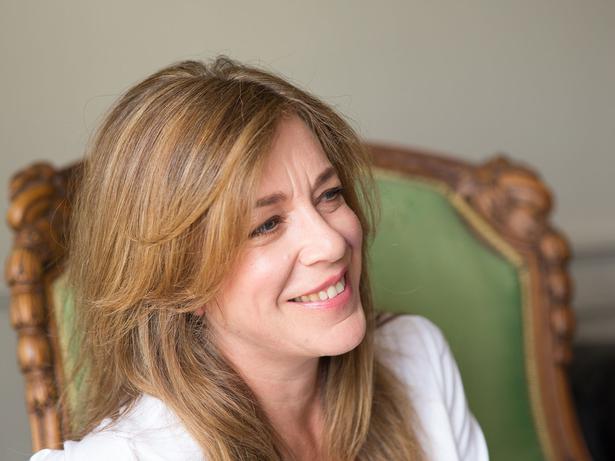 Wednesday Sept. 21, 2016
When Georgina Langdale was living in London, she says, she sometimes felt so disconnected from nature she would "pay anything in a shop in Covent Garden to buy a product to put on my skin for that natural feeling".
Now she gets that feeling on her lifestyle block outside Napier and is fielding interest from Britain about her products. Having moved overseas in the mid-80s, the idea to return to where she grew up took years to fully form. She now has no regrets about coming home and starting a new career.
While based in Germany, working for the United Nations in global communications for a major eco-conservation study, she started thinking about what to do next. A business with eco-consciousness at its heart was the answer and: "I thought why not in New Zealand?"
In December 2013, Georgina launched Archeus, drawing on her long-standing interest in herbal medicines and aromatherapy and a natural cosmetic formulation course she had taken as a "private passion". After experimenting with her own formulas she was ready with a home apothecary set up on the 2ha block she and her partner bought at Poraiti, looking over the Ahuriri estuary to Napier. "It's a stunning setting and I think it makes a difference to the end product."
The early days were challenging, at a time when she was grappling with her mother's ill health and death. From the start, she was determined to give back and contribute a portion of sales to native tree restoration. Georgina also runs workshops, inspired by the idea of traditional herbal healers handing on skills. "It's about showing that plants living all around us are some of the most effective at healing." Around half of those at the workshops are from outside Hawke's Bay. "Women from Auckland come down for a weekend, go to a winery and want to do something just for themselves."
Bespoke skincare is another side of the business, with Georgina providing consultations and prescriptions. She was asked to make a healing ointment for a tattooist, leading to the development of an oil for the Two Hands parlour in Auckland. Vital Ink Tattoo Conditioning Oil was recognised in the "True" Beauty Awards in the UK and she was a Sustainable Business Network finalist here, before Archeus had even begun seriously retailing. That is the next step for Georgina, who sells mainly online.
Bigger premises are also being considered, although she will keep doing research and development at home. At 48, Georgina says she is in it for the long haul, but wants to keep a sense of scale. "It's a fabulous time at the moment, the way technology and social media is going, it's allowed a real renaissance of artisan craftsmanship."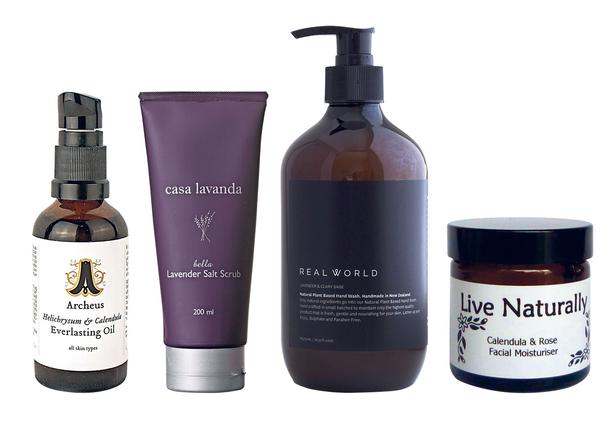 Archeus; Casa Lavanda; Real World; Living Naturally. Pictures / Supplied.
BAY BEAUTIES
• The lavender fields at Casa Lavanda were once open to the public, but for some years now the owners of the Mangatahi property, west of Hastings, have eschewed tourism in favour of focusing on their skincare business. Their own lavender essential oil is at the heart of spa-style products for hand, body and hair. The range is suitable for sensitive skin and is sold locally and further afield, visit casalavanda.co.nz
• Nicola Mossman believes every pair of hands tells a story and she wasn't happy with hers. The busy mother of four reckoned domestic duties were taking their toll and her hand wash, lotions and dishwashing liquid should be gentler. She set out about concocting appealing fragrances and had sulphate and paraben-free products made in Hastings. The new business sells under the Real World label and includes local ingredients, such as lavender and clary sage, alongside fragrant mixes such as coconut and lemongrass. Cadeaux, in Havelock North where Mossman lives, stocks the handcare range. There has been interest already from several Auckland stores, and talk of expanding the range. Visit realworldnz.com
• When Tina Hume started making skincare she named it after the Irish Gaelic word for natural, but this proved a bit tricky for most people to say so she switched to calling her cottage industry business Living Naturally. It sums up her approach nicely, selling at local markets, to a few local stores and online. She sources locally where she can and uses essential oil fragrances, such as rose in her moisturiser, which also includes calming calendula and plant oils. From Coco & Co, Hastings, The Department of Curiosities and Fine Things, Napier, and livenaturally.nz
Share this:
More Beauty & Wellbeing / Features & Profiles