Get The Look: The Beauty Glow Up At Paris Georgia's Summer Presentation
Bobbi Brown's Blair Gamblin shares her step-by-step guide on how to create this runway-ready look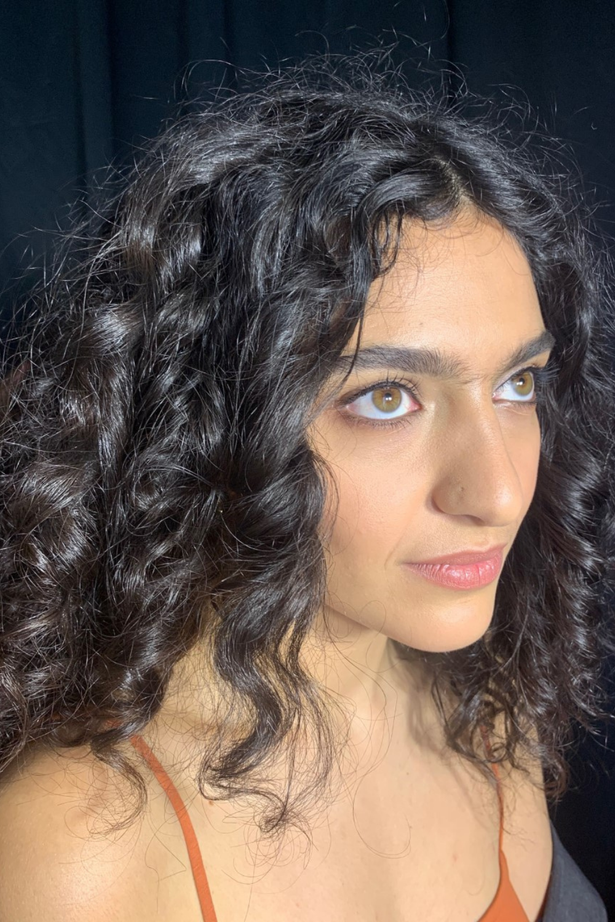 Friday Nov. 13, 2020
Fluffy brows, healthy skin and a sort of "heighted freshness" that manager of education and artistry for Bobbi Brown and Jo Malone London Blair Gamblin says embodies the Paris Georgia brand. 
That was the beauty brief for Paris Georgia's Summer Presentation, which took over Auckland's East St Hall on Wednesday November 11.
As the exclusive makeup and skincare partner for the presentation, Bobbi Brown and La Mer products were used by Blair and her four-person team to transform 24 models and talent before they walked the cobbled runway.
Blair collaborated with designer Paris Mitchell Temple to create the runway-ready beauty look, but took into account each individual model's natural features to design a style of makeup that would suit everyone.
"I'm conscious of not creating one look that has to be identical on absolutely everyone. I much prefer each model to have their own twist on it – obviously within the same colour palette. That way they all feel really confident when they walk down the runway," Blair says.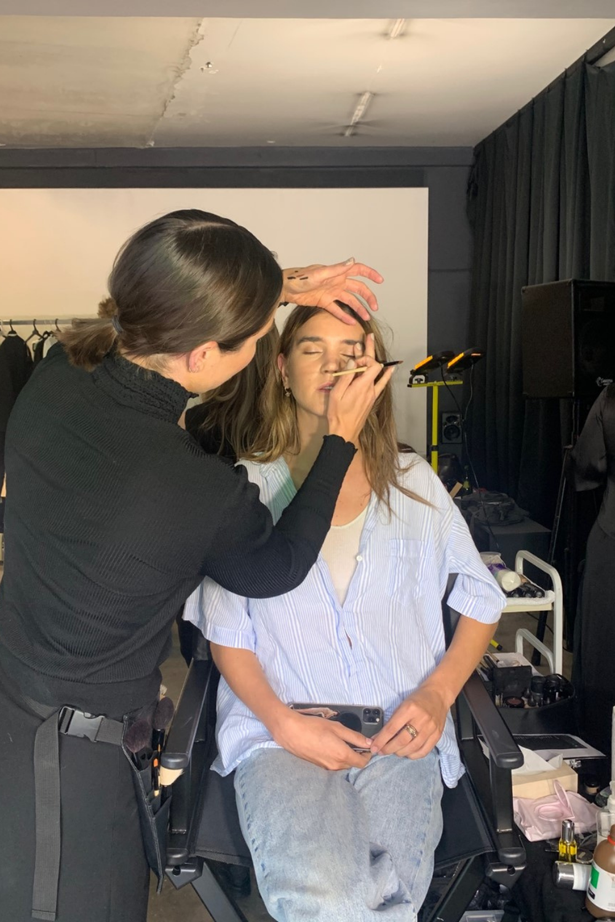 Blair used a combination of complexion flattering taupe shades to create model Becca's eye look. Photo / Ash Cometti

It's the second time Blair has worked with Paris to direct a makeup look for a Paris Georgia show.

"Paris Georgia always love that super natural look. I like to work within that framework by creating beautiful skin and a beautiful brow, then evolving the look from there," she says.

"A Paris Georgia girl is super polished and refined so we're almost wanting to create that lit-from-within glow."

READ: It's Official, Paris Georgia Is The Mercedes-Benz Presents Designer For 2019

Achieving this level of glow renders the skincare prep step more important than ever, Blair adds. "I find when I'm doing a "no makeup makeup" there's actually a lot more finesse needed than normal. So skincare prep is super important, everything is lightly pressed into the skin to almost create this second skin. It can't necessarily be seen to an untrained eye," she says.

The result is a beauty look that's more pared back than the one we saw at Paris Georgia's show at Fashion Week in 2019, but still works within the same tonal palette, Blair explains.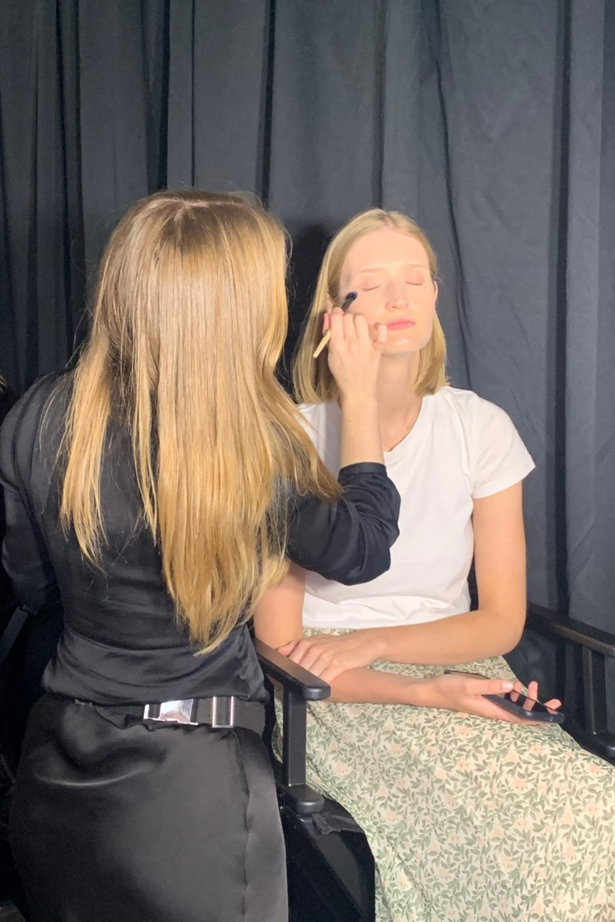 A member of the Bobbi Brown artistry team works on model Jade. Photo / Ash Cometti

Here, follow Blair's step-by-step guide on how to re-create the Paris Georgia look. 

1. First, prep the skin for makeup application by using La Mer The Treatment Lotion. Pour a few drops into your hands and lightly press it into your skin.

2. Next, a swipe of La Mer The Eye Balm Intense will make sure the under-eye area is nice and smooth.

3. The final prep product is La Mer The Moisturising Soft Cream over top, to lock in hydration.

4. For a lightweight foundation, I love Bobbi Brown Skin Foundation SPF15, which creates this second skin finish. It's nice and natural, and reads almost like a satin so we're not getting too much glow. We don't want to see foundation sitting on the skin, so try to really work it in with a flat foundation brush.

5. To even out any extra redness or blemishes, daub on your concealer of choice from the Bobbi Brown Creamy Concealer Kit. It also helps with any colour correcting needed, so we have a beautiful veil of colour over the skin. It adds a little brightness under the eye in a really natural way to wake you up.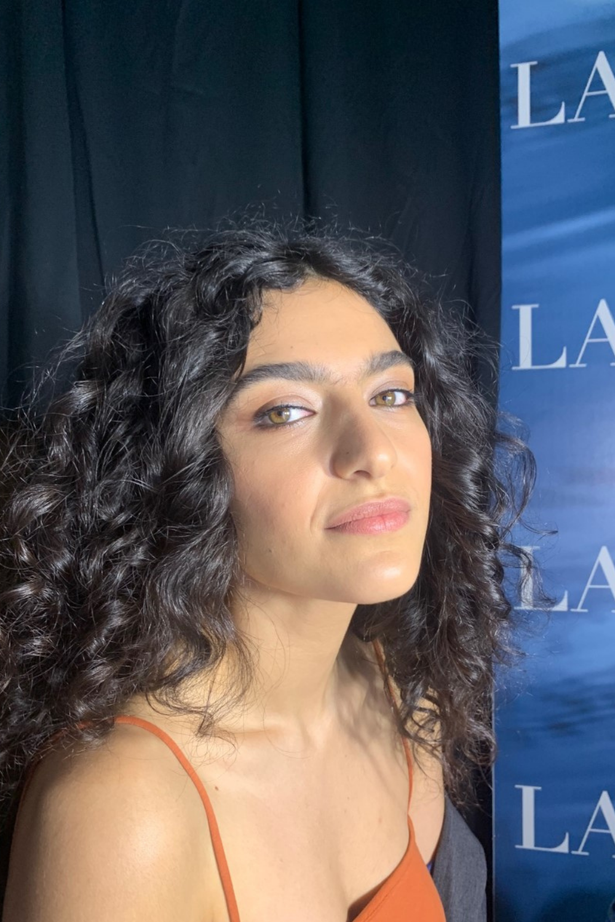 The final runway-ready look on model Roxie. Photo / Ash Cometti

6. For eyes, I worked with each model's natural eye shape to create a halo of soft colour – almost as if it's coming from within their skin. I created a little bit of a liner feature by drawing a tight line on the eye to add definition close to lash line, which helps look being done without being "overdone".

7. Wiggle Bobbi Brown Smokey Eye Mascara at the roots of the lash on tops and bottoms, to add definition and density close to the lash line.

8. For brows, my pick is the Bobbi Brown Micro Brow Pencil to mimic the natural brow, so fill them in with small pencil strokes to create fullness – we all know the Paris Georgia girls love a beautiful fluffy brow!

9. A bit of light contouring on the cheekbones using the Bobbi Brown Bronzing Powder with a contouring brush helps to add definition.

10.The final step is to press Bobbi Brown Luxe Lip Colour in the shade Pink Nude onto lips and cheeks. For the most natural finish, use your fingertips as the warmth from your fingers will help the creamy formula to blend easily into skin.
Share this: