Gigi Hadid's Beauty Secrets
Supermodel Gigi Hadid talks tricks of the modelling trade and her new collaboration with Tommy Hilfiger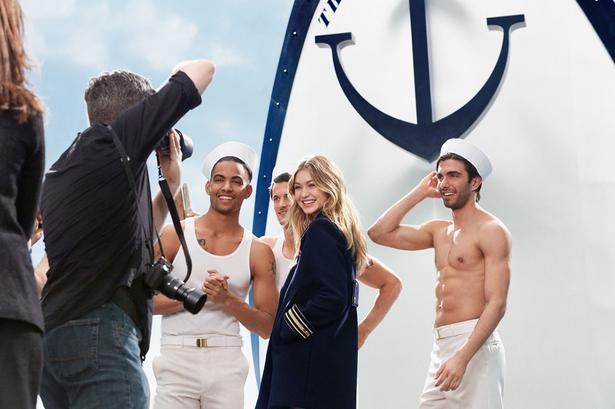 Tuesday Sept. 13, 2016
What's your beauty routine?
I'm pretty easy-going. My hair is usually in a ponytail or a bun and make-up is simple. I stick to bronzer, mascara and a spritz of fragrance, and then I'm out the door. I like a simple routine when I have days off.
What do you believe makes a woman beautiful?
To me, women are beautiful when they are confident, warm and welcoming. I've been fortunate enough to meet some of the women I admired growing up and the ones that truly touch me and continue to inspire me are the ones that embrace these qualities.
What is your number one beauty tip?
Less is more. There are events or times to have a glamorous or statement look, but mostly I like to keep it natural.
What makeup products can you not live without?
I can't live without nude lipstick. It's a great basic that goes with every outfit and look.
After a long night, how do you wake-up looking fresh?
I try to sleep as much as possible, but if I don't get enough sleep, coffee helps! On set, being around people that I love working with helps to give me a lot of energy.
Do you have any tricks to prevent a bad hair day?
Put it in a bun! When I'm having a bad hair day, I just put it away and no one knows.
What's your beauty mantra?
Eat clean to stay fit, have a burger to stay sane.
How do you prepare physically and mentally for shoots and runway shows?
I box year round; it's how I keep my body in shape and a great way for me to not think about anything for an hour. It allows me to work things out without even realising it.
Modelling is competitive, so what is your key to surviving?
I think that it's really important to be someone that people like to work with; people are not going to work with you if you're difficult. If they don't like working with you, they're not going to – there's always someone who's going to be prettier and nicer.
I think what means the most, more than when people say, "I love that image!" is when they say, "I talked to the hair stylist from the shoot and they said how kind you were." That's what makes me feel good about the day. Be nice, be someone people like to work with.
WATCH: The Tommy x Gigi Show at New York Fashion Week:
Social media is a significant part of being a model today, but when you started was it a consideration?
I was born in a generation in which social media is part of our everyday lives. It is something that has already made sense to me, and feels very natural. Timing is everything – and I've been very lucky. I always knew social media was going to be important and it's really helped to push my career.
You've worked closely with Tommy Hilfiger on your just launched first fashion collaboration and are the face of his The Girl fragrance, so what does the Tommy Hilfiger brand mean to you? 
I think of Tommy Hilfiger as an iconic American brand. It's a lifestyle that exudes happiness and fun. It's a brand that I grew up looking at; they were always the campaigns that I wanted to be part of so to do it now is so much fun. The energy on the set was everything that I expected from a Tommy shoot. The feeling you get when you look at the campaign is the same feeling we had when we were shooting it, playful and spirited, so that's really exciting.
Tell us about The Girl by Tommy Hilfiger fragrance?
I love the fragrance's clean and fresh feel. I like a scent that doesn't overwhelm and keeps everything light and airy. It's a really fun and flirty fragrance to go out at night, but also versatile enough to wear during the day.
Can you tell us one thing that people probably don't know about you?
When I was 11, I sang back-up vocals on a Josh Groban Christmas album.
Share this:
More Beauty & Wellbeing / Features & Profiles