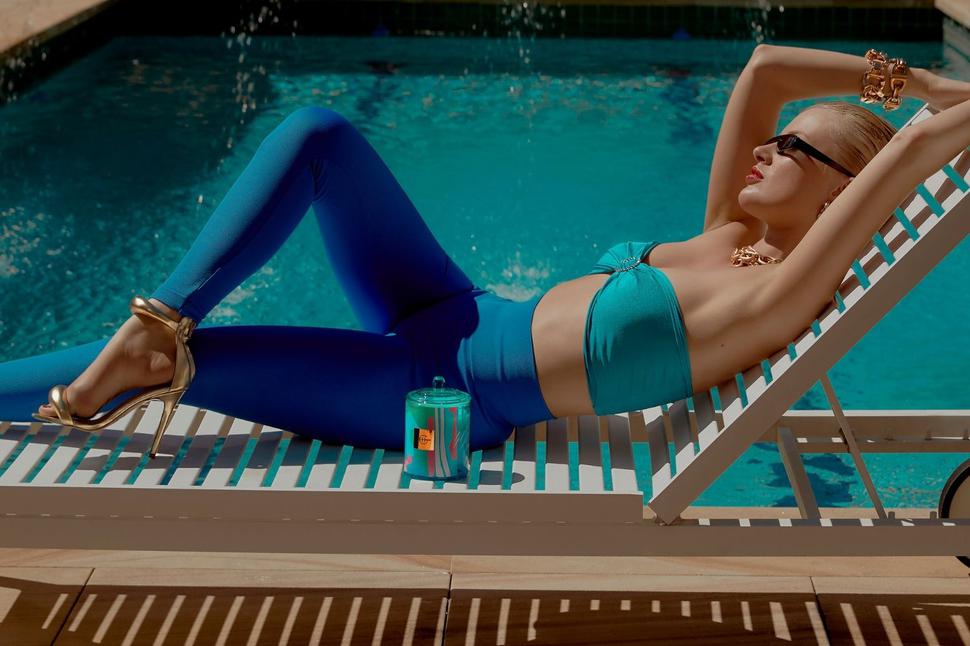 Glasshouse Fragrances' Collab With Artist Sarah Fordham Delivers Neon Nostalgia
The multi-disciplinary artist shares the acid-bright inspiration behind her latest collaboration
Thursday Jan. 20, 2022
"I'm a mix and match sort of girl," laughs Sarah Fordham.
Speaking exclusively with Viva ahead of the launch of her artful collaboration with Australian fragrance maker Glasshouse Fragrances, the Sydney-based creative confesses her pick 'n' mix approach to life (and art) permeates everything she does.
"I don't like to be pigeon-holed into one way of thinking or being," she says, vehemently.
Not limited to any one medium, over the past two decades Sarah's vibrant works have adorned silk scarves, cushion covers, plates, tote bags, wine labels and wallpaper as part of her SAFO design range.
Now, Sarah can add packaging design to her ever-growing list of unexpected canvases, with the unveiling of the new limited-edition Glasshouse Fragrances Summer Collection Duo, which comprises two summer-ready scents sure to transport you to a glamorous pool party.
Bedecked in Sarah's eclectic and bright designs, the gourmand duo extends to two Triple Scented Soy Candles — Pool Party, with floral notes of peonies and orchids alongside zesty pink grapefruit, rhubarb and jasmine tea, and Pretty In Pink, an effervescent blend of raspberry cupcakes, glace cherries, powdery almond and cherry blossoms.
Sarah collaborated with Glasshouse Fragrances founder and CEO Nicole Eckels on the look and feel of each vessel and outer sleeve, with both scent and design capturing the essence and electricity of the summer season.
"The designs found on Pool Party and Pretty in Pink actually started out as mixed media collages and ended up as digital drawings," Sarah says of her creative process, which was sparked following a visit from Nicole.
"As Nicole described these new scents she was developing, this in turn inspired the design of these summery concepts through the pink and blue colour schemes. I think the final designs speak to the fun of sunny days and they truly work hand-in-hand with Nicole's early vision," Sarah says.
READ: How To Make It Big In Beauty, According To Dermalogica Founder Jane Wurwand
"I am always imagining how my artworks may look on products. So, the chance to work with Glasshouse [Fragrances] and experiment with packaging design, was such an amazing opportunity I could not pass up!"
Serving up more 80s-inspired neon nostalgia than we could poke a stick at, Sarah says the collaboration is one of the most exciting she's ever worked on.
"As a colour tragic, I have always loved Glasshouse [Fragrances'] palette and have always felt an affinity with their aesthetic. One can't help but be drawn to the colourful wall of Glasshouse products in any design store! And that's just the packaging! Inside — the fragrances are just as delicious," she says.
A citizen of the world in every sense, San Francisco-born Sarah spent much of her time studying the French language and culture in Paris, lived amongst the snow-capped mountains in California, and finessed her painting practice during a stint in New York City's gritty Lower East Side, before putting down roots in Sydney.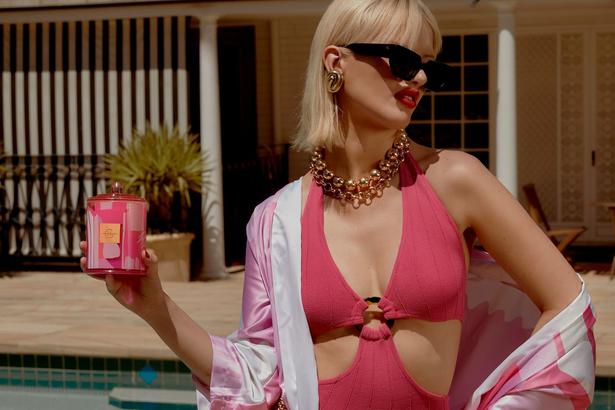 Her lived experiences inform much of her work, as does joyful shades in every colour of the rainbow.
"At the centre of my painting practice is my love of colour and that continues into my range of designed products. I am at my happiest when I am simply mixing paint or playing with colour combinations in my studio with my little pup Indiana Jones by my side."
Today, you'll find her splitting her time between her studio and working as a lecturer in art education and a workshop facilitator. "I walk and talk art seven days a week!" she laughs. "I can't remember a time when I wasn't making something."
And if the idea of constantly tinkering sounds exhausting, for Sarah it's a lifestyle. "I am always making things or thinking about making things — creativity is at the centre of my life," she says.
With ideas sparking at any given moment, Sarah remains armed with her iPad and stylus at all times for when inspiration strikes. "In recent times they've been within arm's reach so I can quickly get an idea to 'paper'," she says.
Glasshouse Fragrances Limited-Edition Summer Collection Duo (Pool Party and Pretty In Pink 380g Soy Candles) are priced at $60 each, and are available from Nz.glasshousefragrances.com
For more information on Sarah Fordham's work, visit Safo.com.au or discover Sarah on Instagram: @safo_studio_to_store
Share this: