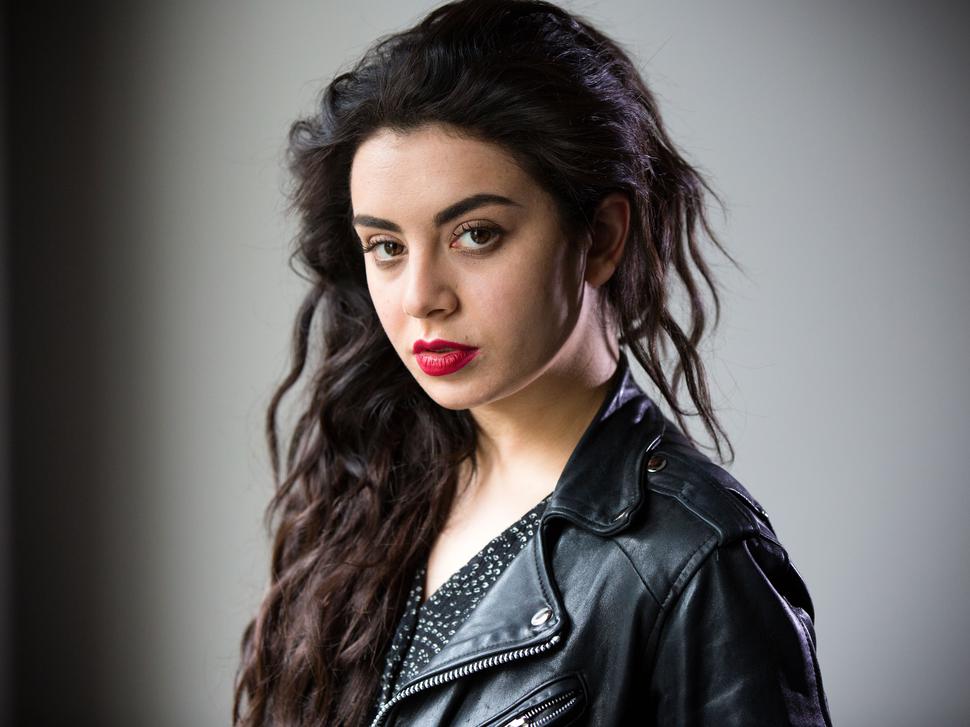 Going Out with Pop Star Charli XCX
The singer shares her signature red lipstick colour and how she likes to experiment with her on-stage beauty looks
Tuesday May 12, 2015
Her attitude in person appears to be slightly blase, but what else would you expect from a 22-year-old pop star with a hit called Break The Rules? British singer Charli XCX was in town last week to perform a free iHeartRadio show, and sat down with us to share her best beauty tips. She started out as a singer-songwriter who would perform at warehouse raves in London, then rose to international fame in 2012 with her hit single I Love It with Icona Pop, followed by another hit with Iggy Azalea (Fancy). She is now leading the way with her solo hits, impressive dance moves and 90s style.
First makeup memories
I went to a school disco when I was about 9 or 10 and I think that was the first time I wore makeup. I wore an all purple outfit, purple flares, and a purple halter neck and then I did purple eyeshadow, purple lipstick, purple nails. It was horrific! I looked terrible but kind of awesome. It was mental but, honestly, I really had no idea how to do makeup until a couple of years ago.
Day and night-time looks
I always feel you should have two kinds of looks that you can wear — I think when you have a night-time look that looks really like NIGHT-TIME that always really freaks me out. I think you should have two kinds of subtle looks that you can wear day and night and that's it. I think keep it simple and fresh faced.
Signature look
It always definitely revolves around a red lip. Then sometimes it really depends where I'm going but it will be just a red lip, sometimes it will be an eyeshadow, sometimes it will be a black liner. A red lip is just the staple for me.
Pre-party prep
To be honest I put music on and get ready and drink Champagne. There's not much more than that.
Skincare
For skincare I like Kiehl's, because it's so natural and not very perfumed. I was in Japan recently and a lot of my fans gave me these special Japanese face masks. It's like the face masks that you open and place on your face but these Japanese ones have faces on them, so you look kind of like you are wearing someone else's face.
Makeup
I like a lot of Charlotte Tilbury's products. All her skin stuff is great — the foundation, concealer and contouring. In terms of lipsticks, I think M.A.C are always great; I like the colour Russian Red, and I like Ruby Woo as well. For eyes, Make Up For Ever have a really good big mascara and great liquid eyeliner, which I like to use. I also like Burberry, they have a really good eyeliner liquid pen.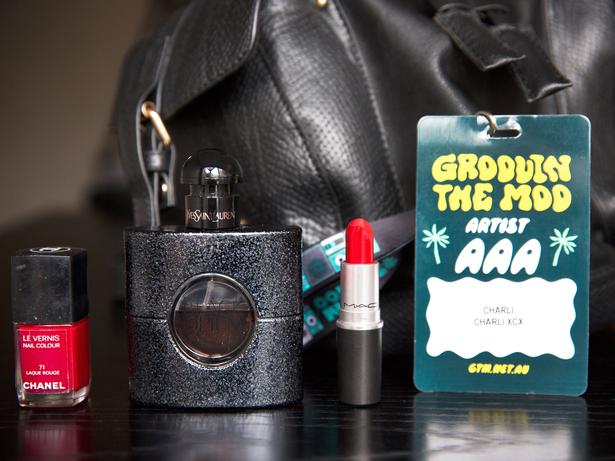 On stage beauty looks
They're never planned. It's always very spontaneous when it comes to makeup for stage. Like the other day I just put red lipstick all over my eyes because I wanted to do a kind of gothic-punk thing. But it's always just before I go on stage, with my band being like ''Ooh, let's change it today''. We did a show in Dallas where we all dressed as goths. We had black lipstick and mascara running down our faces. We had safety pin necklaces, loads of PVC and bondage stuff.
Beauty icons
I really like Devon Aoki. She has incredible makeup and is so beautiful. I like a lot of 90s makeup looks, Rose McGowan and Angelina Jolie makeup-wise are brilliant.
Hair
Naturally, my hair is really big and quite curly. I use Kerastase shampoo and conditioner (the green one) and then afterwards the heat protector and that's it hair-wise. I'm really lazy — I use a Tangle Teezer to brush it, they're amazing. But, to be honest, I only wash it once a week. I'm really lazy.
Nails
I love experimenting with nail art, but I've been lazy over the past couple of days. I like OPI, and I have an awesome Chanel nail kit, which is really great and the nail varnish smells really good (which you probably shouldn't write).
End of the night
I always use makeup wipes to take the makeup off at the end of the night. I also like it when your makeup stays on a bit the next day.
Scent
Right now I'm wearing Yves Saint Laurent Black Opium.
Watch Charli XCX's Break the Rules:
Share this:
More Beauty & Wellbeing / Features & Profiles