Hair Accessories to Wear Now
Hair guru Kevin Murphy shares his romantic take on celebrating natural texture with celestial jewels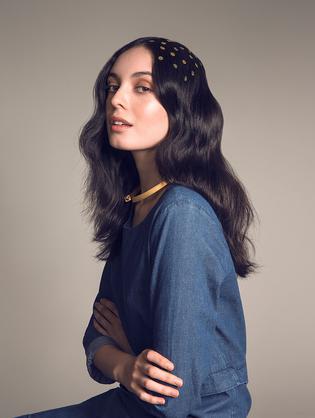 Make like a magpie and repurpose your jewellery for an easy hair update. From vintage brooches to butterfly clips and bridal headpieces, this runway-inspired approach to adornment is easy to emulate. Pair with hair that is anything but over-worked.
"It's grungy texture with high-octane jewels," says Australian hair stylist and entrepreneur Kevin Murphy, who worked with the Viva team on this shoot while in Auckland. "If your hair was all smooth waves you would look like the Queen."
Instead, individuality rules. "Sequins by day, flat shoes at night," says Murphy, who points to Chanel's Cruise collection combination of khaki and diamonds for inspiration.
Over-styling is out, with Murphy advocating air-dried hair hanging free or a quick blast dry to help things along. "Everyone wants to air dry their hair, no one wants to blow dry their hair for ages anymore," he says. The half-up, half-down do is another time-friendly fix. "Perfect for day three hair," as he puts it.
Another change is a shift away from perfect red carpet waves and faux natural looks - think tonged in beachy waves - to those that truly embrace natural texture.
Murphy, who made his name as a session stylist in Australia and the United States before starting his own hair company, puts the shift down to changing shapes on the runway.
Textured hair that played with dimension suited where fashion was at. This is great news for those with curls, but he says hair embellishment, as seen at Rodarte, Dolce & Gabbana and more, is for everyone.
The headband is ideal for those with straight or finer hair, but can be worn in sets of two or three for a new twist. For those wanting to change it up even more, Murphy currently loves blunt geometric haircuts. "They're almost punky and look great with embellished clothes." For added impact, just raid the jewellery box.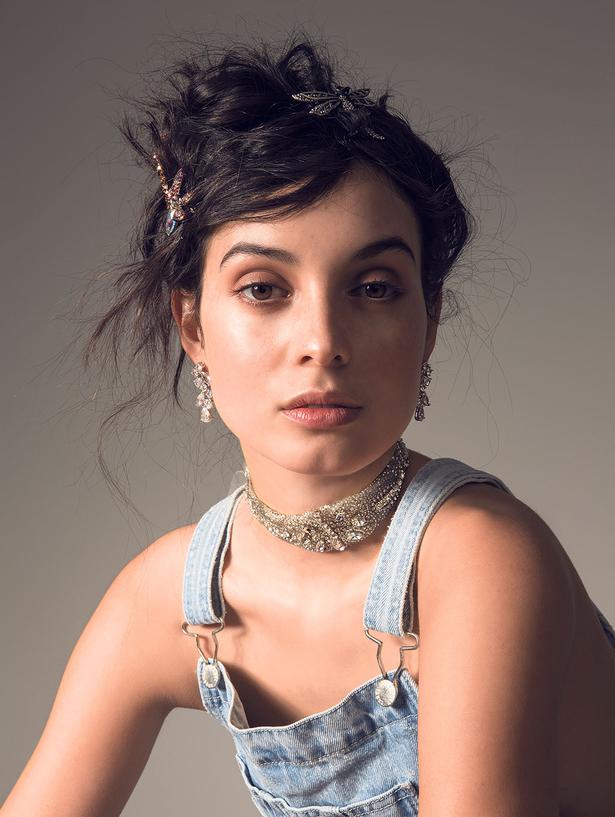 DAYDREAM BELIEVER
Step through the looking glass with bejewelled Alice bands layered on top of each other for an effortless injection of chic. To achieve this look, which contrasts texture with the taming effect of a headband, create a relaxed flicked-over side-part and tuck hair softly behind one ear. Backcombing is often not necessary if hair has already been texturised. If you feel you need more height than you get from pulling back your hair, then tease it just a little to avoid an over-contrived look. Trelise Cooper headbands $95 each. Levi's jacket $149.90.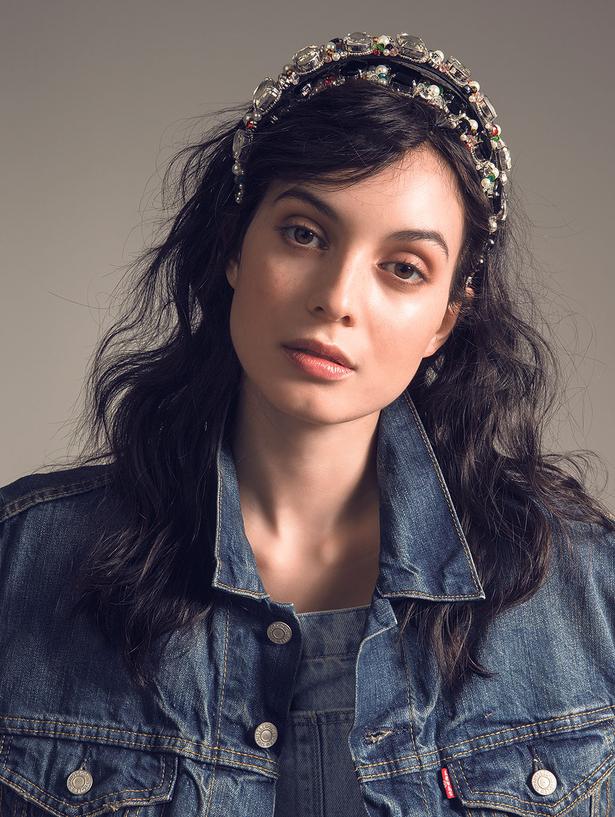 CROWNING GLORY
Windswept waves and a gold wreath wrap this delightfully dishevelled look together. To achieve this look a series of one-way, then the other horizontal clamps with a deep wave tool will give more definition than winding hair around a narrower straightening iron. Start from the cheekbone down. Crown your curtain of curls with a flexible headpiece bent into place and secured with bobby pins. Finish with a little spray. Natalie Chan headpiece $150. Mahsa blouse $420.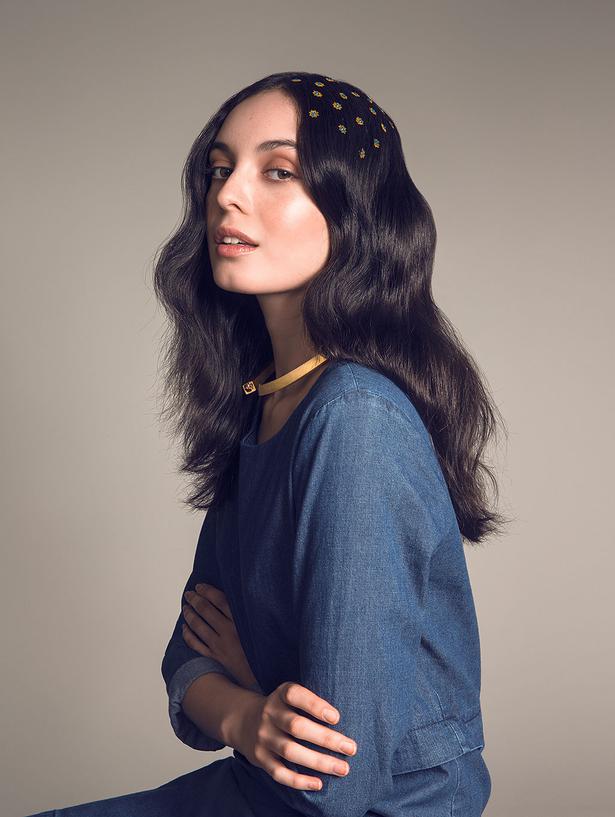 DENIM AND DIAMANTES
An update on the updo takes it from ear to ear, secured with multiple sparklers. Old lady flora and fauna brooches that don't weigh too much can be secured into hair with invisible elastics or seek out inexpensive clips from chemist or department store selections. For added security bind thread around the pin closure of your hair accessory and sew this lightly onto the bobby pins keeping your hair up. To achieve this updo, first pull the top section back and bobby pin to the crown behind the ears. Take the long end over from one side towards the opposite eye and bobby pin in place on each side. Take remaining hair at the back into a low pony and split in two, pinning each section behind the ears, secured with a clip. Natalie Chan earrings, $100, and belt (worn as choker) $275 Assembly Label overalls $100.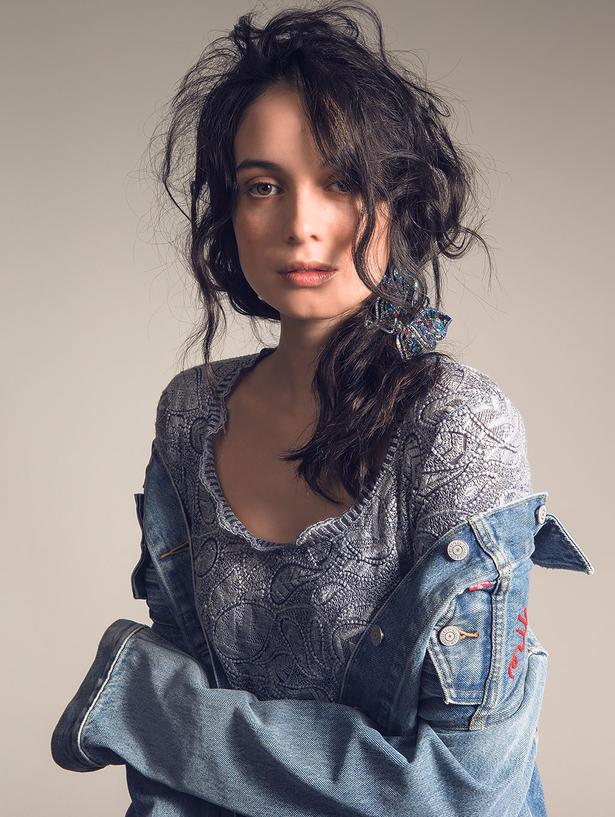 DIAMOND IN THE ROUGH
A side pony tail secured with a butterfly decoration takes a tougher turn thanks to its tearaway texture and a dose of denim. To achieve this look on already prepped hair separate strands at the sides from a loosely cinched pony drawn over one shoulder. Pin or thread in the pretty sparkler of your choice. Eugenie top $215. Levi's jacket $149.90.
Prep the look: Texture is easy to achieve on hair that has natural wave and curl. It does not require multiple products, just a little setting lotion applied on combed towel-dried hair, from roots to ends.
For those with fine straight hair, added volumising is necessary. Murphy's quick fix is his Anti Gravity lotion, applied before a blast dry or in damp hair left to air dry. Once hair is dry, do not comb or brush it though as this disturbs the texture, instead use fingers for parts and sectioning. Finish your look with a spritz of spray to lift, if added oomph is needed. (Try Kevin Murphy Hair Resort Spray). Updos look less old school, he says, if they are quickly pulled together. Half-up, half down, or loosely pinned, all of which allow the natural texture to guide the shape and stay on show. 

STOCKISTS Atamira, Eugenie, Levis, Mahsa, Mimco, Natalie Chan, Wrangler
Photographer: Guy Coombes. Hair: Kevin Murphy. Hair assistants: Wade Blackford and Sophy Phillips. Make-up: Shirley Simpson using M.A.C Cosmetics. Model: Olivia Lefebre at 62 Models. Stylist: Dan Ahwa. Assistant: Danielle Clausen
Share this: