Hair How To: Braided Updo
Your step-by-step guide for a braided updo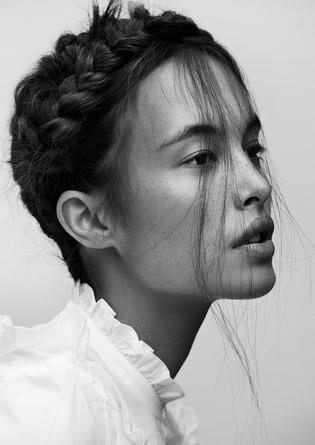 Add a twist to your hair this summer and beat the heat at the same time. Braided styles continue to be seen on the red-carpet on the likes of Emma Stone and Hayden Panettiere, but they also make sense for outdoors occasions, being fun and youthful.
"This style keeps the hair off your face, but avoids the formality of traditional updos, says Servilles stylist Sid Bahree, who picks it as his top choice for the season.
READ Hair How To: Glamour Side-Swept Waves
The example pictured comes from the salon group's spring-summer campaign, Raw, in which the Servilles creative team worked with five times Australian Hairdresser of the Year, Frank Apostolopoulos, and Australian Photographer of the Year, Andrew O'Toole.
The looks, featuring textured hair, explored soft and natural beauty with a touch of punk.
Here's how:
1. Apply an anti-fizz hair spray to dry hair to add volume and texture. This will add stability to your braid and make sure it stays in place. (Sid recommends trying Wella's EIMI Stay Essential Light Crafting Spray.)
2. Start by tilting your head to the side and brush your hair back, away from the ear that is pointing up.
3. Using a comb, draw a line from the top of one ear, across and over to the top of the other ear. Comb all the hair that is forward of this line into your face and pull all the hair that is behind the line into a ponytail then secure it with a hair tie.
4. The hair left will now become the braid. Tilt head sideways, just as you did in step 2, and comb the front from one ear to the other, keeping the hair nice and smooth.
5. Now separate the front into two 5cm to 8cm-wide sections and braid from one ear to the other. If you have enough length the braid can continue behind the ear and into a braided, side-ponytail. Try and keep the braiding loose, a loose braid adds a bit more playfulness and fun to the style.
6. Use a hair tie to secure the braid and use bobby pins to tuck the braid behind your ear. Now you can undo the ponytail in the back and either let this hair hang in its regular style, or pin into the shape.
7. You can also pull out a few hair strands from the top and side of the braid if you want to make the style more romantic and whimsical.
Share this:
More Beauty & Wellbeing / How To