Why a Hair Brush Will Set You Up for the Day
Brush up on the essential tool for a great head of hair. Violet Sainsbury for Moroccanoil explains when, how and with what to brush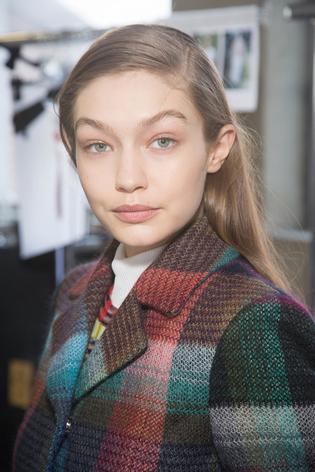 If you're the bed-head type who ruffles your hair with your fingers before heading out the door, consider brushing up your act. So much of the emphasis in hair styling is on heat tools and piling on products, yet it seems brushing your hair morning and night still has value, both for scalp health and appearance's sake.
You'll still need the products, the blowdryer and the stylers if you want to achieve a glamorous red-carpet-ready look, but a brush is your single best starter tool.
Violet Sainsbury, international education manager for Moroccanoil, maintains a morning meeting with a good hair brush will set you up for a great looking day. She explains when, how and with what to brush.
Is there one brush everyone should own, or does it depend on hair type?
A paddle brush is a great all rounder. My personal preference, however, is a luxe brush with a combination long nylon and boar bristle to get right to the scalp and smooth the strands. My go-to brands for this are Mason Pearson or YS Park.
Why brush at all?
It stimulates blood flow on the scalp, distributes natural oils and gets rid of knots that can cause breakage.
What about combing?
Comb bristles are firm and not flexible, which can cause flyaways from static and also breakage if removing knots. Combs are better used on damp hair or for fine detailing.
READ Hair How To: Braided Updo
Are some hair types better left largely unbrushed?
I would never brush very curly hair. It should be combed only with a wide-tooth comb when wet. The fluffiness caused from brushing curly hair would ruin anyone's day unless, of course, that is the look you're going for. In which case, brush on.
With bristles, what is the difference in type and use?
Boar bristles will smooth hair and better distribute natural oils. Nylon is great for removing tangles and increasing healthy blood flow to the scalp.
When it comes to blowdrying, what is the rule of thumb on choosing the right size barrel for the brush you use?
For smoothing and volume go for a larger barrel. For creating movement or shorter hair go for smaller. The correct brush will always be easy to manage and should never feel hard to control.
GALLERY: The Best Blow Dry Primers
Should the barrel be aerated?
The holes in a brush diffuse air flow. It depends on the desired result or personal preference, but I would recommend this if heat styling.
Any brush-care tips?
Always clean hair out of brushes and wash them with shampoo regularly. My biggest cringe is a dirty brush.
Anything else you would like to add?
When detangling, start from the ends and work up to the roots. When blow-drying always towel dry and apply your products then remove 50 to 60 per cent of the moisture with the dryer before going in with the brush.
MY FAVOURITE BRUSH
Top Auckland stylists recommend their favourite brushes:
Paul Serville, founder Servilles salons and training academy: "The YS Park from Japan (pictured left). These have a wooden handle with natural boar bristles which make the hair shine. They are more expensive than most brushes because they are the best."
Sara Allsop, partner in Dharma salon: "The Mason Pearson Junior cushion brush has a mix of nylon and pure boar bristles. The combo stimulates your scalp and removes tangles without any hassle. It is the go to brush backstage around the world."
Greg Murrell, director Ryder: "I'm a fan of the YS Park. The aerated round barrel version I use dries hair faster and creates beautiful curl. Hair is less stressed as wood doesn't conduct heat like metal or ceramic." Ryder sells two types, $145-$165.
Danny Pato, co-owner of d&m hair: "The best classic brushes come from Mason Pearson. They're a pleasure to use and last for life. Pick the tuft according to your hair type (bristles create volume while nylon tames) and the size that feels most comfortable to hold. Beware of fakes online. Buy them from Smith and Caughey's. We also use a Hi Lift Detangle Brush a lot in salon on wet hair at the basin. They're a lifesaver for parents."
READ: Go Blonde Without Damaging Your Hair
Stephen Marr, director Stephen Marr salons: "YS Park. Highest quality, Japanese made. Industry leader for decades. A brush should be an investment lasting for years. This smoothes a wide range of hair types (and to brush before you sleep), and helps protect against heat and moisture. The Palm Comb from the Sans Woods collection is a detangle utensil that is handcrafted out of sustainably sourced native wood. Beautiful object.
Share this:
More Beauty & Wellbeing / Trends