Where to Visit: Colleen, K Rd
Since opening her hair salon Colleen on Karangahape Rd, Lauren Gunn has brought some feminine charm to the inner-city strip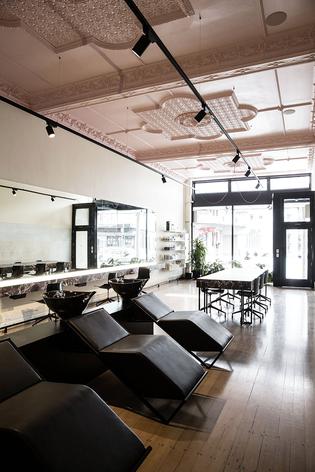 Since opening her hair salon Colleen on Karangahape Rd, Lauren Gunn has brought some much needed feminine charm to the inner-city strip. "I have always loved little suburban salons, their simplicity and off-guard design make me feel happy. All over the world they are the same, from Prague to New York to Auckland," she says. "I tried to capture that feeling."
The top stylist, who has worked on everything from New York Fashion Week to The Real Housewives of Auckland and designer shoots was determined her first salon would look to its community. She called in architect Sue Hillery to help transform the "fairly derelict" former Pleasure Chest sex shop, opening it up to the view across K Rd.
The pair kept some of the quirky features they found, chief among them a fantastic pink-painted, pressed tin and plaster ceiling. A century of paint on the walls was retained for its textural contrast with marble and steel fittings, including a sleek 10m-long cantilevered bench and a table made from a single slab of Rosa Levanto marble.
Work practices are inspired by tattoo parlours and barber shops, with their collective approach to drawing on individual staff talents. Add in technology and the latest hair products, all with the aim of creating a place where clients can relax, have a laugh and leave looking good. "It really has become a neighbourhood salon, I love it so much," says Lauren.
Share this:
More Beauty & Wellbeing / Features & Profiles