Hairstylist & Entrepreneur Chloe Zara's Low Maintenance Beauty Routine
The stylist shares her simple beauty secrets ahead of the launch of her eponymous haircare line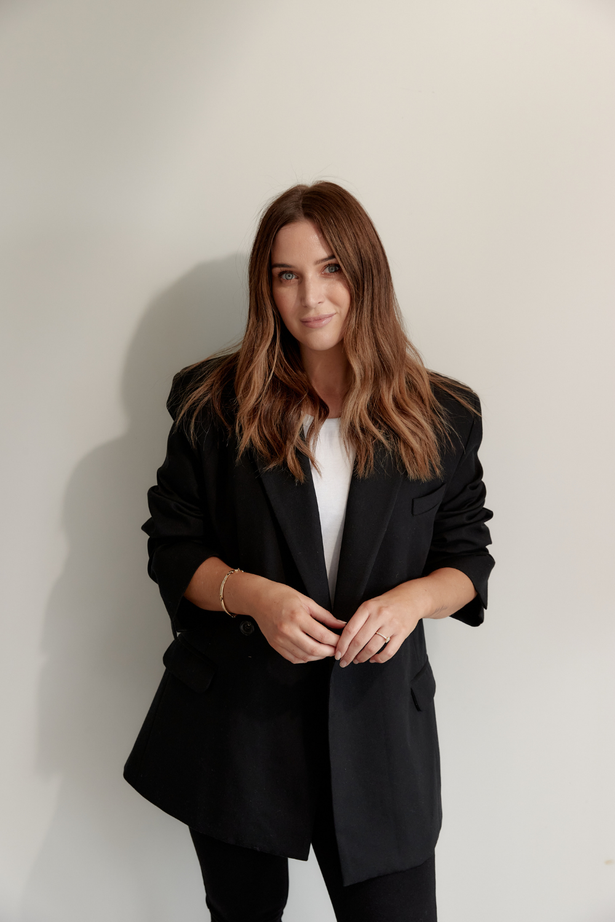 Monday Oct. 19, 2020
She's been trusted with the tresses of Auckland women for more than 15 years, but now Chloe Zara is branching out. 
The hairstylist is adding another string to her bow with the launch of her eponymous haircare line – Chloe Zara Hair. 
Launching on October 19 on Chloezara.com, and in-store at Father Rabbit Select, Chloe Zara Hair is free from parabens, sulphates and silicones, and was developed in collaboration with one of the country's leading chemists.
The Silk Range includes three everyday hair essentials, as well as a lightweight Hair Perfume Oil, $90, which is scented with saffron, pineapple, fig and sandalwood and can be used as a pre- and post-styling treatment. 
A shampoo and conditioner, Silk Wash, $46, and Silk Condition, $46, are designed to strengthen and nourish the hair's fibres, while Silk Hair Balm, $54, is a mask that revives damaged hair by giving it a much-needed dose of hydration and essential vitamins to restore health and condition. 
Each product combines natural plant actives with modern, hair-loving ingredients for a range of clean haircare that's not only free from harmful ingredients, but highly effective. 
"The four products are vitamin-, mineral- and essential fatty acid-rich. The natural ingredients we have used have incredible benefits for your hair, much like clean skincare. Omega 3, vitamins A, C, E and retinol each play a vital role in repairing, moisturising and protecting your hair from UV rays and pollution," she says. 
"As women we invest in taking care of our skin daily, but we need to do the same for our hair. Treat your hair like you would your skin."
Sustainability was also a key focus for Chloe when developing her range, who adds that ingredients in Chloe Zara Hair are sourced from sustainable and renewable sources that are harvested in a way that doesn't harm the environment. 
Here, the mother of one shares her simplistic approach to beauty, her makeup must-haves, and how she incorporates products from her eponymous line into her daily haircare routine. 
Makeup memories  
Wearing a foundation too dark for my skin and ended up looking orange! My mother then put me into a modelling agency which taught me how to do my make up correctly.  
Beauty ethos   
To me it's about keeping it simple. Choosing considered and sophisticated products, knowing more about what you are using on a daily basis to enhance what you naturally have, and looking after the health of your hair and body. 
Daily beauty rituals   
At night I use Trilogy Pre-Cleanse Oil l to remove my makeup, then cleanse again. Pat dry, then I love to use REN Ready Steady Glow which is a daily AHA tonic. Then I apply Emma Lewisham Skin Reset, followed by her Vitamin A Oil, and every second night I love to use her beautiful 72hour hydration créme.  
Daytime is similar, I start with REN Ready Steady Glow, followed by Emma Lewisham Skin Reset and then her Daily Skin Shield SPF30, I make sure I apply this down my neck and on the back of my hands. To finish, I use Tatcha The Dewy Skin Cream as my base if I am wearing makeup that day. 
I only use Hourglass makeup. I'll use the Illusion Hyaluronic Skin Tint as my foundation, then I find their Ambient Powder great for eyeshadow as it gives a beautiful powder finish over the skin. I fill in my brows, add some blush and mascara, then to finish I absolutely love using the Hourglass Veil Setting Spray.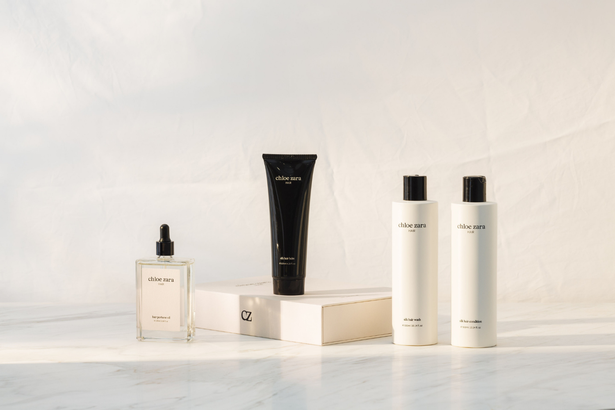 Hair and its care 
I love to keep my hair care routine simple. I use Chloe Zara Silk Wash which cleanses, nourishes and hydrates, followed by Chloe Zara Silk Condition. I love the way my conditioner leaves my hair feeling so soft and silky knowing its all-natural oils and no silicones coating my hair!   
Once a week I swap out the conditioner and use the Chloe Zara Silk Balm which is an intensive hydration treatment. I also add a few drops of the Chloe Zara Hair Perfume Oil for an added boost of hydration. It leaves my hair feeling amazing and so shiny.  
Before I blow dry, I use the Chloe Zara Hair Perfume Oil to protect my hair from the heat of styling tools, then again to finish once dried to help smooth any frizz and add shine and, of course, smelling amazing. 
Five favourite products  
1. Chloe Zara Hair Perfume Oil, $90, is a multi-purpose product that smooths hair, adds shine, offers heat protection from styling tools along with UV rays and pollution. I love that I can also use this oil on my pressure points as well as in my hair as a perfume. We also provide a refill service for our Hair Perfume Oil. Send us your empty bottle, and we will clean, re-label and send it back to you for $20 off the retail price. 
2. Emma Lewisham Skin Reset Even Skin Tone Serum, $148. I love that it's a clean beauty product and made in New Zealand. I've had amazing results from using this product since April.  
3. Hourglass Illusion Hyaluronic Skin Tint, $99. I love how light and dewy this product is.  
4. J.S Health Vitamins. I have had great results this year from using both of the hair and energy vitamins. 
5. Le Labo Santal 33 50ml eau de parfum, $334, is one of my favourite perfumes. I love the sandalwood notes.
Beauty evolution 
Over the last couple of years, I have definitely become more conscious of what products I am using. Choosing considered products is important to me. I like to research the ingredients and know where the product is made. I have also pulled back on wearing so much makeup, since becoming a mum keeping it simple really is key! 
Business motivation   
I have worked with countless brands and products over the years, and discovered there was a need for a haircare brand that was clean, effective and focused on building on the overall health of the consumer's hair. 
Beauty muse 
I don't have a muse as such, but I do find a lot of inspiration through Instagram. I love Rozalia Russian for hair and makeup and also Missé Beqiri. Both mothers with an effortless but polished hair and beauty look. 
Last beauty purchase 
Tatcha The Dewy Skin Cream, $120. 
Treatment to try   
I would love to do a course on LED light facials, but unfortunately, I don't have the time. 
Beauty is…? 
Simple, natural and effortlessly polished. 
Share this: