Tiggy Maconochie: The Woman Behind Helmut Newton
The erotically charged work of Helmut Newton continues to influence fashion and beauty, with the release of a new M.A.C collection paying homage to his work. We talk to his agent Tiggy Maconochie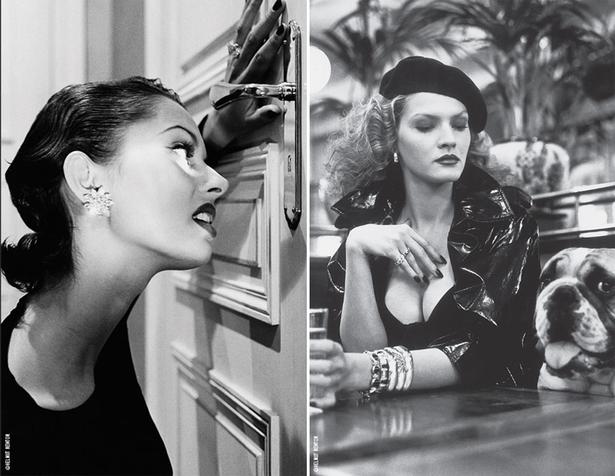 Saturday Dec. 10, 2016
Twelve years after the death of the photographer whom Time magazine once dubbed the "King of Kink," the woman who works to safeguard Helmut Newton's reputation is as busy as ever. Agent Tiggy Maconochie worked for the German-Australian for 20 years and is a representative of the Helmut Newton Estate. His photographs, she tells Viva, are still much imitated.
Newton's place in fashion history is well-recognised, but ensuring his images are used appropriately is her ongoing responsibility. A collaboration between his estate and M.A.C Cosmetics is the latest initiative which takes his work to new audiences, by showing it on packaging for a limited edition makeup collection.
The photographer, who shot for French Vogue for decades, is best known for his nudes of strong women in striking, often surreal, scenarios. He grew up in Berlin pre-World War II in a Jewish family and fled Germany in 1938, ending up in Australia two years later.
After a stint in the army, he lived and worked in Melbourne until the late 1950s before heading for London, then Paris, with his wife June, whose artist name was Alice Springs. As well as his nudes, Newton brought a hard, urban edge to fashion photography.
He immortalised Jerry Hall in swimwear and more controversially Nadja Auermamn in a leg brace for a story about stilettos. Plus a plethora of famous faces in black and white portraits, ranging from Madonna to Margaret Thatcher. He also memorably shot a number of stars for Playboy, including Charlotte Rampling and Natassja Kinski.
READ: Helmut Newton's Glamorous Images Inspire New M.A.C Collection
In his later years, Newton split his time between the South of France and Los Angeles. He died, aged 83, when his car crashed coming out of the Chateau Marmont in 2004.
During his life-time Newton avoided his work being classified as art, saying if it ended up in a gallery fine, but he was a "gun for hire". That said, he produced noted photography books in the 1980s and 1990s, including Big Nudes and White Women.
Maconochie is tasked with safeguarding and promoting his legacy and here talks about this and the collaboration.
What made the estate decide to work with M.A.C on this collection?
The project and proposal were interesting right from the beginning. It was conceived and executed as homage to Helmut Newton with great respect. Newton's work during his lifetime was frequently imitated and it still is, so this was a collaboration based on the real deal. His work pushes boundaries in beauty, gender and beyond.
The featured photographs span several decades, why were those ones chosen?
Helmut Newton's photographs are thoroughly planned while remaining fresh and dynamic. They don't date and continue to influence today. Helmut usually shot close to where he was living. The keyhole image references film noir and the mid-century detective novels. The beach shot is pure glamour and decadence. The model is fully made up in her swimsuit, casually wearing not one but two large diamond rings.
The woman in the brasserie with the dog shows Helmut Newton's sense of humour. White Mischief is the title of the final image of the series (not shown). It is elegant and controversial in equal measure and was risque when published in American Vogue 22 years ago and still provokes a reaction today.
Makeup was part of the armoury of the glamazons seen in his photographs, did Helmut himself have specific views on its use in his shoots?
Dark bedroom eyes, pale matte skin, red lips. Either very short or, rarely, long, long nails like blades — a good blood or Hollywood red. Full makeup even if shooting a nude.
Which products of the collection do you think a Helmut Newton model of today would be most likely to wear if he was shooting them?
The product I favour is the "Berlin" nail polish. [A dark red].
How do you recommend people wanting to learn more about Helmut Newton's work approach this?
There are several upcoming exhibitions and many books available. Helmut by June, is a documentary shot by Helmut's wife of 56 years, June Newton. This gives an extraordinary first-hand insight into the man behind the work. Pages from the Glossies has great vignettes by Helmut as well as showing his fashion work, working on the printed page. Helmut Newton Illustrated, Archive de Nuits and Private Property are lesser-known books and the work is not fashion-related and therefore not as familiar. If you can get a copy of his autobiography, it is a candid portrait of himself and a compelling insight into the connection between his life and work.
The Helmut Newton Foundation in Berlin has two exhibitions a year, it's worth checking their website to see what's on and forthcoming. Visit helmutnewton.com
• The M.A.C x Helmut Newton collection is only on counter at M.A.C Britomart and Ponsonby, Smith & Caughey's stores and David Jones, Wellington.
Share this:
More Beauty & Wellbeing / Features & Profiles