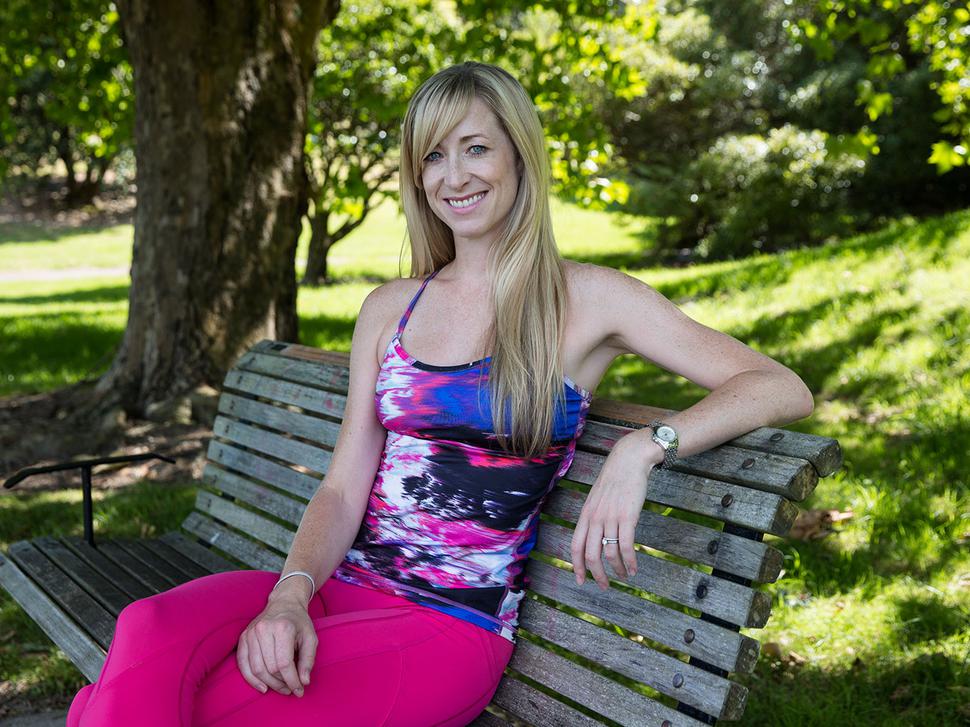 How Barrefigure's Marysa Dalton Stays Balanced
Marysa Dalton shares her disciplines and indulgences
Thursday Feb. 25, 2016
After a dazzling career as a professional dancer (including seven years in the Royal NZ Ballet) Marysa Dalton discovered (and fell in love with teaching) barre exercise classes in New York and London. Determined to bring it to her homeland, she opened the country's first independent barre studio, Barrefigure, in Auckland 2014. "I teach classes, develop our teacher training, refine playlists, answer emails, phone calls, book clients into classes, clean the studio, wash the towels — it really is top to bottom stuff and I love it."
I am extremely lucky that my day job doesn't require sitting in an office all day. I teach up to 20 classes a week and I demonstrate a lot in class. Barre classes really are the best one hour of body sculpting and toning you can get! Even though I am so familiar with and created the format of classes, whenever I do a full one I still feel every single muscle the next day.
I start my day at 5.37am. I wake up and pull on some of my favourite Lululemon's (I'm a Lululemon Ambassador) and teach my first class at 6.15am followed by a coffee downstairs at Ripe before kicking into a full days work. Afterwards, if I'm not on the night schedule, I'll cook dinner for my husband and then be on my laptop for another few hours before turning off at 10.30pm. If I'm teaching late we don't eat until 9pm. I make a point of trying to be in bed by 11pm most evenings.
If I can be bothered cleaning the machine, I'll whip up a smoothie. My favourite is banana, frozen pineapple, nut butter, medjool dates, cinnamon, honey, almonds, water and coconut cream or milk.
I still can't quite shake some of my habits from when I was a professional ballet dancer. I'm a real snacker throughout the day and eat a lot at night. I love anything sweet. I can't live without cheese. I love nuts (good fat) and recently discovered macadamia nut butter at a farmers market in Kerikeri on our honeymoon. We eat pretty healthy during the week — lots of seasonal veges, at least two vegetarian meals and organic free range meat and poultry. Burger Burger is my Friday night go-to meal and we always head out somewhere local on Saturday night for good food, wine and company with friends.
I got addicted to The Bachelor and Bachelorette when I lived in NYC for four years... That along with cheese, sugar, chocolate, nuts and red wine are my great indulgences.
I adore blissing out with a massage. My job is physically demanding and I need one every month, if not fortnightly. I have two or three masseurs that I see regularly — Narelle Jackson from Harvest Health and Rebecca from Sunflower Massage are both magic with their hands.
You never get a day off owning your own business so I try to make it a priority to take time for myself each day; whether it's relaxing, having a coffee or smoothie in the sun, not looking at work emails for an extended few hours, going for a short walk, listening to some music, cooking a nutritious meal or baking some yummy cookies or indulging in some trashy reality TV.
I'm happiest after a busy and possibly stressful and rewarding week, which concludes with four back-to-back classes on a Saturday morning. I love relaxing on Saturday night with a few friends and wines on Ponsonby Rd, knowing I don't have to get up early the next day.
Share this:
More Beauty & Wellbeing / Wellbeing