How Much Makeup Is In Your Beauty Bag?
Find out the value of the Viva team's makeup bag stash - and see how you compare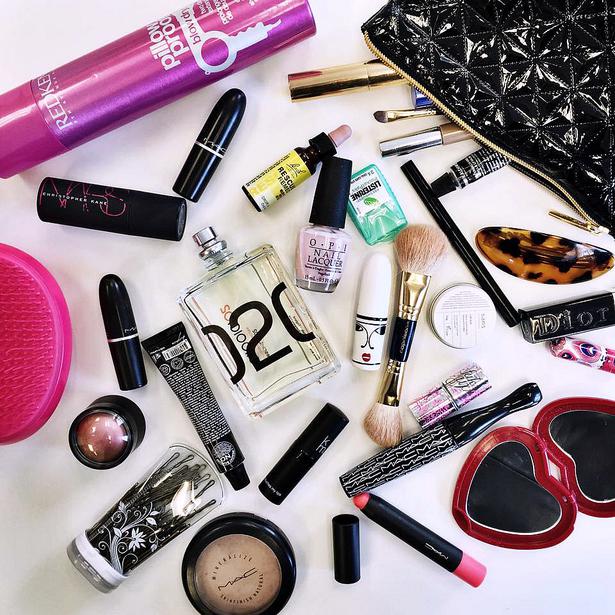 Saturday Oct. 17, 2015
If you're getting a sore shoulder carrying your bag about maybe it is time to de-clutter your cosmetics kit. A few Viva staffers got that sinking feeling after I asked them to add up just how much they had stowed away.
What got us counting for Viva Month of Beauty was a survey awhile back from an online beauty review site that found that of more than 1000 respondents the average value was $361. More than 30 per cent of the beauty junkies at beautyreview.co.nz had at least $1000 of makeup in the bag they carried daily. One woman had $3570!
The survey found that nearly all the women carried at least a lipstick or gloss and 30 per cent of them had four or more. Mascara was carried by 88 per cent and perfume by 81 per cent.
At Viva most of us don't bother lugging perfume about and a fair few admitted that while they travelled light they had quite a stash of extra beauty goodies to dip into at home (Yes, I'm one of those).
Our two heaviest lifting team members had more than $500 worth of makeup with them daily and both hadn't accounted for a few freebies and items of unknown value, so add on at least another $100-$200 each. Not quite beauty addict territory perhaps — we like to think we are discerning devotees — but as one surprised big spender said to me after the add up: "OMG total value ... R.I.P bank."
Anna Lee, editorial assistant, 13 items valued about $600: Clinique foundation, Dior concealer, PawPaw balm, M.A.C mascara, eyeliner and blush. M.A.C Ruby Woo lipstick and a nude one, Dior blush brush, random brow brush, plus a perfume (this changes), a hair brush and a Body Shop hand cream.
Rosie Kelway, writer, 9 items valued about $550: Redken Pillow Proof dry shampoo, 5 lipsticks being M.A.C Candy Yum Yum, Snob, Fleshpot, Myth and Sushi, M.A.C Mineralize Skinfinish powder, Napoleon Perdis double-ended powder brush and Escentric Molecules 02 fragrance.
Lucy Casley, design and digital assistant, 17 items valued about $490: Mascara x3, foundation, mineralizer, bronzer, lipstick, lipgloss, brushes x3, eyebrow pencil, eye shadow, eye liner in make-up bag, plus handbag extra mascara, lipgloss and lipstick.
Beth Walsh, designer, 6 items valued at $279: YSL Rouge Pur Couture lipstick, YSL Touche Eclat, Lancome UV Expert BB Cream Benefit 'They're Real' mascara, Weleda Sea Buckthorn hand cream. Lucas Pawpaw.
Janetta Mackay, beauty editor, 5 items valued at $205: Bobbi Brown Longwear Even Finish Compact Foundation, Karen Murrell Violet Mousse and Magenta Moon lipsticks and M.A.C Chilli lipstick (or whatever bold colour I am currently playing with), plus an emery board.
Jessica Beresford, digital content producer, 4 items valued at $126: M.A.C Russian Red and Chilli lipsticks. Sans [ceuticals] Lip Aid and Rosebud Salve.
Share this:
More Beauty & Wellbeing / Trends