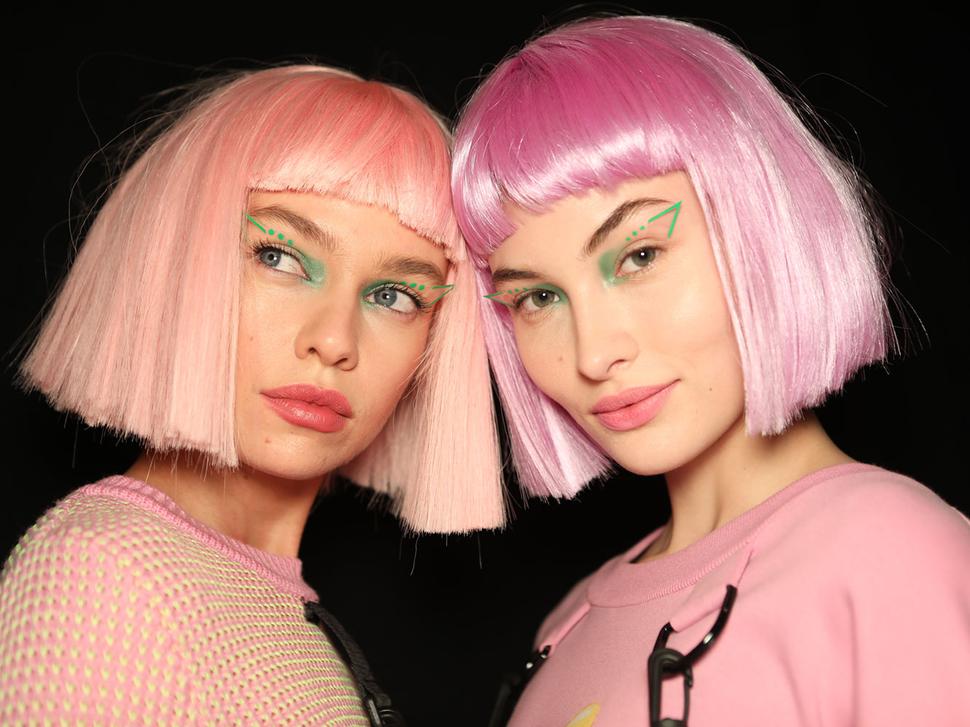 How to Win at Bold Makeup
Change up your look — fearlessly — with these fun and edgy twists
Friday Feb. 23, 2018
Morphing Metal
From metallic to holographic, it's the future of flash finishes. Top coats of gloss and highlighter are going beyond adding mere shimmer to introducing an other-worldly reflective allure on lids, lashes, cheeks and nails.
The far-side of all this shine is a glitter explosion gone mad and the ongoing unicorn and mermaid beauty epidemics on Instagram. (My Little Pony hair isn't wholly over either, thanks to all the DIY rinses meaning you can take this look for a temporary trot.)
A little rainbow fantasy fun is fine — after all, who needs makeup brushes to always be black — but overall we favour judicious use of skin-enhancing hues of rose-gold, silver and platinum. That way you can discreetly signal you're in the heavy metal club, without signing on for a mystical makeover.
Wet n Wild Proline Tapered Highlighting Brush, $14, will bring a girly touch to your face, or, for a festival, try Stila Glitter and Glow in Rose Gold Retro, $38. Ciate Mermaid Glow Highlighter, $51, swirls on as a universal brightener.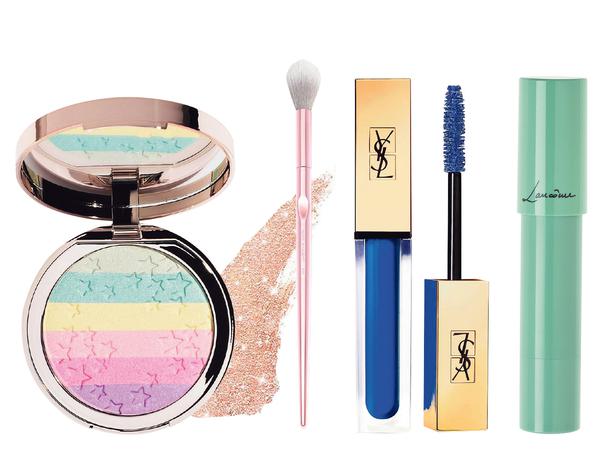 READ: 14 Ways to Wear Bold and Bright Makeup
Coloured Mascara 
While backstage beauty's exploration of lining eyes in all shades and shapes continues, the coloured mascara craze has really taken hold.
On brows too. We're talking sharp jolts of acid yellow and beguiling pastels. Unleash your inner Lady Di with 80s electric blue or go 90s club kid by clashing pop pink and orange shades of mascara and eye makeup.
Sound scary? Metallic accents are a more subtle way to enhance your lashes, with top coats designed to add sparkle over basic black. But expect to see the coloured mascara selection grow.
For now, we're taken with the new YSL Mascara Vinyl Couture range, $ 66, including shade No. 5 I'm the Trouble in bright blue and the limited edition No. 8 I'm the Fire gold top coat. Lancome Source Styler, $43, is a mini wand, especially for brows.
We also like the crayon Ombre Hypnose Mini Chubby, $39, coming in Milky Rose and Mint Tea, shades ideal for mixing it up.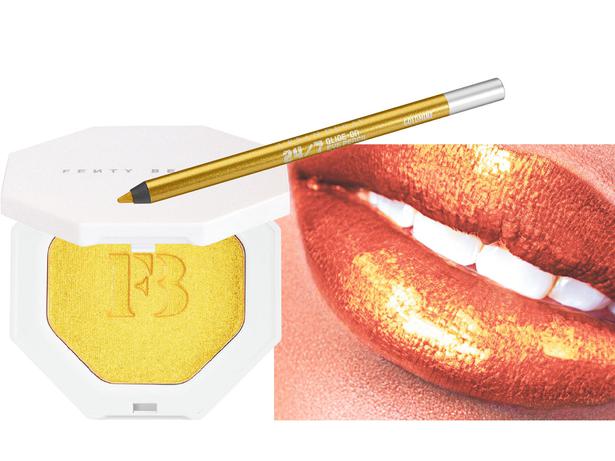 Go For Gold
Consider it your personal Winter Olympics challenge to claim gold. Rihanna is the reigning champion — her Fenty Beauty line's Killawatt Freestyle Highlighter in Trophy Wife, $56, became one of late 2017's most talked-about products. This multi-use powder isn't for everyone, being a definite yellow gold, but it sure packs a visual punch.
One of the newest ways to wear gold is applied smudgily around the inner-eye corner. With black eyeliner back big-time for winter, those golden accents are a confident way to soften its harsher edges.
Try Urban Decay 24/7 Glide on Eye Pencil in Gold Mine, $36. Swap out your normal highlighter or lipstick for something with a golden gleam as well. Ciate Liquid Chrome, $28 (as shown above on lips), takes this to the extreme. Dior's metallic lipsticks introduce a glamour edge or locally Karen Murrell's Crown Jewel shade is metallic in a natural formula.
Share this: