How To Choose The Right Sunscreen This Summer
Janetta Mackay highlights what to look for when you are shopping for those must-have products that protect skin from environmental damage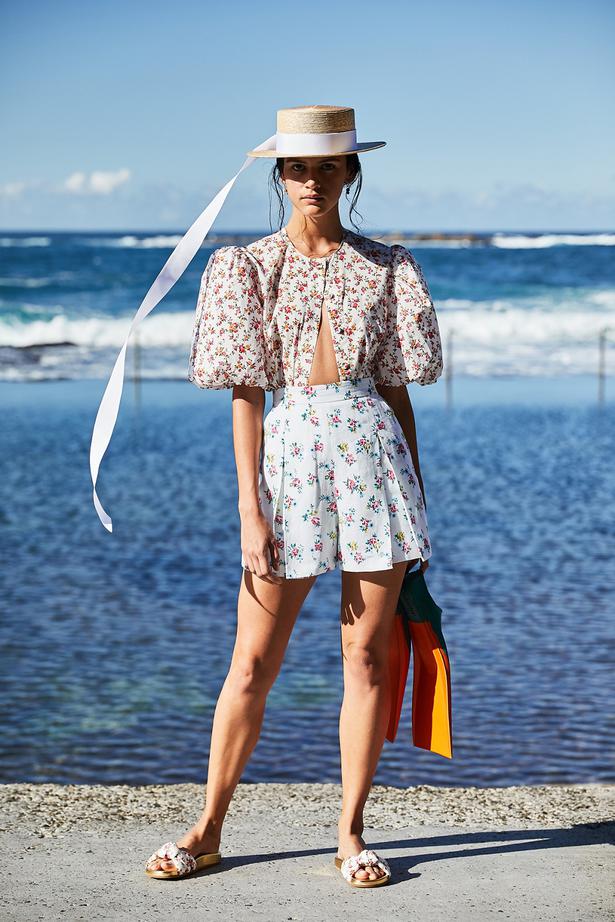 Friday Nov. 23, 2018
This season we're looking at sunscreens with specific benefits and purposes. New among these are products dubbed reef-friendly, but as well as environmental concerns other influences on choice are added skincare benefits and superior cosmetic properties.
There's no need to settle for a gloopy mess of thick white cream, with plenty of lighter moisturising options now catering for everything from wear-under-makeup to heavy-duty outdoor activity.
Of course, the standard advice applies: look for a broad-spectrum, high sun protection factor [SPF] sunscreen that protects against burning UVB and ageing UVA damage and apply and reapply as per the instructions. Formula choice of chemical, mineral or mixed sunscreen comes down to personal preferences and views about ingredients.
READ: The Truth About New Zealand Sunscreen Brands
But the bottom line is simply to be sun sensible. To maximise protection, wear a hat and sunglasses and also seek shade in the hours of high sun.
Wearing a sunscreen, every day, year-round, is always better than not wearing one. The good news is that research undertaken by Nivea shows that 84 per cent of women apply sunscreen to their face regularly. Other statistics are less encouraging.
New Zealanders only spend half of their time in the sun fully protected. While we are good about big sun occasions (at the beach or pool), day-to-day compliance isn't flash.
Summer weekdays are when people are least likely to protect themselves, with 50 per cent not bothering. This includes when exercising outdoors. At backyard barbecues only one in 10 people always use sunscreen.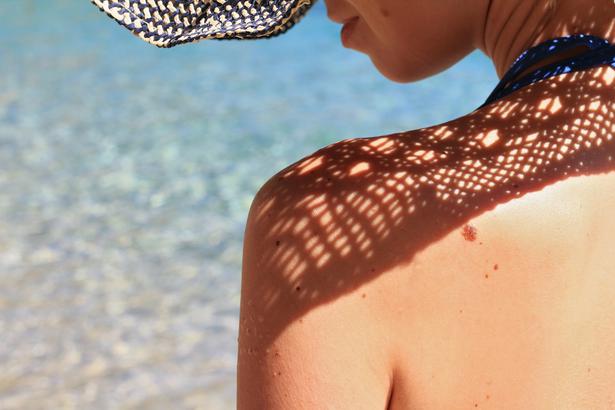 New Zealand has the highest incidence of melanoma worldwide. Photo / Getty Images

For everyday travel, 73 per cent of people do not wear sunscreen and for eating outdoors, 58 per cent are unprotected.

Young people, aged 18-24, spend the most time unprotected in summer — 150 hours per person — with four out of five forgetting to reapply sunscreen. Overall, 92 per cent of people of all ages say sunscreen is vital for skincare, but 73 per cent are forgetful about top-ups.

Half of women say they have sun damage they wish they had done more to prevent. (Among men that concern is held by 39 per cent.) Spending to reverse the effects of sun damage each year amounts to $185 million.

Dermatologist Dr Victoria Scott-Lang says these results show that more awareness is needed about building sun care into a daily routine. Keeping skin in good condition also helps. "Dry, unprotected skin is more susceptible to sun damage, premature skin ageing and possible further health concerns down the track."

READ: How To Get Sun Savvy & Stay Safe This Summer

The Christchurch-based dermatologist advises remembering to protect the ears and chest as these commonly forgotten areas are high-risk spots for sun damage and melanoma. "I see a lot of patients with increased wrinkling and sun spots on the right side of their face and arms because of driving without sunscreen on," she told Viva. This is because UVA light can penetrate glass, so while being outside in direct sunlight is the riskiest scenario, exposure through glass should not be overlooked.

"Sunscreen applied at 8am cannot be relied upon for the whole day," she cautions. If you're not wearing fresh sunscreen, especially at lunchtime, then aim for the shade, not direct sun. Another point to remember is that a moisturiser or face base with sunscreen is usually not the same strength as a purpose-designed sunscreen, even those formulated to moisturise as well. "More often than not, facial moisturisers range between an SPF15 to 30, so it is recommended to apply an SPF50 sunscreen before makeup for optimal protection."

Application should be 20 minutes before exposure for the sunscreen to be effective and the rule of thumb is one teaspoon for each body part. Dr Scott-Lang says with New Zealand having the highest incidence of melanoma worldwide (with 90 per cent of cases due to ultraviolet radiation) being proactive with sunscreen and cover-up clothing is the best form of defence. Sunscreen helps prevent premature ageing of the skin, including skin pigmentation, wrinkling at a young age and actinic keratoses, which is the rough scaly spots that develop due to sun and UV damage to the skin.

"These are all undesirable consequences of too much sun that are largely preventable. I see patients every day who tell me that they regret not using sunscreen at an earlier stage in their lives," says Dr Scott-Lang.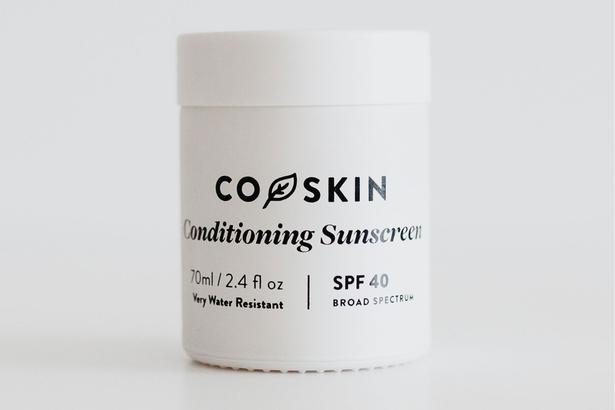 FOR REEF FRIENDLY
P4O SPF30 200ml Sunscreen $64
This year the Pacific island of Palau became the first nation in the world to declare it would ban the use of certain sunscreens to protect its coral reefs. But it is a similar ban announced by the US state of Hawaii, to take effect from 2021, that is prompting reformulations to begin.
Parts of Mexico have also declared bans on non-biodegradable ingredients. Like the demise of microbeads from face and body scrubs, this is an issue about the state of our oceans that will only gain momentum. There's debate about exactly what ingredients should go, but the focus is mainly on the widely used chemicals oxybenzone and octinoxate. The cloud over other ingredients, including the nano form of zinc oxide, has raised fears that ecological concerns will scare people off using sunscreens altogether. But more likely a consensus will form over what to act over, especially if other countries vote for legislation.
Closer to home, Australian brand People4Ocean has got in early with its P4O product developed in conjunction with reef experts and as an offshoot from luxury natural skincare brand LaGaia Unedited (from each sale $1 goes to coral restoration projects). Being reliant on mineral rather than chemical or combination sunscreen actives, this tops out at SPF30. It's on the shiny side, so perhaps more suited to outdoors glow than in the office. For nearest stockists, ph 0800 105 107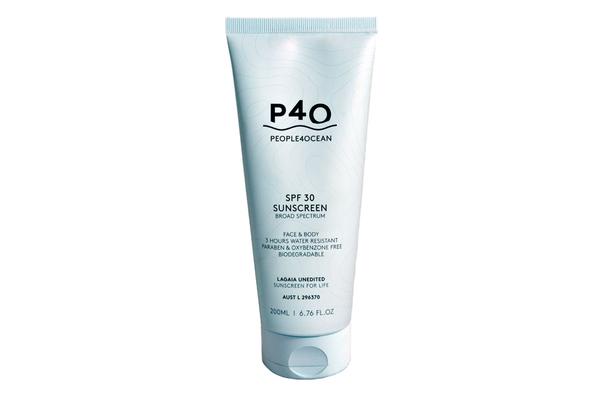 Invisible Zinc Sheer Defence SPF50 50ml, $26
Looking to naturally sourced zinc oxide, Invisible Zinc's latest iteration on the original offers a lightweight texture and broad spectrum UVA and UVB protection. The non-comedogenic sunscreen is gentle enough for sensitive skin, is reef friendly and is water resistant for up to two hours. This pharmacy-only product is available in light and medium shades, for foundation-style coverage, as well as an untinted formula.
FOR WATER FREE
CoSkin Conditioning SPF40 70ml Sunscreen $29
By omitting water from the mix to aid absorption into the skin, CoSkin can do away with emulsifiers and preservatives. The resultant concentrated gel spreads and adheres well, meaning less run-off into eyes and waterways. This locally made product draws on a bevy of plant oils and butters to condition as it protects.
It feels buttery initially but spreads extremely well, dissolving into a matte finish suitable to wear alone or under makeup. Added antioxidants up its effectiveness and essential oils provide a lightly pleasing aroma. Its makers say it can be used even on sensitive skin. This is an elegant new alternative on the market. Coskin.co.nz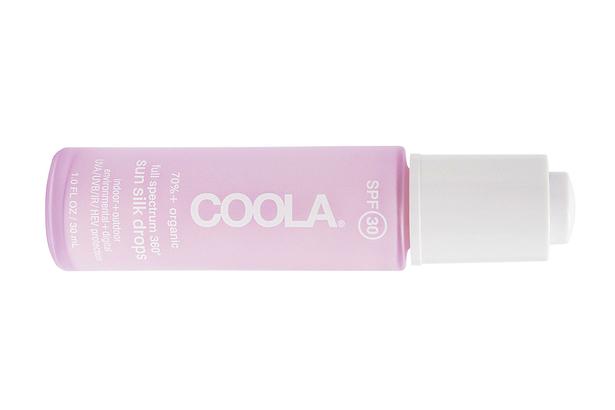 FOR BLUE LIGHT PROTECTION
Coola SPF30 Sun Silk Drops $85
This product from a popular Californian company adds screening blue light from digital devices to the usual UVA/UVB protection. Coola is not alone in making us worry about High Energy Visible light, but it does stand out in winning a cosmetic innovator award for its formula to deter damage.
These serum-like drops contain hydrating hyaluronic acid and are easily spread across the face, neck and decolletage. Promoted as suitable for use from the beach to the boardroom, the drops can be applied direct to skin or blended into your favourite moisturiser or foundation, although doing this will dilute the SPF level. Coolasuncare.co.nz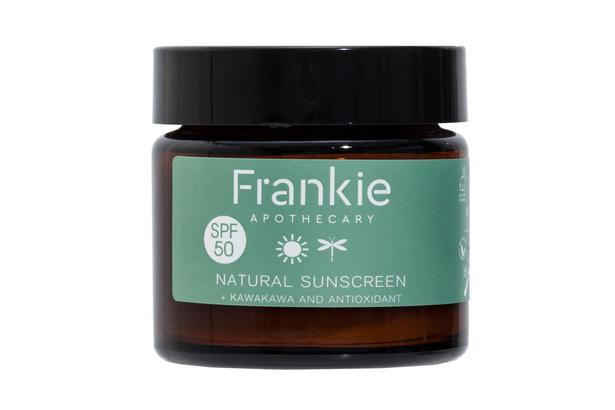 FOR A NATURAL TOUCH
Frankie Apothecary SPF50 Natural Sunscreen $39
Containing kawakawa oil, this natural sunscreen doubles as a bug repellent, with the New Zealand native plant leaf long known for this property. It also helps repair and soothe alongside jojoba oil and shea butter. Non-nano zinc is used as the main sunscreening agent, so it's on the thicker, whiter side, requiring some rubbing in, but leaving skin feeling nourished. Ohnatural.co.nz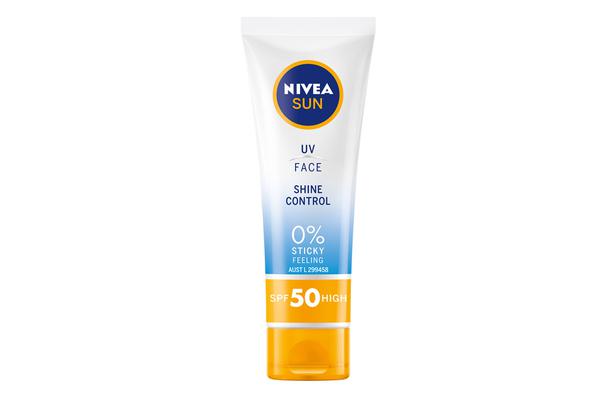 Simple As That Natural Sunscreen Lotion SPF30, $35
Vegans, rejoice! Natural skincare brand Simple As That boasts a 100% natural, lightweight mineral sunscreen as part of its vegan skincare range. This non-greasy, preservative-free sunscreen is suitable for face and body, while being gentle enough for little ones. The formula looks to zinc oxide to actively protect skin from UVA and UVB rays, while green tea, rosehip oil and red raspberry seed join the party for an antioxidant boost.
FOR ALL SKIN TYPES 
Nivea UV Face SPF50 Shine Control $14
Nivea has a focus on moisturising sunscreens to promote healthier skin, which is more easily achieved in a richer body cream than with a shine-control facial formula. The challenge has been well met, with this non-sticky facial fluid being both hydrating and designed to absorb excess oil, meaning it is suitable for all skin types and for use under makeup. There's also a tinted BB-style version for those who like to keep to one product but with a little cosmetic coverage. From selected pharmacies and supermarkets.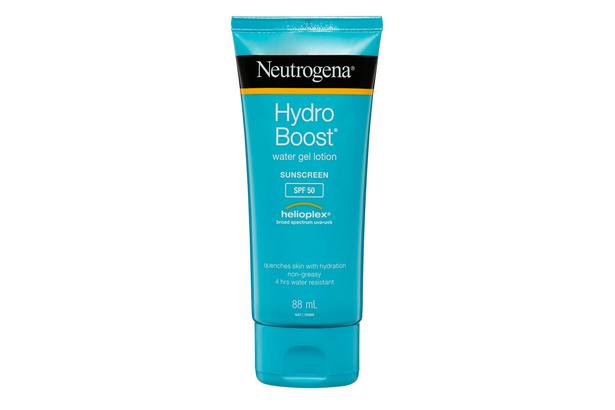 Bondi Sands Aloe Vera After Sun Moisturising Sunscreen Spray SPF30, $15
While we don't advocate sunbathing following sunburn, Bondi Sands latest launch seeks to offer sunburnt skin cooling relief, and protecting from further damage. Containing cooling Aloe Vera, this sunscreen spray offers the added benefit of being water resistant for four hours should you be tempted to take a dip in the pool the day after prolonged sun exposure. The non-greasy, hydrating formula quickly absorbs into skin.
FOR A LIGHT FEEL 
Neutrogena Hydro Boost SPF50 Water Gel Lotion Sunscreen $23
This hybrid gel-lotion formula would sit well on those wanting a weightless non-greasy option, to wear alone or layer. The whole Hydro Boost skincare range is infused with hyaluronic acid to give skin a refreshing drink and the sunscreen Neutrogena adds is photo-stable, meaning it is less likely to break down under harsh rays. From selected pharmacies and supermarkets.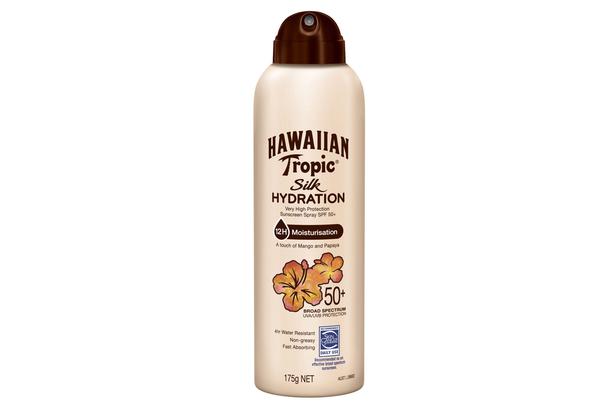 Ultraceuticals SunActive SPF50+ Face & Body Lotion, $59
Containing a powerful antioxidant complex, Ultraceuticals SunActive SPF50+ range promises additional environment protection while you're out enjoying the sun. This complex extends to ingredients like caffeine and ferulic acid, which claim to help protect against UV ray-induced skin damage. The fast-absorbing formula won't leave skin feeling greasy, and is free from parabens, synthetic dyes, fragrances and benzophenone.
FOR AN ISLAND AROMA
Hawaiian Tropic Silk Hydration Clear Spray $23
It's aloha again to this family-friendly brand, back in New Zealand after 10 years, with its still familiar (and much imitated) mango and papaya scent. With a new clear formula, this mists on easily and keeps moisture levels up. There's also a lotion version and an after-sun hydrator, suitable for face and body. From selected supermarkets and pharmacies.
We Are Feel Good Inc. Coconut Sunscreen Lotion SPF50+ 200ml, $30
Australian newcomer We Are Feel Good Inc. makes easy work of smelling like you're on a tropical island holiday with its Coconut Sun Lotion SPF50+. Free from oxybenzone, octinoxate, PABA and parabens, this non-greasy, broad spectrum sunscreen is water resistant for up to four hours.  Suitable for both face and body.
FOR THE KIDS
Skinnies KIDS SPF50, $40
Developed by Kiwi husband-wife duo Martha and Olly Van Arts, Skinnies KIDS range received the tick of approval from the couple's four kids – aged five to 13. After watching their young ones endeavour to rub all their sunscreen off after it stinging eyes, Martha and Olly created a waterless gel sunscreen specifically with little ones in mind. Available in three limited-edition packaging designs by Japanese pop artist Jun Arita, this range of kid-friendly broad spectrum UVA and UVB sunscreen looks to coconut oil and aloe leaf extract to soothe young skin. Plus the spreadable gel texture means only a pea-sized blob is needed for long-lasting protection of their face, neck and ears.
Share this:
More Beauty & Wellbeing / Features & Profiles