High Brow: Our Definitive Guide To Finding The Right Eyebrow Shape For You
Plus all the tips, tricks and trends to help you achieve your best arches ever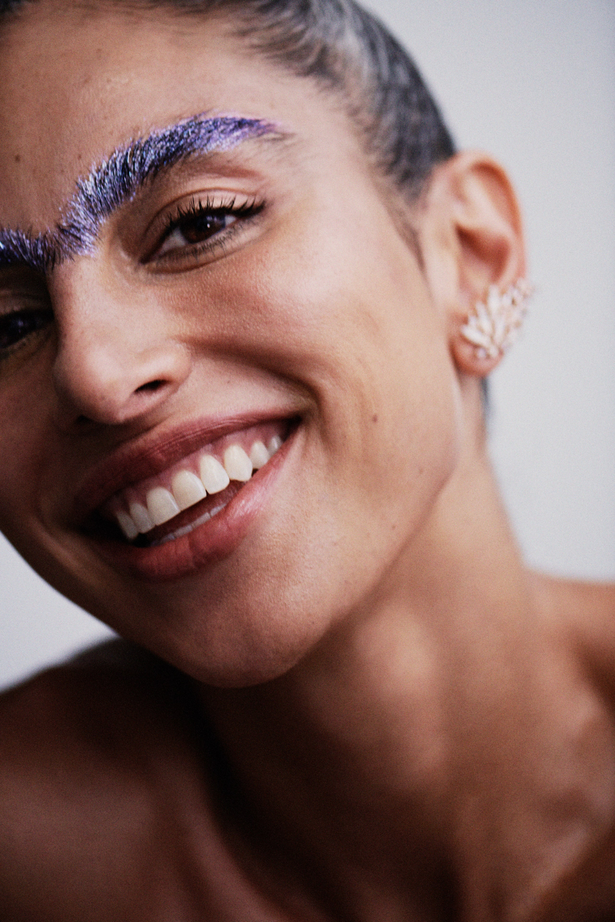 Saturday Jan. 30, 2021
From pencil-thin to full and fluffy, changing brow trends from over the years have seen our face framers plucked and preened beyond recognition.
We've got the likes of Lily Collins, Kaia Gerber and Cara Delevingne to thank for the revival of the 1980s "power brow", which re-emerged in the mid-Noughts and has only risen in widespread popularity ever since.
But if your brows are lacking in volume there is a way to revive them, says Sarika Patel, a freelance makeup artist and the brush behind our probiotic beauty shoot in Viva Volume Two.
"It's all about adding texture and mimicking natural hair growth," Sarika says. "This can be done in the comfort of your own home with the likes of a brow growth serum."
If you're low on patience, Sarika recommends trying a more permanent option like microblading, which will help fill in tapered brows with natural, hair-like strokes.
Not yet ready to commit? Try some of the innovative brow cosmetic options available, Sarika adds. Her personal favourites include Benefit Cosmetics Microfilling Pen, $48, which gives the illusion of feather touch brows (no needles required), and M.A.C Eye Brows Big Boost Fibre Gel, $46, for an at-home brow lamination look.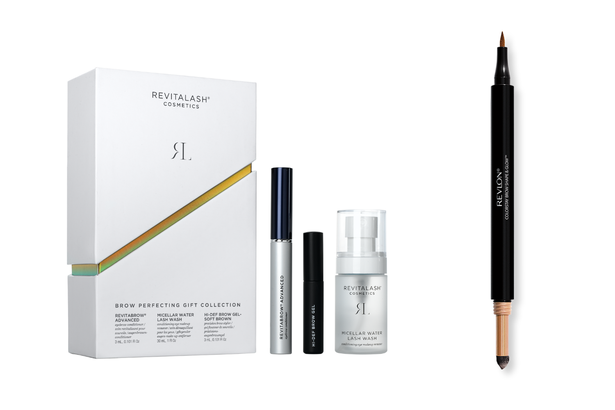 HOW TO BROW MAP
When deciding on the right brow design to suit your face shape, Sarika says it's important to take into account where your natural eyebrow starts and stops.
Your brow design can be mapped out using the end of a makeup brush or a brow pencil.
Hold the brush at an angle from the corner of your nose to the inner corner of your eye to find where your brow should start.
READ: The Business Of Brows: 5 Minutes With Anastasia Soare Of Anastasia Beverly Hills 
To find your arch, look straight ahead into a mirror and hold your brush from the corner of your nose straight up through the middle of your eye.
Your brow should end at the spot where the brush hits when held from the corner of your nose to the outer corner of your eye.
The right brow shape will make your nose appear slimmer, open your eyes and give a sculpted look to cheekbones.
TRIMMING TIP
Fluffy brows in need of a groom? Try giving 'em a trim. "As with tweezing, tools are key," Sarika says. "You'll need a good pair of small scissors, a steady hand and a brow comb or spoolie."
READ: The Test Drive: Yumi Brow Lamination At Mooi Skin
Use the spoolie brush and scissors to sweep hairs upward and snip the longest hairs — making sure not to cut anything between the arch and tail.
AUCKLAND'S BEST BROW TECHNICIANS
We have it on good authority that these three brow maestros know exactly what they're doing when it comes to crafting the perfect arch.
Britney from Lash Noir Ink, City Works Depot 
If you're in the game for microblading, then Britney is your girl. She's been with Lash Noir Ink since the beginning, and is known for her natural approach to feather touch brows. Be sure to book your appointment early, her brow expertise means she has waitlists months in advance. Lashnoir.co.nz  
Farah from Off & On, Newmarket 
For a less permanent option, book in for the Brow Wow treatment with Farah at Off & On Newmarket, a service which includes tinting and shaping. You'll also want to book in advance, or you'll run the risk of tweezer temptation at home. Offandon.co.nz  
Pyper from Mooi Skin, Howick 
East siders may already be familiar with Mooi Skin, Howick's only boutique skin clinic, but allow us to introduce you to Pyper – the clinic's sole brow specialist. Pyper's prowess extends to all manner of tinting, plucking and waxing, but she's also proficient in brow laminations. Check out our review of this brow volumising service at Viva.co.nz/beauty. Mooiskin.co.nz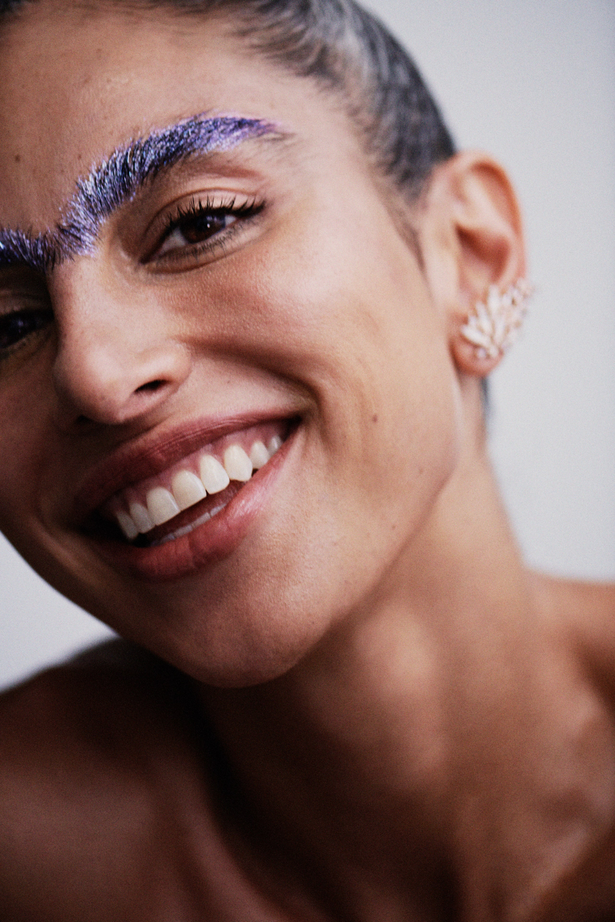 TRY THE TRENDS
Soap brows
It's the old-school grooming hack that has since inspired the advent of a multitude of products that promise to give the same volumising effect. Way back when, a spoolie brush was swiped over a glycerin-based soap to stick brow hairs in an upwards direction. But today, the introduction of brow wax has meant many a soap-related makeup meltdown is now a distant memory. Brow waxes are stronger than gel options, and give a longer-lasting effect than soap. Try Anastasia Beverly Hills Brow Freeze Brow Wax, $45, which launches at Mecca on February 16.
Colourful brows
American beauty brand TooD is leading the charge in the colourful brow movement, with the launch of its new Brow Color Creams, $33 (which can also be worn on lips, eyelids, cheeks or roots). The 10-shade range extends to rich metallic coppers and glistening aquatic greens, inspiring the wearer to be extra creative with their approach to coloured brows. Use singularly for bold, block colour, or layer together for a watercolour effect.
Hyper-realism brows
This new semi-permanent makeup technique has been touted as 2021's answer to microblading. Originating in Russia, hyper-realism brows are to eyebrows what bedhead is to hair. While microblading gives a groomed, tidy finish, hyper-realism brows are achieved using a cosmetic tattooing device to implant pigment and join each hair stroke in a 'W' pattern. Intensity is built in the middle of the brow rather than the start or end, lending a more three-dimensional, realistic finish.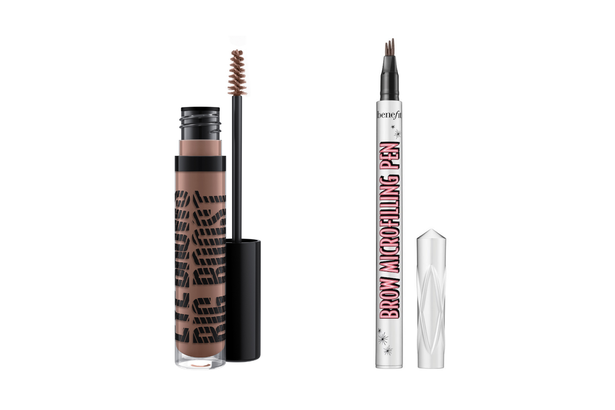 Left to right: M.A.C Eye Brows Big Boost Fibre Gel, $46; Benefit Cosmetics Microfilling Pen, $48. Photos / Supplied
BROW BASICS
1. If you're already #blessed with envy-inducing caterpillars, then tame unruly brow hairs with a swipe of Ardell Clear Brow Sculpting Gel, $12. It's a lightweight gel that helps to shape and define brows while offering all-day hold.
2. Brow beginners will love the Wet N Wild Ultimate Brow Kit, $9, a five-piece set that includes tweezers, a brow brush, two shades of brow powder and a setting wax to keep brows firmly in place.
3. Bare Minerals Strength & Length Serum-Infused Brow Gel, $39, contains a blend of plant-based serums to care for brows while setting hairs in place. Start at the inner edge of your eyebrow and work outwards in short, upward strokes in the direction of your brow hairs for natural-looking definition.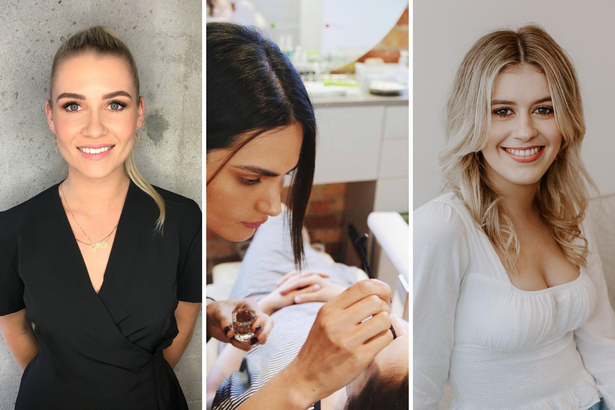 Left to right: Britney from Lash Noir Ink, Farah from Off & On and Pyper from Mooi Skin. Photos / Supplied

4. The limited-edition Revitalash Brow Perfecting Gift Collection, $169, contains everything you need to restore brows to their former fluffy glory, while caring for them along the way. The three-piece kit includes Revitalash's best-selling brow growth serum, Revitabrow Advanced, Hi-Def Brow Gel and Micellar Lash Wash.

5. Give the illusion of microblading (minus the needle) with Revlon ColorStay Brow Shape & Glow, $29. The dual-ended eyebrow marker helps to fill in sparse brows using ultra-fine strokes to mimic natural brow hairs, while the universal brow highlighter on the other end helps define arches when applied under the browbone.  

 
Share this: