SPONSORED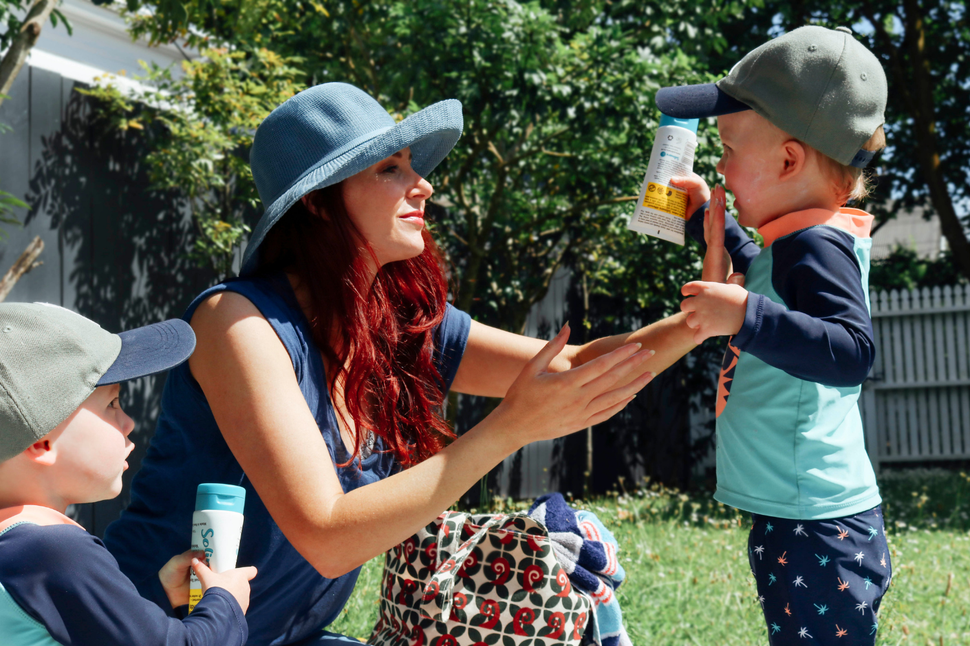 How To Get Savvy When It Comes To Sunscreen This Summer
Applying sunscreen to toddlers is akin to wrestling alligators, says HealthPost customer ambassador, Je t'aime Hayr
Thursday Dec. 13, 2018
Just as people are being more savvy about the foods they choose to eat, many of us are applying that same thought process to skin care products. Most of what we put on our skin is absorbed into our bloodstream, so when looking for a family sunscreen, the top priority is effective protection without nasty synthetic chemicals – but there are other practicalities to consider too. Applying sunscreen to toddlers is akin to wrestling alligators, so it has to rub in quickly, and I'd rather not be left an even whiter shade of pale by a sunscreen that leaves a white cast. Fortunately, today's natural sun protection products allow us to make healthier choices without compromising on texture and application.
PHYSICAL VERSUS CHEMICAL SUN PROTECTION
There are two types of sunscreens. Chemical sunscreens use synthetic compounds that create a chemical reaction and change UV rays from the sun into heat, which is then released from your skin. Physical barrier sunscreens contain active mineral ingredients (zinc oxide and/or titanium dioxide) that sit on top of the skin and work like a mirror to deflect UV rays away.
WHY I CHOOSE NATURAL, PHYSICAL SUNSCREEN
In addition to being wary that some chemical sunscreen ingredients may be potentially harmful to our health, I've found natural options to be much gentler on sensitive skin. In fact, some studies suggest that zinc helps to support skin healing and may soothe itchy and irritated skin conditions. Better still, physical sunscreens are effective immediately (no more waiting 20 minutes for some fun in the sun), which is a bonus when kids are racing to get out the door. But, the reason for my choice is no longer just personal, it's environmental too.
Chemical sunscreen ingredients such as oxybenzone and octinoxate have irreparably damaged the coral reefs. An estimated 14,000 tonnes of sunscreen enters oceans each year – a shocking statistic that has led some countries such as Hawaii and the Pacific Island Nation of Palau to place bans on the sale and use of sunscreen that contain any harmful chemical ingredients. Although New Zealand is yet to follow, whenever I'm beach-bound, I always check that my sun protection is labelled 'reef safe'.
NATURAL PHYSICAL SUNSCREENS TRIED AND TESTED
While I prefer physical sun protection, the formulas tend to be a bit stickier, whiter and thicker than their chemical counterparts, so they require a little more application care. Instead of smearing it on, you'll get far better results if you dot it on exposed skin before you blend. 'HealthPost approved' natural sunscreens are photo-stable, reef safe and formulated without parabens, phthalates and sulphates. I tried a few on the whole family to see which ones got the thumbs up.
1. Solimara Truly Natural SPF30. This sunscreen smells deliciously summery and contains skin-loving shea butter, jojoba oil and sweet almond oil. The formula is thick but rubbed in easily and didn't leave me looking like a ghost. It's two-hour water resistant, so ideal for the beach. ⭐⭐⭐⭐⭐
2. Made4Baby Natural Fragrance Free SPF50. When it comes to sensitive skin, this gentle formula gets the tick, however it was the thickest of the blocks I tested, so application requires a little patience. I found it worked best if I warmed a dollop between my hands, patted it on exposed areas and then blended it. ⭐⭐⭐⭐
3. Antipodes Immortal Face & Body Moisturiser SPF15. Don't be put off by SPF15, it still blocks 93% of the sun's rays versus 98% with SPF30, so it's ideal for everyday use. Formulated with hydrating hyaluronic acid, antioxidant-rich vivanza grape and kiwi extract, as well as reishi mushroom to support healthy cell growth, this cream rubs in easily and initial stickiness dissipates quickly to leave skin super soft. Perfect under makeup. ⭐⭐⭐⭐
4. Goodbye Ouch Sun Balm SPF50. Made with rich organic oils, this is a luxurious formula that left my skin feeling 'spa treatment smooth' the following day. It really is 'balmy' though, so it's best used on the beach and not under a silk dress. ⭐⭐⭐⭐
SPF SPECIFICS: WHAT YOU SHOULD KNOW

What should I look for in a sunscreen?
Always look out for a broad spectrum and water-resistant sunscreen, especially if you'll be swimming or sweating. You should also check for a number that indicates independent testing of the SPF (eg. AS/NZS 2604:2012) and always check the expiry date.
What about ingredients?
Look out for active minerals such as zinc oxide and titanium dioxide. These natural ingredients sit on top of the skin and work like a mirror to reflect UV rays away. They can be gentler on sensitive skin and are environmentally friendly too.
Which SPF is best?
SPF stands for Sun Protection Factor and protects against the sun's UVB rays which cause sunburn. A minimum SPF of 15 to 30 is recommended, however if you have light skin or burn easily, you should use a product with SPF 50.
What does broad spectrum mean?
While SPF protects against UVB rays, a broad spectrum sunscreen filters both UVA and UVB radiation. UVA rays penetrate deeper into the skin, causing long term damage and photo-aging. Both UVA and UVB rays contribute to the development of skin cancer so it is important to protect against both.
How often should we apply?
The good news is with natural physical sunscreens, you can go out into the sun immediately without waiting for it to be absorbed. However, you still need to reapply often, at least every 2 hours, as well as after any prolonged swimming or sweating.
Remember, to be sun safe, it's also important to seek shade where possible, especially between 10am and 4pm when UV rays are strongest. For extra protection, wear sun protective clothing that covers skin, a wide brimmed hat and some close fitting sunglasses.
HealthPost's range of natural sunscreen is Good Ingredients Promise approved, meaning no nasty chemicals, no environmental pollutants, and no animal testing. They only stock sunscreens that have undergone rigorous independent testing to verify any claims made about the UVA and UVB protection, as well as the SPF rating, and water resistance.
Find out more at HealthPost.co.nz/goodingredients or shop the full sunscreen range at HealthPost.co.nz/sunscreen
Share this: