How To Style Curtain Bangs
Popularised in the 1960s by the likes of Brigitte Bardot and Jane Birkin, curtain bangs are staging a comeback in 2021. Here's how to style 'em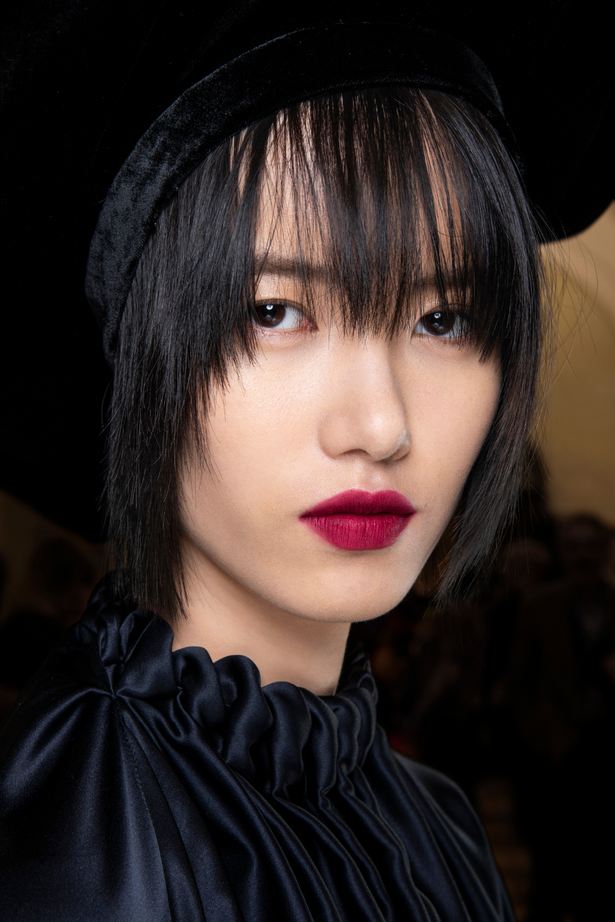 Monday April 19, 2021
No other hair trend is having a bigger renaissance in 2021 than curtain bangs.  
Not only is the wispy, face-framing fringe extremely versatile — they suit any face shape and can be cut into straight, wavy or curly hair — but curtain bangs are a low maintenance option for those wanting to try bangs without the bi-weekly trims or extra styling time that comes with having a blunt cut.  
So, what are they? Curtain bangs are typically parted down the middle, perfectly framing your face and eyes in the same way a curtain does with a window. They're slightly shorter in the middle, and slowly blend to longer layers out towards your ears.  
This more manageable fringe style has garnered a raft of celebrity devotees including Kacey Musgraves, Gabrielle Union, Jennifer Lopez, Dakota Johnson and Gigi Hadid. 
Nervous to make the cut? Most hairdressers will cut curtain bangs in a way that makes them blend naturally with the rest of your hair — giving you the option to wear them out, pulled back into a ponytail or tucked behind your ears should you so desire.  
And when you're ready to try the next hair trend, just leave them to grow out and they'll eventually become face-framing layers.  
READ: French Haircare Protege Caroline Greyl Shares Expert Tips Gleaned From Her Mother 
According to Moroccanoil Global Creative Director Antonio Calero Corral, curtain bangs work on any hair length and styling. Read on for his tips on how to style your curtain bangs. 
Step 1: Apply a pre-styling hair treatment on damp hair from mid-lengths to ends, followed by the volumising mousse and heat protectant spray of your choice. 
Step 2: Gently blow-dry hair until it is 60 per cent dry. 
Step 3: Starting at the front, dry your curtain bangs with a medium round brush, rolling the brush towards the back of your head. Wind hair back but soften the end to create a natural bend in the hair. Once bangs are dry, pin them up and focus on drying the rest of your hair. 
Step 4: Depending on the look you're after, there are a number of variations of how to blow-dry your hair to create the perfect blowout while keeping your hair hydrated.
For a more natural look, use a diffuser attachment (even if you don't have curls). The diffuser will help keep the hair's natural texture. If you choose, follow it with a curling iron and texturising spray to create some waves, before blending in your bangs with the ret of your hair. Combe it through with your fingers and separate hair into a middle part.
For a more polished and sophisticated look, use the same products mentioned above but blow-dry your hair without the diffuser attachment. Start with your bangs, drying them with a round brush and pinning them to create that bouncy shape when let loose. Create small subsections to blow-dry hair, brushing through with a soft round brush. Continue all the way down to the root for added volume. 
Step 5: Comb through with your fingers from the front to the back, and apply a spritz of medium-hold hairspray to finish. 
Share this: