How To Wear Holographic Makeup From Day To Night
Metallic makeup has morphed into holographic finishes in time to brighten up party season. Go on, take the 3-D look for a twirl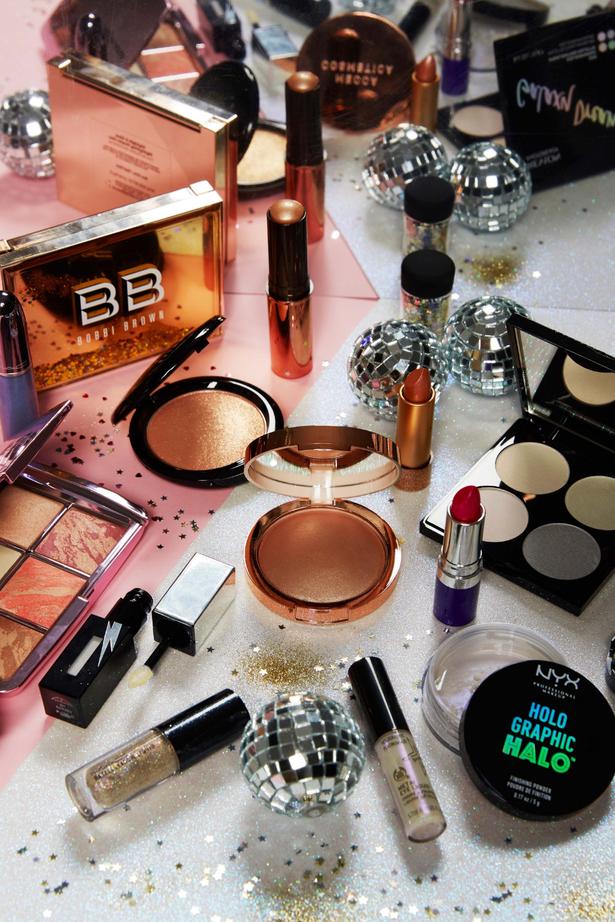 Thursday Nov. 15, 2018
If ever there was a time — post Studio 54 — to come over all disco diva, now is it. Try updating those dazzling days with a statement slice of shimmering colour on your next evening out. Thankfully, there's better makeup to choose from these days, so you won't look a hot mess.

READ: Strobing: What You Need to Glow
We've taken a real shine to anything that catches the light. Magpies mayhap, but who isn't drawn to what easily catches the eye. After seasons of sheen and lustre in cosmetics, it's no wonder beauty has taken a turn towards metallics. With popular products carrying names like Strobe, Dazzle Glass and Extreme Dimension, it should come as no surprise that M.A.C is a brand that has long played with light effects, so we asked its senior makeup artist in New Zealand, Kiekie Stanners, where all this luminosity is headed.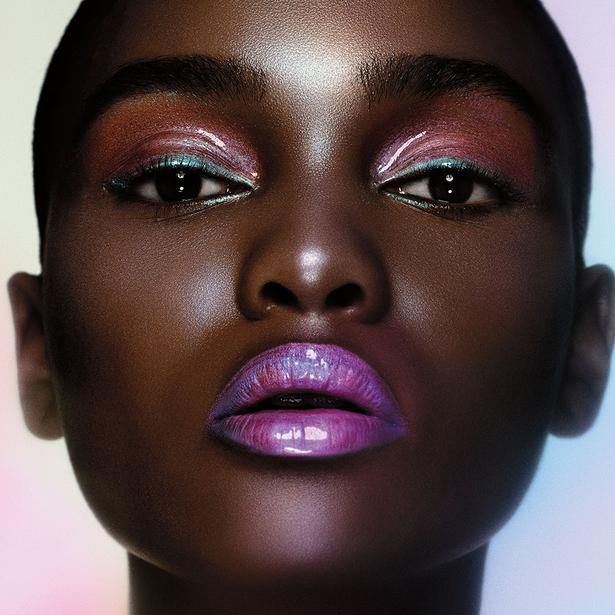 "This season it is a super luxe treatment of holographic effects to the skin, so it feels more delicate than glitter and more elegant than heavy sparkles," she says. "It's all about layering reflective products to achieve a mirrored effect rather than obviously applied texture."
This means holographic makeup, as distinct from glitter, needn't be left just to the little kids and the club goers. For as artistry brands such as Bobbi Brown have long shown, a little enhancing illumination can be flattering to all. Getting guidance on the right application and products that glide on and buff in seamlessly is best for those who want a subtle approach. If yours is a more high voltage style, then go to town. This is made easy because metallic and pearlescent effects are being seen in any and all of eye shadows, highlighting powders and — paralleled by the rise in luminising skincare and glow-getting primers and foundations.
READ: Metallics To Give You A Sun-Kissed Glow
Kiekie advises starting your three-dimensional colour effect in rose-gold, ash-pink with silver, or bronze-pink, as these are the holographic tones that sit naturally on the skin and enhance rather than distract.
If you're feeling brave you can add some bolder accent shades on lips or eyes, with some pretty pastels and striking jewel tones also getting the 3-D treatment this season.  All this luminous expression is now more a movement than a trend, because it's being seen across all brands, catering for a range of budgets. Another reason why now is a good time to experiment.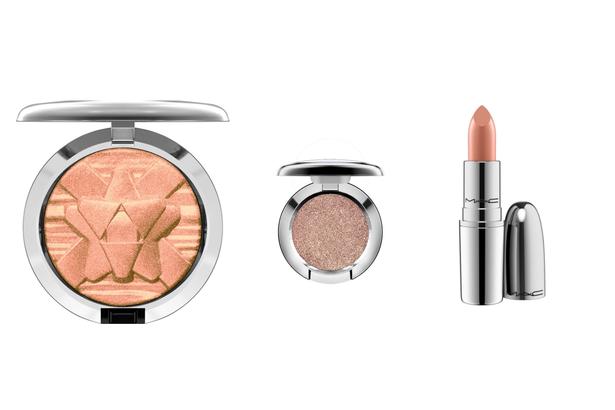 From left: M.A.C Extra Dimension Skinfinish in Snowflush, M.A.C Shiny Pretty Shadow in P for Pink, and M.A.C At Leisure Frost Lipstick

BY DAY: For every day, wear a holographic base on top of skincare and under foundation to give a subtle radiant effect to skin, says M.A.C's Kiekie Stanners. Apply a reflective highlight on the tops of the cheekbones to intensify this effect. You can press this into cheekbones with your fingertips so the effect looks like the skin is lit from within, rather than product heavy.

Try M.A.C Extra Dimension Skinfinish in Snowflush, $66, a pink bronze metallic, which can also be used to give a beautiful holographic effect over the eyelids.

BY NIGHT: To ramp up the metallic trend for evening, add intensity to the eyes. It is best with holographic/mirrored effects in beauty to keep one feature the place that carries this sparkle. Kiekie says she picks the eyes because they are the easiest to amplify for party season – especially if you need to intensify your makeup on the run. Switch up your everyday eye look by pressing a holographic shadow over existing eye makeup just through the centre of the eyelid, using your fingertip to ensure a strong colour payoff. This will give you a hit of sparkle, create dimension to your eyes and work alongside your existing eye makeup routine.

Try M.A.C Shiny Pretty Shadow in P for Pink, $46, a pressed holographic pigment that saves the fuss of using a loose glitter.

FOR LIPS: The metallic trend on lips is still going strong, but with so much now happening on eyes and cheekbones, Kiekie says that for summer party looks, she prefers using a soft frosted lip colour to tie all of the highlights together, rather than a lipstick that is full-noise holographic or an opaque matte colour that may feel too flat. Instead try the middle grown of a neutral frost lipstick that is in keeping with the trend to some sheen, but doesn't steal the show from your eyes.

Try M.A.C At Leisure Frost Lipstick, $40, a softly metallic copper pink.

STOCKISTS: M.A.C from brand boutiques and selected department stores, see Maccosmetics.co.nz. Bobbi Brown from Britomart boutique and selected department stores. Mecca and Too Faced see  Meccabeauty.co.nz. YSL from selected department stores. Revlon from selected pharmacies and Farmers. Nude by Nature and NYX from Farmers. The Body Shop stores see Thebodyshop.co.nz.
Share this:
More Beauty & Wellbeing / How To