SPONSORED
Huriana Manuel-Carpenter Is Teaming Up With Dove To Challenge Beauty Standards
The former Black Fern wants women to put their #ArmsUp to change the status quo
Sunday Oct. 17, 2021
Dove has appointed a new local ambassador, just in time for Body Confidence Day on October 17, with Huriana Manuel-Carpenter working with the brand to champion an issue that's been somewhat overlooked in conversations around body positivity — underarms.
Beauty standards affect everyone, even (and especially) athletes like Huriana. A professional rugby union player who now trains others at her Te Atatu gym, Huriana was tapped by Dove to be the lead ambassador for its new campaign, #ArmsUp, which advocates for underarm confidence.
It's an issue worthy of focus, with the brand's research revealing 90 per cent of women have felt bad about the way their underarms look, feel or smell at some point in their lives, and 56 per cent feeling self-conscious about them when exercising.
Sport and fitness have played a key role in Huriana's life. Her mother was a Black Fern, and Huriana followed in her footsteps — going on to represent Aotearoa in the Black Ferns too, winning the world cup in 2010, and in the women's sevens team that were 2009 world champs. "For a long time I trained my body for a purpose, to meet the demands to perform and manage at the highest level," says Huriana. "I learned to respect my body, fuel my body, challenge my body, move my body, love my body."
But even she caved to the beauty standards that burden many women, 70 per cent of whom feel the need to look a certain way. After Huriana's son Sachi-Wolf was born in 2017, she says she started believing the things society said about how her body should look, and she fixated on bouncing back. "In a little under a month after giving birth I forced myself to work a rugby contract in Japan, and I put pressure on myself to lose the baby weight," she admits. "Looking back, that was unrealistic. All I really needed was time to recover and heal. I realised I needed to give myself time, and give myself permission for self-love and self-care."
Body confidence is nuanced, spanning both positivity and vulnerability. No one loves their body all the time, nor should they have to, and Huriana admits that she feels these feelings too. "I still have moments where I feel self-conscious, like with my underarms," she reveals. "I'm working out with people on the daily, and there have definitely been times where maybe I haven't shaved or I hope I smell alright." Over two-thirds of the women surveyed by Dove revealed that they have felt self-conscious or embarrassed about the appearance of their underarms — even while exercising. "It's a time when we shouldn't have to worry. I get it, but it's something we need to change."
Sports and exercise, and shifting her approach to fitness as she's gotten older, have helped Huriana's confidence and her relationship with her body. "I believe exercise is a celebration of what your body can do, I work out because I love my body," she says. "It's important to look after yourself, so when it comes to self-care, although many women are brought up to 'tough it out', I no longer am like that. I focus on my health." Age has helped too. "Having a child and gaining maturity have taught me to value myself beyond my physical apperance," she says. Not caring what people think anymore is the most liberating place to be."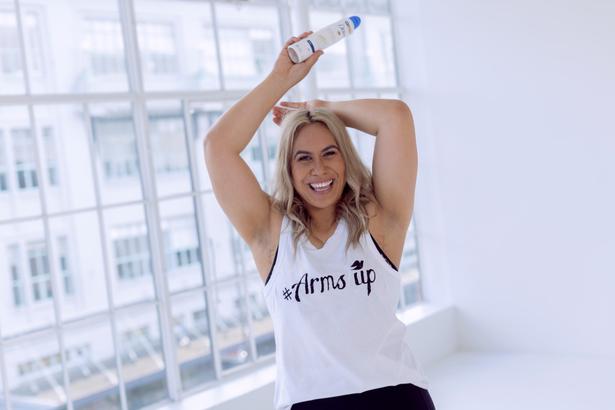 Achieving that sense of freedom is no easy feat. Women's bodies have long been seen as public domain — ripe for criticism, opinion and competition. Whether it's athletes having their bodies under the microscope, mothers who don't look like celebrities, or women who feel they don't fit society's standards of femininity or beauty, the pressure and judgment is immense and takes an emotional and physical toll. "Our world is flooded with messages in the media about how we should look, act, dress, think and believe," says Huriana. 93 per cent of women report feeling pressure from social media, according to Dove's research. "Without alternative role models and companies like Dove that challenge the media stereotype, we are often left with just the media's messages of how we should look and be." She believes challenging the status quo is key to change. "We should embrace diversity, choose our own role models and embrace our uniqueness and natural bodies."
It's something Dove has been doing for a long time, giving visibility to different bodies, eschewing retouching, and celebrating what makes us all unique. "I appreciate Dove's commitment to championing real beauty, non-conformity, inclusiveness and being your authentic self," says Huriana. "I love that Dove is shifting perceptions of what real beauty is — embracing body confidence, authenticity and acceptance."
That approach extends to its product range, which aims to help women find confidence within, and support their unique identities. "For me, deodorant helps with underarm confidence — especially with all the exercise I do," Huriana explains. "I have always been a big fan of Dove and it has always been my go-to; their new and improved Advanced Care Deodorant smells fresh and cares for my skin."
Long a favourite of women around the world, Dove recently relaunched its trusted antiperspirant sprays as Dove Advanced Care, formulated to be even kinder to skin. Its new formula (encased in redesigned packaging) harnesses its latest antiperspirant technology, alongside moisturising cream and caring oil. Dove Deodorant is found in many women's gym bags and bathroom cupboards, and understandably so. According to the brand's research, 63 per cent of women worry about underarm odour, and 53 per cent are concerned about sweat, making deodorant an important tool for finding confidence in their body. "I sweat a lot when I'm working out, but this deodorant has never let me down," says Huriana. "That helps me feel confidant and in control. Both of these are empowering feelings."
Also empowering is another key part of Dove's #ArmsUp campaign, the power pose, which sees women put their hands over their heads, revealing their underarms to the world. It's a position Huriana knows well. "It feels good, and for me, it has always represented achieving something," she says. "It's beautiful and it's strong."
Not only does it feel good, this power pose is good for you too. Putting your arms in a V above your head is scientifically proven to make you feel more strong, calm and powerful by increasing testosterone (which builds confidence) and decreasing the stress hormone cortisol.
The message can also be seen on a limited-edition range of singlets, created by the Nope Sisters for the campaign, which encourages women to join Huriana in putting their #ArmsUp. 100 per cent of the proceeds go to Women's Refuge.
Huriana hopes that Body Confidence Day and Dove's #ArmsUp campaign will encourage women to look inwards, and to challenge the status quo. "People often say that beauty is in the eye of the beholder, but I think that the most liberating thing is realising that you are the beholder, and being kind to yourselves and others."
Join Huriana and Dove in raising your #ArmsUp in support of Kiwi women on Body Confidence Day. Use #ArmsUp on your social media profile.

New Dove Advanced Care is available at all major retailers for $7.49 (RRP).
Share this: