Don't Say Isabella Rossellini 'Still' Looks Good
An inheritance of beauty and an independent attitude have ensured career longevity for one of modelling's most loved faces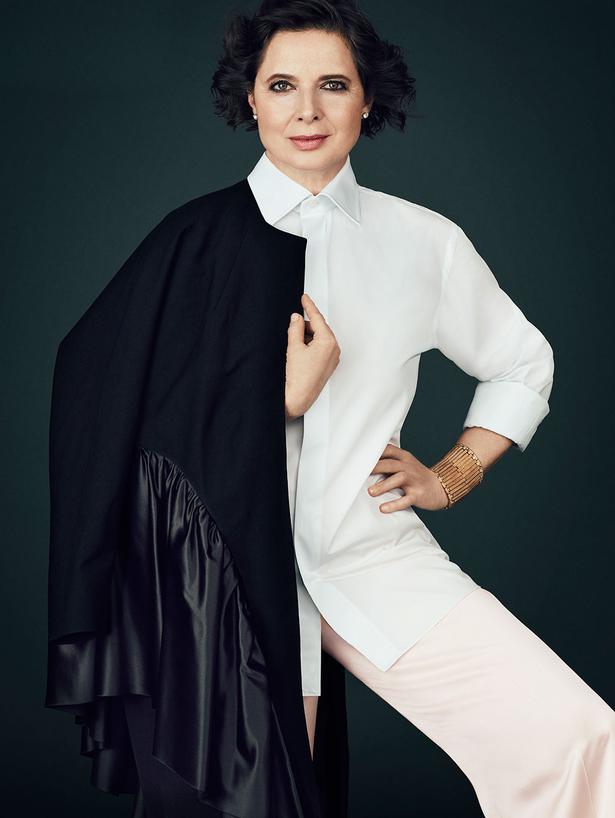 Wednesday May 4, 2016
Isabella Rossellini doesn't much like it when she is told "you still look good". "The 'still' part bothers me," says the returning Lancome beauty ambassador. Ageing isn't a big issue for her, which is one reason she would rather not get those slightly backhanded compliments.
"I treasure what my mom taught me, whenever people would compliment her about her looks, she'd answer 'Isn't it lucky?'"
Being the daughter of the celebrated Swedish film star Ingrid Bergman and herself a mother of a daughter who has modelled, Isabella has had plenty of reason to think about image. "I prefer a compliment like 'you are so sophisticated, so elegant'," she says. Or better yet, an acknowledgement of who she is rather than what she looks like.
The two are inextricably linked, however, with Isabella having been the face of Lancome throughout the 80s and into the 90s and now, in the company's 80th year, being invited to front for it again. Alongside this, one of the most enduring brand associations, which propelled the French company's global growth, she has been named on magazines' Most Beautiful lists and acted, written and directed films and documentaries.
Her noted screen roles range from an edgy appearance in David Lynch's Blue Velvet to the part of Trudy in the recent film Joy, in which she played the girlfriend of Robert De Niro who was father of the film's lead Jennifer Lawrence. De Niro is an old friend, having been best man at her first marriage to director Martin Scorsese. "I am in love with films, photography, cosmetics, fashion, animals and I am a mama of my daughter Elettra and my son Roberto. That's me," she sums up simply.
She is also an internationalist, product of a liberal European upbringing followed by a shift to New York in her late teens. Home is now an organic farm in Long Island, New York, where she keeps chickens, while finding time to study for a master's degree in animal behaviour. Her unaffected style, curiosity and sense of humour, alongside her favourite quality — endurance — have seen her transition from appearing in Madonna's Sex book to making Green Porno, a series of short films about animals' sexual behaviour.
"I always wanted to make films about animals — there's not an enormous audience – but there's an enormous audience for sex," she was quoted as saying when it debuted on US cable television.
Now back in the spotlight herself, the 63-year-old welcomes what she sees as changing attitudes to ageing within the beauty industry. Her first modelling job, at the late age of 28, was shot by Bruce Weber for British Vogue.
Two years later, her 14-year association with Lancome began, ending when she was 44, with age widely cited as the reason. She hopes the message taken from her return will be: "That the experience of having history is beautiful and that age is something to embrace." In this interview, she answers questions about her family heritage, the values that guide her and her own approach to appearance.
Who shaped your perception of beauty growing up? 
My mother. There wasn't an enormous emphasis on beauty per se, but rather on health and style. My mother was Scandinavian, very sporty, very practical, down to earth with the distinguished Swedish style characterised by simplicity and elegance. When she was 22 years old, already famous as an actress in Sweden, producer David Selznick invited her to Hollywood to be under contract with his studio. Following the Hollywood tradition of not only finding stars but of "making them", he proposed to Americanise her name, to pluck her eyebrows, to change her hair colour. Mother refused, "My name is Ingrid Bergman, if you don't like me as I am, I go back to Sweden!"
Selznick was dumbfounded, but then said: "I've got an idea, it is a simple idea that no-one has tried before. Nothing about you is going to be touched. Nothing altered. You will remain yourself. Ingrid Bergman is going to be the first natural actress!"
She was indeed very natural in real life too, she wore very little makeup — mascara, lipstick, and a bit of coverage. She arrived in Italy in 1949 to work with my father [renowned director Roberto Rossellini]. They ended up making five films and three children, including me. Italy, back then, wasn't the country it is today. It was very conservative: all women wore skirts that covered their knees, never ever pants. Mama wore not only pants but shorts! She was always incredibly free and modern.
How did her look impact your personal beauty routine?
In real life, like my mother, I just wear very little makeup but contrary to my mother, my lipstick is not a soft pink or natural colour, but a bold red. In my purse I always carry [Lancome] L'Absolu Rouge shade #132, I used it since I did the first advertisement film directed by Herb Ritts in the California Death Valley. As an actress, of course, I use a lot of makeup.
I use makeup to transform myself into the characters I play. Sometimes my interpretations go as far as playing animals. A few years ago in fact, I went back to University to study animal behaviour and conservation, and while studying I made short comical films about them. In these films I wear makeup that makes me iridescent like a fish or green like a praying mantis.
I like wearing makeup, creams and perfume. Like all other women I use cosmetics not only to seduce, I do it for myself, it gives me pleasure. It's the same kind of feeling I experience when I decorate my house or arrange flowers in a vase. It might be part of being a woman, a feminine trait: it makes us feel good to make everything look its best.
What is your approach to ageing?
Age has given me time to do all the things I've always wanted to do. I feel more complete. We always read in newspapers articles about the negatives of growing old, but not the positives. Okay, I've certainly lost agility and cannot do somersaults anymore. But the positive is that I feel freer, more confident in following my heart instead of pleasing others. That aspect of ageing is very nice.
Your thoughts on cosmetic surgery and injections? 
I'm not against it, but I've never had any work done. I am full of doubts. I am very grateful to have Lancome creams (favourites are Renergie for eye, day and night and Nutrix for body). I have my own organic farm, I can't reconcile trying to eat as healthy as possible, but then do Botox. If I were to do an operation now that I am 63, I might look like 53, but when I will be 73, I will look 63… it feels like I can win a battle, but lose the war.
You're a beauty icon to so many women. Who is your beauty icon? 
Jackie Kennedy Onassis, Georgia O'Keefe, Maria Callas, and all women who define style with their own taste. To me, real beauty is the expression of the uniqueness that each individual has. The secret is not in perfection but in variety, originality.
Do you feel that spirit helps to cultivate beauty? 
It all goes together. A lipstick can't save your life, but it can be one little step toward making you feel better. Lipstick, exercise, eat healthy, dress up nicely, clean your house, it all adds to a positive. It all goes hand in hand.
What do you think of the evolution of Lancome? 
It's wonderful to see a big influential company featuring faces of different ages and skin tones. Rather than pushing the unobtainable dream that diminished so many women by imposing restrictive standards, like to be young, blonde, 6-feet tall, and weigh 130 pounds. Now it's refreshing to see a beautiful black woman in a big advertising campaign, like Lupita Nyong'o who has incredible style and elegance. Lancome is sending the upbeat message that diversity is beautiful. By hiring me at 63 — and I look 63 — the brand is now also embracing age.
You were a spokeswoman for 14 years. How did it feel?
Most brands would use a model for two or three years and then move on to someone else. But instead, Lancome kept me, and somehow this translated into a message of loyalty and continuity that gave us not only originality, but it was immensely appreciated by all women. Modelling marked my career stronger than my acting. Lancome's advertisement campaign opened a door for me by creating a worldwide familiarity with my face.
I think this allows the audience in many countries to bypass the accent I have in every language. I speak Italian, English, French and some Spanish. I worked in Hollywood, which is notoriously resistant to foreigners. When I was young I didn't want to become an actress because I was afraid of the comparison. Modelling was my own world, the success I had as a model gave me the courage to take further steps.
Share this:
More Beauty & Wellbeing / Features & Profiles