SPONSORED
Jennifer Lawrence Celebrates Joy, Dior's First Major Fragrance In 20 Years
Old Hollywood glamour and modern Hollywood thinking come together, just as in the movies, when a fabled French house launches its first major fragrance in nearly two decades
Wednesday Sept. 12, 2018
Jennifer Lawrence is dressed for the red carpet in a white tulle Dior gown — cresting through the waters of a sparkling blue pool with its layers billowing beneath her. It's a splendidly filmic moment for Hollywood's favourite young female star. Cut to another image, as she basks, eyes shut against the sun, lying on her back on a diving board. A jewelled necklace encircles her throat above a bustier, her lips a stain of red; the whole a picture of luminous promise and private indulgence.
READ: The Inspiration For Miss Dior Perfume 
It's been an epic shoot for Lawrence, involving long hours jumping in and out of the pool, to the extent her newly platinum hair took on a greenish cast. "Most . . . was shot in or under water at two different houses in Beverly Hills," she explains later. "I was wearing beautiful custom couture gowns that were corseted on top and had multiple layers of tulle on the bottom, which made both floating and staying submerged underwater pretty difficult — so we had to come up with some interesting tricks with floaties and Styrofoam boards to help keep me where I was supposed to be!"
There are moments when, reminiscent of the final scenes from New Zealand's own The Piano, the slim but strong figure in shot seems at risk of being submerged in cloth, only to burst from the shadowy depths to a brighter horizon.
This production has the big budget, the big-name director and most notably the Academy Award-winning actress to ensure it attracts eyeballs globally. But it's not Jennifer Lawrence's latest movie being made, it's a campaign for a new fragrance. The first big perfume launch from luxury fashion and beauty house Dior in nearly 20 years. "So it's a major event and a real honour to be part of it," says Lawrence. As she might, being a brand ambassador of eight years standing.
READ: Behind Photographer Paolo Roversi's Dior Book
Joy by Dior, the fragrance is called. Being tasked with visually capturing this olfactory expression described as an "interpretation of light" is a challenge.
"I thought Joy was a great concept for Jen," says director Francis Lawrence (no relation), who helmed the four Hunger Games movies that helped make the 28-year-old the highest-grossing action heroine in film. With a background in music videos before movies, he was a natural choice for a lyrical but impactful campaign.
"This is the first time Francis and I have worked together on something that isn't a movie," she says. "He knows me very well and was able to incorporate a lot of my personality into the film. We really tried to capture emotions rather than tell a straight story, which was an exciting new way to work together." In the play of light on screen she smiles to herself.
Lawrence praises her director's eye and ability to coax her performance. In turn, he describes her as endearing, funny, and smart. "To be able to bring some of that out in a commercial has been really fun. I think the best kind of joy is unpredictable like you."
READ: Go Inside Christian Dior's Castle
She laughingly accepts she is indeed unpredictable and acknowledges that she missed their very first meeting in 2012 due to being at the wrong restaurant, although, as she is quick to point out, she was on time.
"Joy is an emotion that everyone has inside them," she says. "It is the purest form of happiness." And a feeling she relates to the birth of her niece, Piper, hearing Piper's first "hi", and seeing her little "queen wave". Family has helped shape Lawrence into the down-to-earth star she is. With two older brothers to keep up with when growing up in Kentucky, she got tough young; standing her in good stead for the action roles that followed. Her combination of feisty femininity has won her fans of both sexes, from playing resistance fighter Katniss Everdeen in The Hunger Games (2012-2016) and the mutant Mystique in X-Men, first in 2011, with that part to be reprised for the final in the franchise due out early next year.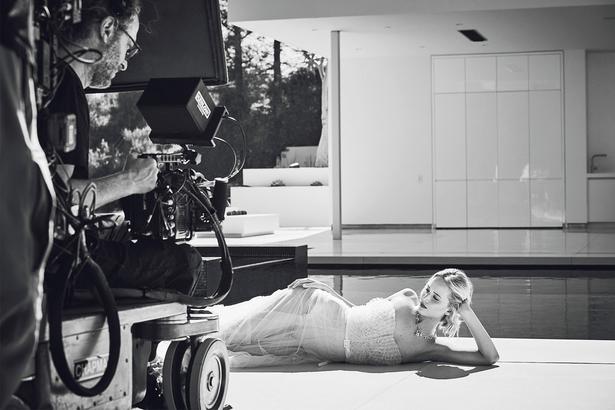 Dramatic roles interspersed along the way garnered the Best Actress Oscar for Silver Linings Playbook in 2012, plus Golden Globes for that role, American Hustle (2013), and Joy (2015). Her comedic touch on screen has carried over to displaying a dry sense of humour in interviews, giving her a real and relatable persona. Lawrence admits to being fond of food, saying she'd rather exercise than skip pizza; although her cardio and pilates workouts aren't for the faint-hearted.
That's partly to be fit for parts in movies such as this year's Red Sparrow (also directed by Francis Lawrence), but also because she knows that an occupational hazard, even when off duty but out in public, is being photographed from any angle. She likes to be in a shape to best manage how she is portrayed. When she was one of the victims of iCloud leaks of nude celebrity images in 2014 she was quick to call the spread of more private moments as a "sex crime" and to chide online viewers for participating in the offence.
READ: What To Know About Maria Grazia Chiuri, Dior's New Artistic Director
Lawrence has been outspoken on women's rights issues and the gender pay gap, contributes to children's charities and the Special Olympics, and was a signatory of the Times Up initiative. Another cause she is passionate about is an organisation called Represent.Us, which encourages young Americans to become active on a local level and to fight against political corruption and for national reform. Not surprisingly, her ideal image of a woman is someone who is strong and in control.
"There are many women whom I have considered role models. In my professional life, I was very lucky to work with Jodie Foster when I was about 18. She gave me amazing advice on life and my career, and she is so incredibly grounded. So, she has been a role model. Also, friends, my mom, my family."
She remembers her mother wearing Miss Dior and still equates fragrance with happiness and femininity. When Joy was in its final stages of formulation, she was chuffed to travel to France last year to join Parfums Christian Dior perfumer-creator Francois Demachy in the laboratory for a sniff of the project then code-named Nova.
READ: Inside the Exhibition Celebrating 70 Years of Dior
"I love that it is subtle from the moment you put it on. A lot of fragrances are too strong until they have had a chance to rest, but this one is soft and beautiful as soon as it comes out of the bottle. The floral notes make it immediately feminine, but it is also balanced with sandalwood and musks so it is fresh and modern without being too sweet."
A believer that aroma can enhance mood, she says: "Scent is such a personal expression, but I think this fragrance is for any woman who wants to exude a sense of femininity, confidence and strength."
Sounds like the joyful essence of Jennifer Lawrence herself has just been encapsulated.
 J-LAW'S APPROACH
Red carpet routine: I usually have a few friends over. We listen to music, hang out and try not to stress too much.
Fragrant ways: I like to give a couple sprays into the air and walk right into it.
Beauty recommendation: Dior Addict Lip Glow, it adds a little colour, so it makes me look like I made an effort.
Best makeup advice: Don't wear blue eyeliner!
Staying in shape: I run, do Pilates regularly and yoga sometimes. I don't have an eating plan but I try to eat healthy most of the time.
Places to visit: I am really lucky with my job to travel all over the world. I love Paris, Budapest, Italy too.
Switch off time: Television is my happy place.
Happy triggers: My dog Pippi, my friends, reading.
Favourite book: Anna Karenina. I thought I wouldn't want to finish an 800-page book, but then I started slowing down and reading the same chapters over and over. You fall in love with the characters; you grow up with them.
In the pipeline: I have been taking some time off and it has been really nice. In terms of film projects, I'm attached to a bunch, but we haven't determined what might go next.
Share this:
More Beauty & Wellbeing / Features & Profiles