Meet Too Faced's Jerrod Blandino
The co-founder of millenial makeup brand Too Faced, Jerrod Blandino, is a happy chap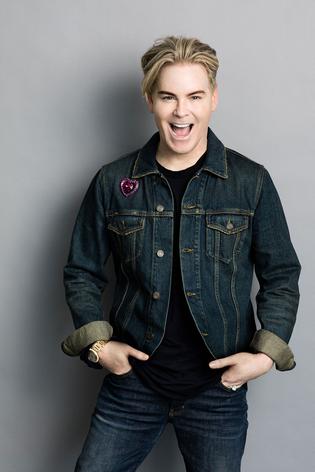 Nearly 20 years ago Jerrod Blandino was asked to move along from his counter job at Estee Lauder. Now, the American cosmetic giant has snapped up his company, Too Faced, for US$1.45 billion ($2 billion).
The deal, late last year, was vindication for his cheeky start launching his own line while selling makeup for another firm. It was also the largest acquisition in Lauder's history. "It's a generational play," explained Lauder's executive group president, John Dempsey.
Too Faced is a youthful California-based brand that has been bubbling under the radar for awhile, with a strong online buzz translating to fast-growing sales. Its girly fun positioning and look, with product names such as Better than Sex mascara and Peanut Butter and Jelly eyeshadow, is supported by a savvy social media presence.
This is fronted by the loud and proud Blandino. The company has an impressive 7.8 million Instagram followers and 7.3 million on Facebook.
Blandino is staying on, as chief creative officer, along with his business co-founder and husband Jeremy Johnson. They hope to see standalone stores established as part of a plan for international expansion.
More than 80 per cent of Too Faced sales are in the United States, so strong growth on this year's forecast of US$270 million is expected. For Lauder, the purchase opens up another sector of the market. Its earlier canny investments were in artistry brands, notably Bobbi Brown, M.A.C and Smashbox.
Too Faced doesn't conflict, with its young customers preferring to shop in multi-brand stores such as Sephora or Ulta, or online, rather than in traditional department stores. In the powerhouse Sephora chain, Better than Sex is the No.1-selling mascara and the Sweet Peach range is also a hit.
For Too Faced's co-founders reuniting with Lauder is, they say, "truly a homecoming." Blandino tells Viva more of his story.
READ: Mecca Brands to Open First Mecca Maxima Store in Christchurch
When did the fascination with cosmetics first begin?
When I was little I was fascinated with watching my mother put on makeup. I've always loved art and remember realising women would paint their faces in the same artistic way that I would draw. In high school, I would always watch my friends do their makeup and I was so intrigued. This was in the late 80s and colour was everywhere! More was more.
I actually fell into my cosmetics career by accident. My cousin and a girlfriend of ours were both absolutely gorgeous. Everywhere I went with them, we got in for free — that kind of gorgeous. Well, one day there was a hiring fair and the girls dragged me with them.
While the girls did their thing at the job fair, I just hung out in the lobby, where I ended up meeting all of these top executives at Estee Lauder. We chatted and they said I absolutely had to come work for them.
They hired me and within three weeks I was the top-selling employee. Long story short, I was eventually fired because Jeremy and I had started Too Faced and the executives saw Too Faced in a magazine and told me I had to quit working for Estee Lauder.
Too Faced is known for being quirky and fun with a penchant for pink, but beyond this, what really makes it unique?
We are an emotional brand. We want you to win. When you make a Too Faced purchase, you're in our gang! We bring a sense of joy to cutting-edge makeup artistry without intimidation and, frankly, that is much-needed with the boring seriousness that runs through our industry.
Our products go in a grown-up's box of fun. We take risks and encourage you to do the same knowing we will be behind you all the way. Our uniqueness and authenticity is just not something you can fake.
How do you stay in touch with what consumers want, given the shift from dealing with them at the cosmetic counter, to communicating with them online these days?
I've always had a gut feeling about things and at the end of the day, I am a consumer. I'm my own customer. I have a very sharpened set of tools when it comes to spotting trends and fashion. I know where trends are going and where they're moving. It is our job to dictate trends. We set trends, not follow them.
When it comes to new products, where do your ideas come from?
My ideas and inspiration comes from anywhere and everywhere. A need within the industry, a movie, a dessert, a piece of fabric, wallpaper, art, an ingredient or a technology or a flower. Who the hell knows!
Away from work, what do you do to recharge and feel fresh creatively?
I like to travel and I love to see other cultures. Everything from their markets to their malls and art galleries. I love to see the world from an artistic and fashion point of view. What are people wearing? How do they wrap their purchases? All of this recharges me.
For those new to the brand, what are the three things you would recommend . . . ?
You have to have our Better Than Sex Mascara. It will change your life. You also have to have our Chocolate Soleil Bronzer. It is not just for summer. It will light up your face and give you the sex appeal that you're looking for. Lastly, you need the Sweet Peach Eyeshadow Palette. The colours are modern and sexy and easy to live in. Like a best friend.
• Too Faced is stocked exclusively in New Zealand at Mecca Maxima stores (in Christchurch, soon to open in Wellington, with Auckland awaiting) and online at meccabeauty.co.nz
Share this:
More Beauty & Wellbeing / Features & Profiles