The Business of Beauty with Jo Horgan
Jo Horgan, the founder of Mecca Beauty stores, shares how she changed the beauty retail landscape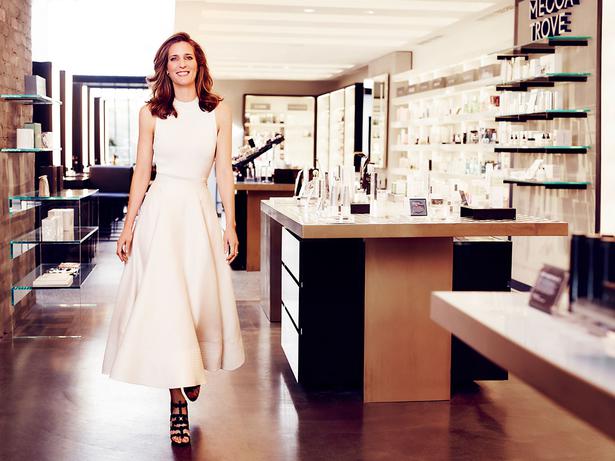 Thursday Nov. 9, 2017
'There are moments when lying under an umbrella sounds great, only I think I would be bored in a week," says Jo Horgan, laughing off the suggestion she might consider cashing in on the hugely successful Australasian beauty empire she has built over the past 20 years.
The passion to drive her business shows no sign of abating, not with the goal of 100 Mecca Cosmetica and Mecca Maxima stores in view. By year end there will be 88. Six of them are in New Zealand already, but that's just the start for our receptive "fashion forward" market, she says. By the end of 2018, expect 10 to 12.
Jo is a woman who clearly doesn't like to dilly dally about — tramping is a family favourite leisure activity. She walked the Hollyford Track in Fiordland last year, when her son, youngest of two children, was 8.
To keep up her obvious pep, she's is a believer in early bedtimes — "sleep and sunscreen are the Holy Grail" — and words like discipline and resilience come up often as we talk over the teacups at Hotel DeBrett in Auckland.
So, too, do hearty guffaws and quiet chortles, which comes as something of a relief, because she's the first to declare in her measured English accent that she's not big on talking about herself. When it comes to business, her zealous enthusiasm is another story. "Talking about the industry, it's during moments like this that you go, 'yeah, I'm going to do that better'."
Even those family tramps, it turns out, do double duty as a chance to brainstorm.
I decide its best to steer clear of quizzing her about her admirable boldly checked Marni maxi until our time is winding down, but she engages: "I love what Marni does because they have this incredible approach to colour and I love colour."
Not much on your face, I venture, figuring it's fair game to ask a purveyor of 100-plus coveted beauty brands about her relative lack of makeup. She just laughs and says: "You should have seen me last night, I was very sultry."
That was when she celebrated the company anniversary with her Auckland team, after a three-week round of similar events across Australia.
READ: Meet One of the Stars of Auckland's New Mecca Store
Viva is her only New Zealand interview, and comes after a very early start (hence the merest swipe of makeup) so she can sandwich in breakfast with an old friend who has twins, before we talk and she heads home to Melbourne.
Jo says she feels 1000, but this vital 49-year-old is all glow and go. Her visionary and now much imitated retail approach — including being an early adopter of e-commerce and online outreach — explain why she has figured in lists of the most influential people in global beauty (alongside the likes of Tom Ford and Marc Jacobs), brought out by industry bible Women's Wear Daily.
In Australia, Mecca has changed the beauty landscape, corralling a significant chunk of sales with its model of upmarket multi-brand Cosmetica stores and the younger fast-fix Maxima emporiums.
Both have "brand-agnostic hosts" available to demystify what Jo describes as a "typhoon of newness" and to guide customers to a personalised pick of products.
Alongside Jo and her buying team's sift of the innovative from the also-rans, sit the cult brands she has championed from the very beginning, a number of which have higher market share in Australia than they do in any other market globally.
No wonder then that the likes of Nars, Urban Decay, Hourglass and Too Faced have brought out limited edition products to mark her 20th. Jo says this attests to the deep networks she has built over the years, since the head of Nars felt sorry enough to see the persistent caller begging for a meeting and Stila's founder caved because she was clogging up the answer machine.
"You become a bit of a Tonka truck in terms of going after what you want," she admits.
Presciently her timing was impeccable; these rising brands were in their infancy too. "When you knocked on Nars' door it was a tiny fifth floor office down in Soho, New York," she recalls. Now the former makeup artist to the supermodels owns his own island in Tahiti.
Once Jo realised her targets were under-resourced, she set about dealing with the many reasons they were reluctant to sell to her, ahead of targeting bigger markets. She promised to take care of everything from product pick-up to marketing to supplying staff to be trained to their specifications.
READ: Jane Fonda's New Honest Approach to Beauty
The pitch: "I will be your complete slave, your dogsbody, product manager and fan." Did you really say that? I ask. "And the rest, on and on and on."
As to where that gumption comes from, Jo credits having entrepreneurial parents for teaching her to be dogged in pursuing a goal, but flexible in how to get there.
Her family emigrated from London to Australia when she was 14, driving around from Arnhem Land until they settled on Perth. She went to boarding school and got a BA. A year's travel overseas came next, then a master's degree in communication in Boston, where she met her English husband Pete Wetenhall, who was at Harvard doing an MBA.
He is now co-chief executive of the company, having joined full-time seven or eight years after it was founded. Jo credits his back-end operational nous with facilitating growth from about 10 stores to a staff of more than 2500.
They are picked for customer focus ahead of industry experience and the company invests nearly three per cent of revenue in training. In Australia it has been named in the top five places to work in the past few years.
Jo focuses on brand spotting and recruiting. In a coup for an indie chain, her bigger Australian stores recently began stocking major corporate brands M.A.C and Lancome (owned by Estee Lauder Group and L'Oreal respectively).
Jo has also overseen the launch of an innovative signature line, followed in August by a keenly priced colour cosmetics range, known as Mecca Max. It's all about covering the bases.
The firm is wholly privately owned by the couple and although they don't talk figures, Australian media estimates have put annual takings as high as $500 million. Whatever the sum, a very good punt was made in selling a house to open the first small Mecca Cosmetica store in South Yarra in 1997.
In the five years before this, as a L'Oreal Paris beauty executive in London and then in Melbourne (where she launched L'Oreal's colour cosmetics locally), Jo's thinking around beauty had crystallised.
She knew from her own makeup bag that she liked a mix of products, yet beauty assistants on traditional department store counters were paid to recommend just the one brand.
A work trip to the States, where she visited Fred Segal in Santa Monica and Barney's in New York City, flipped the switch.
"They had these apothecary areas with these new brands on offer and honestly it was electrifying. You walked in and you could just feel the winds of change, the energy, the excitement, the rebellious nature of these products. It was palpable."
Jo soon set about planning her own inviting beauty mecca.
"It was all about going away from the double-page spread ad with a picture of a product and then saying '73 per cent of women say this ... ' It was much more about how would we, sitting around this table, talk about cosmetics. If you were at a dinner party or chatting with a girlfriend in a store, what would that look like?"
The conversation is now shared online. The Mecca Beauty Junkie YouTube channel has had five million hits and #meccabeautyjunkie is awash with images. Social media has done much to fuel beauty sales and appearance obsession globally.
The selfie generation, which takes in her own teenage daughter, is, however, increasingly savvy, says Jo. "I have great faith in the up-and-coming generation . . . this social media explosion is something they're riding very well for their own means."
GALLERY: How to Take Smartphone Photos Like Kendall Jenner and Adwoa Aboah
For retailers the fast-changing landscape is a challenge. If we're in the age of peak beauty, or only just approaching it, Jo is hopeful that consumers still need a beauty best friend like her.
"Customers are either confronted with this barrage of products or are deeply interested in this continually evolving beauty landscape, depending on how much time and interest they have."
She is counting on her long immersion and undimmed enthusiasm to maintain what she says is Mecca's key role of editor and navigator, to give customers what they want before they even know they want it.
The one constant, says Jo, is that everybody wants to look happy and healthy, to be their best version. "Psychologically that makes you feel better, and that," she says, with a few final taps of her cup, " is the importance of beauty".
Share this:
More Beauty & Wellbeing / Features & Profiles