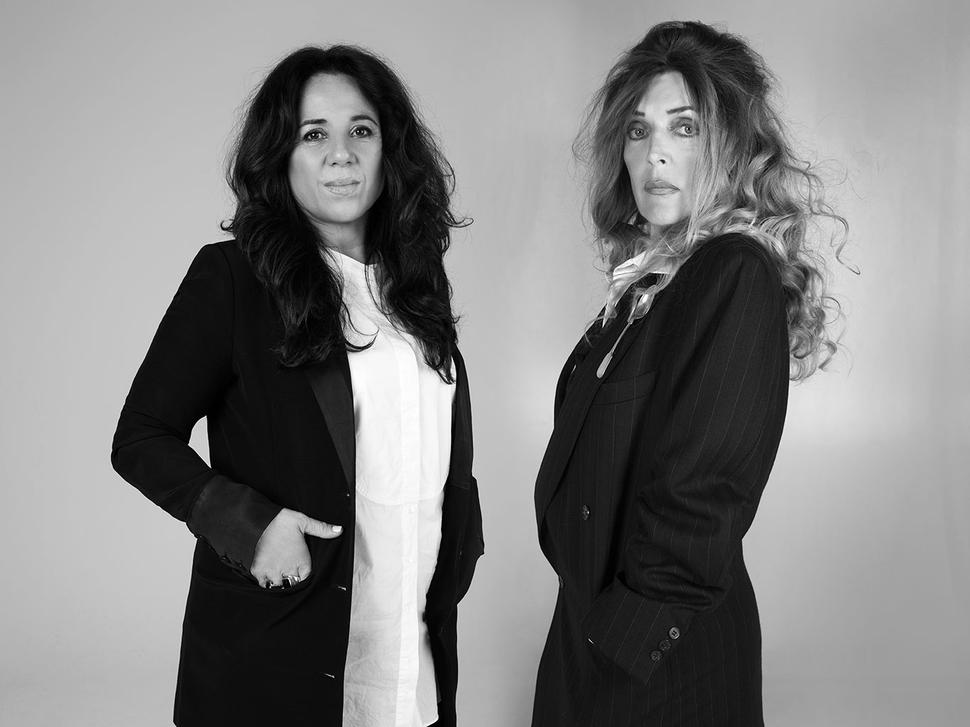 Good Friends: Judith Baragwanath and Eithne Curran
Auckland icon Judith Baragwanath and her hairdresser Eithne Curran discuss their enduring friendship
Wednesday Oct. 7, 2015
Who better than a notorious former model lured from her island hideaway to serve as an unofficial brand ambassador for your haircare launch? But when Eithne Curran asked old friend Judith Baragwanath over from her quiet life on Waiheke, the association was without artifice.
The women have known each other for more than 30 years, since back in the day when Baragwanath prowled the city as Metro magazine's notorious Felicity Ferret columnist. Widely referred to as Ol' Black Lips, her striking look, based around masculine tailoring, inspired designer Kate Sylvester's autumn/winter 2010 collection. And some jolly good gossip ...

Eithne, what were your first impressions of Judith?
Eithne: Black lips, violets in her hair, independent spirit. I was a kid from Morningside who earned my pocket money rolling ice creams at a picture theatre in Queen St and would see this glamorous creature walking by.
Judith, how did you first meet Eithne?
Judith: At The Melba and it didn't get off to a very good start. It was in the early 80s and The Melba, on the corner of Courthouse and Stumble down Lane, was Party Central. It was the watering-hole for what an innocent bystander might glean at a glance as a vast, Art Deco aviary of exotic birds in human form (and worse — in permanent mating mode) squabbling and pecking and screeching for another round of whatever to quench their insatiable thirst.
Somewhere in this 10-deep-at-the-bar, cheek-to-beak madness, Eithne and I connected. There was some small talk and when I casually enquired what she did for a crust, she replied: "I'm a hairdresser." I believe I let out a parakeet screech, recoiled in mock shock/horror followed by the words: "Oh no! I never talk to hairdressers!" Weird but true. She, to her credit, burst out laughing and we have been the best of mates ever since.
Describe Judith now... 
Eithne: As she has always been — ferociously witty, gentle, considered with an intrinsic kindness living her life her way, no plan B. Fair to say she is the emerald in my heart. Our friendship has many memories filled with adventure and laughter.
And Eithne?
Judith: Everyone needs an Eithne in their lives. A kind, honest, reliable, funny and trust-worthy friend. And did I mention she's a bloody good hairdresser? 
Tell us about some of the looks she has given you over the years?
Judith: I've got a haystack of hair. And at some time in the late 80s I decided that my hair needed to be permanently waved. It took forever and, if memory serves, Eithne and I spent a lot of time in and out and around The French Cafe. Another time she cut my hair at 3am as I sat in a chair on the pavement outside Club Mirage.
Judith was well known for her signature lips. What's the best hair look to go with a statement feature like that?
Eithne: If you can carry off black lips who would dare to tell her how to wear her hair — though I like the idea of a 1940's Martini twist.
These days Judith looks best with… 
Eithne: Anything really. She is a classic. Softer lips, anything out of her eclectic wardrobe. Her life is a collection — literary and loving it.
Her hair is… 
Eithne: Wild, thick, healthy, glowing.
What about Eithne's hair?
Judith: Always in good nick. It's her job to be a walking billboard for her profession and products.
What has she taught you about your hair?
Judith: A good cut and a good shampoo and conditioner. It's all you need.
Is it tricky being friends with a client if you think they should try a new look?
Eithne: Honesty has always been my approach, with the right tone, intentions and creative integrity. This has [also] led me on quite a long journey with my products.
Is being friends with your hairdresser difficult if you feel like a styling change?
Judith: Absolutely not. Like fashion, some hairstyles just do not suit certain people. A good hairdresser will point this out and make recommendations. They know best. It's their job. When you find a good one lock onto him/her for life.
Judith's friendship is… 
Eithne: A strong, fine, silk thread in the chaos of life. She gave me opportunities and inspiration when I was finding my creative soul. I treat her friendship with great respect and she taught me so many important things including sassiness, how to swear elegantly and how to be brave and true to myself! She is a sharer of great books. Having her in my life is a pleasure and a privilege.
Eithne's friendship is… 
Judith: Priceless. She's the genuine article. And she knows ALL my secrets. Oh dear.
• Eithne Curran's 3-piece Black Collection haircare range, developed in conjunction with scientist Sir Ray Avery, takes a botanically-based less is more approach. See it at eithnecurran.com
Share this:
More Beauty & Wellbeing / Features & Profiles