Meet Kabuki, the Makeup Magician
Makeup king Kabuki tells his stories of working with the stars, from Rihanna to Kylie Minogue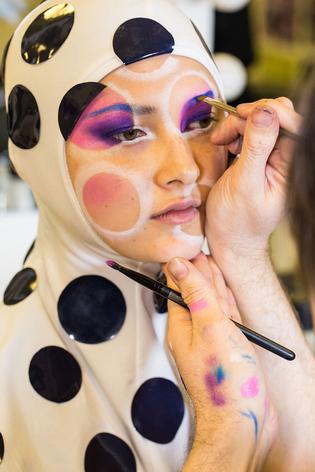 Kabuki's first professional makeup job was on series one of the soon-to-be-hit TV show Sex and the City. His first magazine editorial was for Italian Vogue, with Steven Klein shooting Karen Elson.
"It was my make-or-break moment," he recalls. When trailblazing photographer Klein showed their work to Madonna, she told him to bring Kabuki along.
In the 20-odd years since, Kabuki has created many memorable beauty and fantasy looks for a who's-who of the worlds of entertainment, fashion and celebrity. This quietly spoken achiever, whose colourful club-land alter ego first got him noticed — and led to his theatrical name — credits lucky breaks for his start.
But it is talent that has kept him at the top of his trade. That, coupled with the ability to intuitively adapt to whatever a job may demand — from lying on top of model Coco Rocha to apply lipstick during a Vogue shoot on a rocking boat, to feeding Michael Jackson throat lozenges to satisfy his candy craving during what turned out to be his final portrait sessions, shot by Bruce Weber.
Kabuki helped put the showgirl sheen on Kylie Minogue and added warpaint and Chinese lacquer to noteworthy Rihanna appearances. He transformed Katy Perry for her ET video and turned Selena Gomez into a 60s bombshell and Gigi Hadid into a wing-eyed siren.
A cover shoot with Kendall Jenner for Vogue Japan inspired a product in his new collection for M.A.C, based on a mix he came up with to exactly match her lip shade. The launch of the collection brought Kabuki to New Zealand recently, where he gave a masterclass.
Speaking to Viva the day before, Kabuki said getting to design his own collection was a rare chance to create products that had been unavailable. This included false lashes to achieve a glamorous red-carpet look, without his having to cut and paste three sets together.
Having had teenage makeup heroes like David Bowie, Grace Jones and Boy George, it is no surprise that colourful paints and glitter eye shadows also feature in the collection of the transplanted English lad who grew up "a fish out of water" in Florida in the 1980s.
The then Richard Ogden inevitably headed to New York, where his artistic skills got him a job as a textile designer. Soon he found there was more fun to be had painting his face and going clubbing, and Kabuki Starshine was born.
Kabuki became part of a troupe paid to turn up and add colour to the downtown scene. "If you bring something to the party, people want you there," he says.
During a runway modelling gig for designer Thierry Mugler, where he saw makeup artists at work backstage, the idea took hold that this might be his calling. Although he interned in super-stylist Pat Field's store, he was surprised when she invited him to help launch Sex and the City and give its stars a vibrant, fashion-forward look.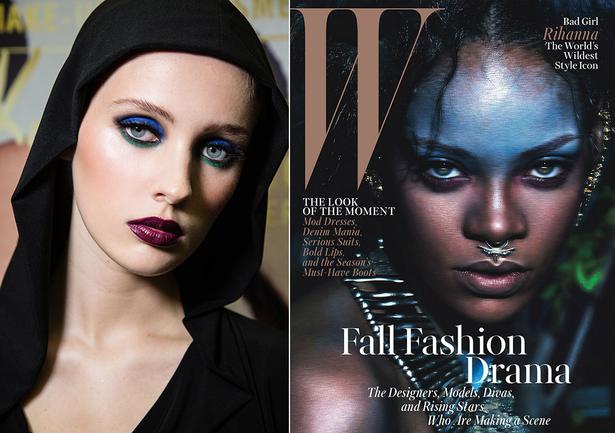 "We called it No Sex and the City," he recalls of the long hours they filmed. Two seasons on, he left to do makeup for movies, including Party Monster, which depicted the club scene gone wrong. Then Klein got in touch, opening the page on fashion work and the two have collaborated often since.
Kabuki says makeup artists need to mesh with other creative visionaries and be able to gain the trust, up close and personal, of models and celebrities. Big egos aren't an asset, but self-assurance is. "It's kind of a bonding experience." Of when it's not, he is discreet.
Kabuki arrived in New Zealand after a Nike video shoot with FKA Twigs in Mexico City. He headed out for a booking with Giselle and then into New York Fashion Week. His parting advice on makeup: "You've got to own it."
• The Kabuki Makeup Art Cosmetics collection is on sale from Monday at all M.A.C counters.
KABUKI: FACE TO FACE
Lady Gaga: When I first met her, she answered the door topless. I said: "Okay, I feel at home." Then, I said I like the video for Let's Dance and she said: "Just Dance". It was okay, she has a sense of humour.
Gigi Hadid: She's just very sweet. I don't have anything scandalous to say about her.
Kylie Minogue: I usually work standing up, or on knee pads. That was Kylie's idea. "She's quite petite."
Naomi Campbell: I was nervous, knowing her reputation, and we had a lot of looks to do. I got her a chaise longue. She went to sleep lying there, so I did the hard one first, applying gold sequins all over her face. She didn't wake up. Later, Naomi got me a birthday cake and champagne.
Michael Jackson: He said: "I want that." I said: "What?" He said: "Stand here beside me." I was looking into the mirror with me and the Man in the Mirror." He wanted contouring for a cleft above the lip like mine.
Sarah Jessica Parker: Sarah Jessica said she liked my makeup, but the foundation was the heaviest anyone had ever applied on her. "Like a drag queen." I learned fast ...
Share this:
More Beauty & Wellbeing / Features & Profiles