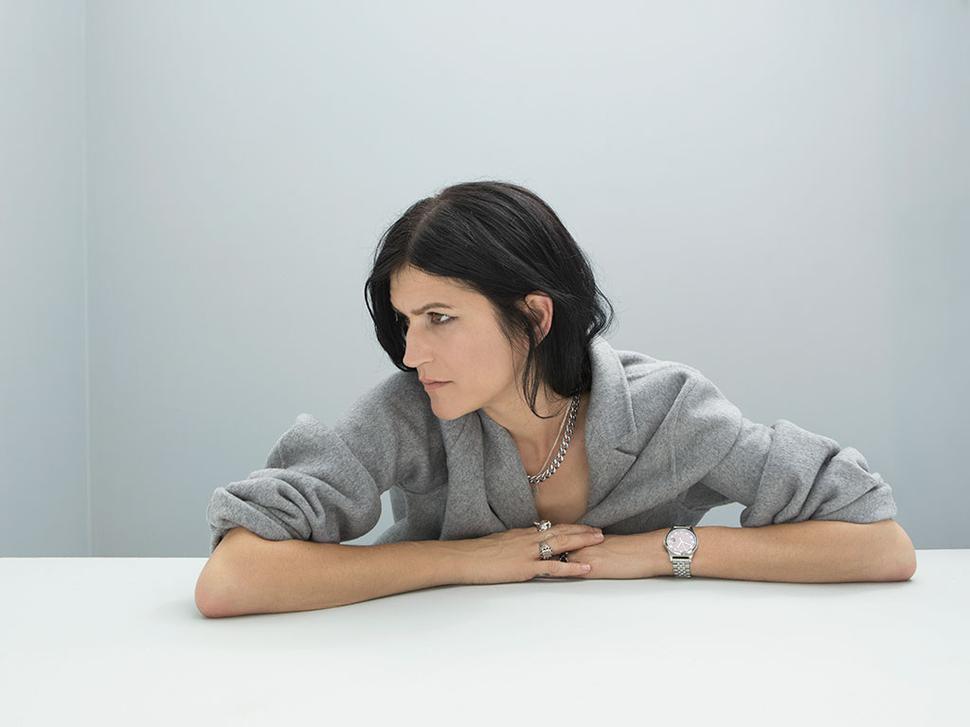 Karen Inderbitzen-Waller on Beauty and Her Daily Rituals
Photographer and stylist Karen Inderbitzen-Waller talks about her craft and the essence of beauty
Wednesday Aug. 12, 2015
In her latest campaign, photographer and stylist Karen Inderbitzen-Waller is a force to be reckoned with, behind and in front of the camera. She shoots and is a subject of the Sans campaign and also reveals her very personal approach to her creative life. (See below).
Hair and skincare company founder Lucy Vincent Marr says it was always a treat to watch Inderbitzen-Waller photograph her subjects, bringing out their essence and personality.
"A combination of her instinctive timing, the rapport she creates on set, and her ability to draw on references far beyond the fashion and beauty realms, results in imagery that is both captivating and open. Much like Karen herself."
The dual campaign role made sense, says Vincent Marr, because she is the epitome of a Sans woman — "grounded, honest, hardworking and always up for a good time".
"It was a no-brainer then to have her come on board with us for our new campaign, not just to lend her eye and infectious energy, but to also have her own presence and beauty be captured by her number one lady, Delphine."
The two worked with Matt Benns, of Stephen Marr, and makeup artist Darya Bing, on the shoot, which also included two other subjects, designer and model Georgia Pratt and fashion design student KM Marks.Inderbitzen-Waller also agreed to talk about her life in photography.

Where did you grow up and how do you think this helped to shape you as a person and an artist?
I grew up in New Plymouth, where my Swiss grandfather immigrated until I was 5, then moved to Auckland. While New Plymouth was beautiful, it has a stunning landscape, I was always grateful to move to a bigger city where my interest in fashion was able to be developed.
I loved fashion magazines from an early age and my mother was also very into fashion and clothes so encouraged me and enabled me to partake from a young age. I think New Plymouth would have been a harder, more remote place to be for getting into my chosen career and I am grateful for the move. It's no doubt been a key part of my early beginnings as a stylist from the age of 18.
Have there been any key female figures during your career who have been particularly life-changing/formative
Locally, I looked up to photographers Cindy Wilson and Melanie Bridge, who were both strong forces in the industry and at the time, among so few female photographers working in New Zealand. Internationally, I was heavily inspired by art photographers Nan Goldin and Cindy Sherman, and the writer Anais Nin, all such strong women who weren't afraid of sexuality in their work.
As someone who has a plethora of rich visual references that span film, art and fashion, how did you find your own voice?
I believe heavily in cross-referencing. I never copy. When referencing, I construct a mille feuille, so to speak, so the many inspirations become something that is new and uniquely my own.
Working with another person helps to keep my vision pure and always heavily edited to arrive at the final result. Having someone who's not afraid of offending me is essential for me also. When I was younger I was heavily into creative writing and storytelling where a drafting process is key. I see my photography work as an extension of that early passion where telling a story is very important and the process of drafting during referencing and research is always present.
As a multidisciplinary artist, how do you find balance when wearing so many different hats?
I don't believe that I know any other way so it's never something I've had to struggle with.
Why is collaboration an important part of what you do?
It's everything for me. When I first became a photographer, shooting for Pavement magazine, I worked alone. Not long after, I fell in love with someone I had gone to high school with who was also heavily interested in photography. At school (Selwyn College), he had been the top art student and was working as an art director in the film industry and not enjoying it.
Together we started to shoot editorial for Pavement magazine and continued to work as a photography duo up until his death in 2006. A lot of people in our industry, where we were based in Sydney, did not understand how two photographers could shoot simultaneously but I firmly believed it helped us to achieve a cinematic quality.
I'm very grateful that I have found another soulmate and collaborator with my wife, Delphine, since 2007. After Chris' death I did not see how I could continue to work in the way I felt comfortable, or that I could ever shoot again. I saw that with Delphine's collaboration and combined vision, my work was the thing that has helped me to continue to exist and create in the only way I know how.
What are some of your daily rituals?
Coffee, the importance of sunlight on my face, even if only through a window, feeding my thirst of imagery by way of books, magazines and films. Remembering last night's dreams.
You are known for creating strong female characters in your shoots and shows who sit outside conventional beauty norms/expectations. What are the qualities you look for in a subject?
I've always been attracted to imperfect beauty and natural quirks. I find myself taken off guard by perfection and immediately try to unravel it somewhat. I love characters with cinematic quality and a unique look. I also love working with people who are not aware of how incredible they are. I find that inspiring.
One of the reasons we love shooting with you is that you establish a close relationship with your subjects and have the skill to make people feel comfortable and, most importantly, themselves. How do you feel in front of the camera?
I don't like it! My teenage stint as a model in Sydney lasted all of five minutes. I knew it wasn't for me and I knew that I was not a convincing subject as I was not comfortable. The one person who can make me feel okay to be photographed is Delphine. She somehow, much to my surprise, manages to find something that I don't dislike.
Most re-watched film?
A few too many to list, but I used to have an obsession with Raging Bull, something about the soft flickering of black and white, and the incredibly stunning Cathy Moriarty. Rosemary's Baby is another favourite and in the late 90s I watched Reality Bites on repeat. I know almost every line.
Most influential exhibition you have seen?
An Andy Warhol exhibition many years ago at the Auckland Art Gallery left an impression on me for his ability to succeed in using so many different mediums to express himself; really inspiring.
More recently, it would have to be a Helmut Newton show in Paris that amassed the biggest collection of his work ever shown in Europe, an incredible scale of works. A Basquiat exhibition, also in Paris, that covered more than eight rooms with every known work, even including a refrigerator from his apartment, was pretty memorable.
I wish I could have attended the Marina Abramovic show The Artist is Present in New York. The concept and intensity of that via a documentary I watched about it, left me thinking about it for days on end.
What does beauty mean to you?
Beauty is skin-deep, and in its rarest form, is what's on the inside.
Share this:
More Beauty & Wellbeing / Features & Profiles