Kate Moss' Beauty Routine
Supermodel Kate Moss shares her favourite products and routines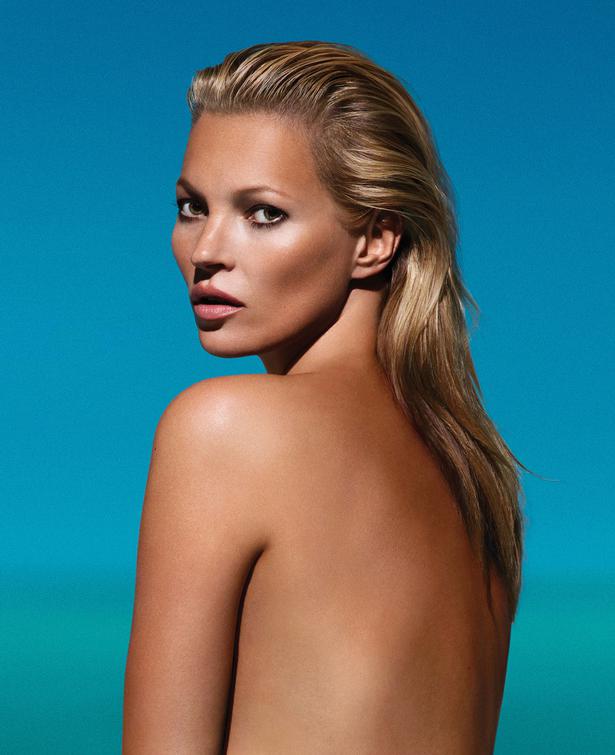 Tuesday Sept. 29, 2015
Supermodel and St. Tropez ambassador Kate Moss reveals her beauty routine and favourite products and why she intends on staying blonde and tanned. Her current favourite product to help with the golden glow is St. Tropez's innovative in-shower tanning. It is not due in New Zealand until January, but in Australia, where it launches in October, the waitlist tops 5000 people.
Women copy your look, your hair and kohl-lined eyes. How does it make you feel that people pay that much attention?
I just dress for myself really. I don't think about it too much – it would freak me out otherwise.
When have you felt at your most beautiful?
My wedding day. It was the most gorgeous day, beautiful lighting and the dress was just amazing. I think it took 80 hours to hand sew the sequins on. The whole day was just perfect.
How do you get in shape?
I do yoga. My friend Nadia Narain has just brought out a Gentle Yoga 20 minute DVD which is good. I've done yoga with her for 15 years. I practice for an hour and a half usually but being able to do it in 20 minutes is so much easier. I go on long walks in the countryside every weekend too – it's so invigorating.
Do you have a routine or technique for applying your eyeliner?
I pull to the side of the eye to get the line, smudge it and then apply the product over the top. Gives you that up flick!
What do you love about wearing lipstick?
I do really like a red lip, it's great when you're going out. My hero red 001 'Kate' for Rimmel lipstick is so nice. It's nice to have a neutral face and eyes and then a stronger lip for a pop of colour.
Apart from needing to for a shoot would you ever consider going darker or are you a blonde through-and-through?
I went darker for a Versace show. I didn't love it. I would need to wear much more eye makeup if I went dark permanently and that is too much of a commitment. Jamie loved it, Lila really did not.
Blonde can be difficult to keep conditioned, how do you manage it?
Kerastase products keep my hair looking shiny. I use Chroma Captive shampoo and conditioner and the Riche Masque to keep the colour vibrant as blonde hair can get a little dry. If my hair starts looking a little orangey, I might use a violet toning mask to take out any brassiness. I go to Nicola Clark at John Frieda for my colour – she's the best colourist.
You have access to the best hair and make-up artists. What advice do you swear by?
I love to mix bronzers and highlighters to contour and bring out the cheekbone; Charlotte Tilbury does an amazing Filmstar Killer Cheekbones duo that I love. I also like using stains, just pat them onto your lips and cheeks. I often find new products on shoots – Lisa Butler gave me a waterproof concealer which is great for the beach, you can go swimming in the sea and it still won't come off.
What is it that you love about Ibiza?
It's not far and I always stay with friends when I am out there – I've never stayed in a hotel in Ibiza. We get in a lot of beach and pool action, cook together and there's always a bunch of children running around which is lovely.
What item of clothing do you own that best shows off your tan?
All the summer dresses I did with Topshop are great for that. There is a great white linen one with Aztec embroidery which looks lovely with a tan.
When you have a tan what colour do you like to go for?
Something quite sun kissed when I'm in London, but if I'm going on holiday then sometimes I will go for something a bit darker like St.Tropez Dark Tan. I like to go to a professional for a spray tan from time to time, but I feel confident to tan myself, however, the first time I experimented with self tan was when it first came out: I was really young and ended up leaving my socks on and just doing my legs. Orange legs from the ankle up and a white foot - nice! I was scared for a while after that ... I imagine [daughter] Lila might have some of those experiences too.
I use self tan to avoid sun damage. It's great because you get to side-step that stage on holiday of being really white before you catch a tan - sunbathing can be so boring!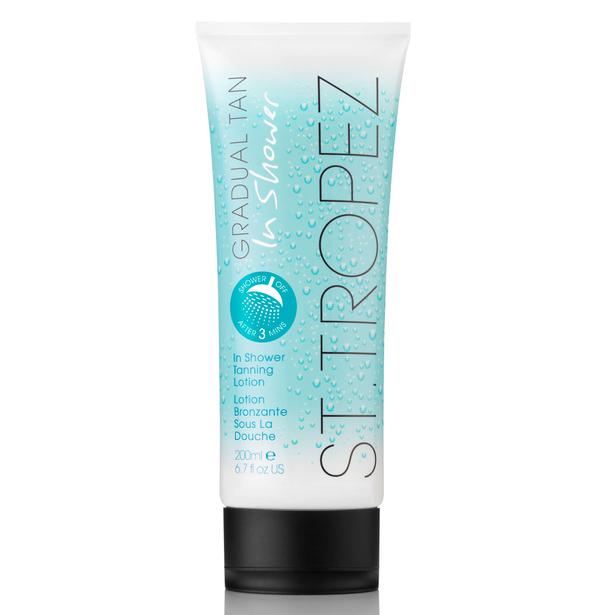 What's your favourite product for achieving the colour you want?
I used to use St.Tropez Classic Self Tan Bronzing Mousse, but now I'm really into the St.Tropez In Shower Gradual Tan. It's just so easy to use and there's none of that waiting around for hours, you just leave it on while you're combing your conditioner through and it gives you that great sun-kissed golden glow. I always finish my shower with a blast of cold to wake me up and get the blood to the surface – I love it, it's so invigorating.
Beauty essentials:
Skin: I use Creme De La Mer – it's a tried and tested product for me. I like trying different products but I find this product is the most enriching for my skin. I use the original Moisturising Cream at night time as it's slightly heavier but in the day I use the Moisturising Soft Cream.
Nails: I like something that's easy to apply like Rimmel Salon Pro. If I'm going to do a colour, I like to go for a dark red. For my nails I use CND Solar Oil. It's on my dressing table so I put it on at night before I go to bed as it keeps my cuticles from looking dry. If I'm not doing my nails myself, I go to a nice little salon in Primrose Hill – it's totally no-nonsense, I hate all that pampering business, I prefer hanging out with Lila to going and getting my nails done!
Eyes: On my eyes I use the Charlotte Tilbury Colour Chameleon Eye Pencils. They're soft pencils with a bit of a shine that you can smudge to look just like an eye shadow – once it's on it doesn't budge. I also always wear loads of the Rimmel 'Kate' Mascara.
Lips: For my lips I like to use the lip balms I have designed with Rimmel that are coming out soon. The Kate Balms are great because they are moisturising but still give a hint of colour – I love the pinky coloured one.
Supplements: At the moment I am using the Elle Macpherson Super Elixir, I just add it to my juices.
Facialist: I like going to Nichola Joss for facials. She does this facial massage for lymphatic drainage using Sanctuary Spa Wonder Oil Serum; it's like getting a natural face-lift.
Share this:
More Beauty & Wellbeing / Features & Profiles