Kelly and Sharon Osbourne's new M.A.C. collection
Stephen Jewell meets the unstoppable outspoken Osbournes in London to find out about their latest venture.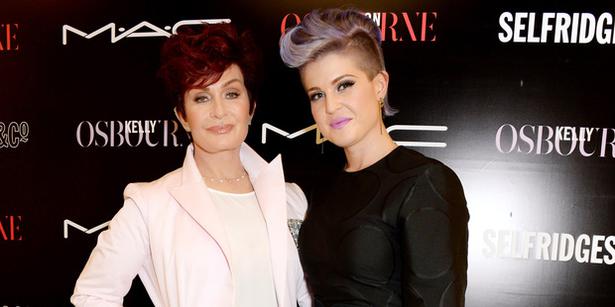 Thursday July 31, 2014
"You don't think of red hair and not think of my mum, or think of lavender hair and not think of me," says Kelly Osbourne.
The Fashion Police TV show panellist, who is set to turn 30 later this year, says she can barely remember a time when she did not dye her hair. "The best way to explain it to you is that if I woke up with normal coloured hair, it would be like you waking up with fluorescent green hair and being like 'oh my God!' That would be the exact same feeling for me, except backwards.
"But I like being different and I like being me. I like the fact that when I'm in LA, I don't know anybody else like me, as I don't want to look like anybody else. So people can think what they like of me, as I really don't care."
Her equally direct and recognisable mother Sharon - rock star wife and manager turned television reality show judge - says being a redhead suits her personality.
"My mum has been in the top 10 of most copied haircuts for nearly 10 years now," says Kelly.
Her own purple locks were initially more of a confidence-booster. "Before I was even allowed to wear makeup, my mum took me to Barney's in LA and I picked out a perfume, not because of the way it smelt, but because it was this colour," she says, pointing to her violet bob. "It's just a colour I've always been drawn to. Then I did some research into how colours can sometimes represent emotions as well. They say that lavender is very calming, peaceful and fun, and it just embodies me."
Not surprisingly, the two women have chosen their headlining hair shades as inspiration for their first beauty venture. Lipsticks and canisters in red and mauve are part of a limited edition collection with M.A.C.
The collaboration, following on from M.A.C's recent launch with New Zealand singer Lorde, is one of the biggest celebrity collections the American-based company has done to date. "If you think about the people who have come before us, there's been some incredible campaigns," says Kelly. "So to be on that roster [which includes Lady Gaga and Rihanna] is such an honour, and to get to do it with my mum is even better."
"Kelly and I have always wanted to do something together with makeup and this was just the right time to do it," Sharon explained at the London launch. She has just wrapped up a one-year stint as a mentor on the British version of X Factor. "It was like a dream come true as every little girl loves makeup and wants to have her name on a piece of makeup. In this case, there's one little girl and one old girl!"
Insisting that, "you're not old, mum!" Kelly says it was important that their collection wasn't just about making makeup for themselves. "I wanted it to be for every woman, and men too if they want to wear it. I'd love that!
"We've learnt so much about makeup and what goes into it, such as how to make a lipstick more matte or satin."
They wanted their respective colours offered in ways that could be worn by a wide range of women, of differing skin tones and ages. "I also wanted to make sure the looks could go from day to night very easily," says Kelly. "That's why there's a couple of bright lipsticks in there and you wouldn't have to put more of the eye shadow on. So I did tests with a dark-skinned black girl and my friend from Mexico as well as an Irish friend, who has got red hair and paler skin than me. It really seemed to work on everyone, and was also slightly different on everyone."
"I wanted mine to be very warm and subtle and I didn't want colours that were too bright because, for me, that's not something that I would wear," continues Sharon. "So I wanted it to reflect me, but I also wanted colours that would go across all demographics."
From starring in hit MTV reality show The Osbournes as a teenager, Kelly grew up in the spotlight. "We've chosen to be in the public eye, so you just have to take it," she says, having worked on Hollywood style series Fashion Police since 2010. "I have a job where - I don't like the word 'judge' - I critique fashion, although I don't condemn people for what they've worn. But you have to take the good with the bad, as we're lucky to have the lives that we have."
For her part, Sharon believes that their unconventional appearance has allowed them more leeway. "If your reputation is one of beauty and you've built your career out of the way you look, that's a terrible burden to have," she says. "Neither of us has built our career on the way we look. We're women who like to take care of ourselves and we like to experiment and be well-groomed. But we're not women who have built our reputations on our looks, so I feel quite fine to go out without makeup or to not have my best outfit on if I'm going shopping because it doesn't matter to me."
As to that hair, Kelly says: "I don't know if I'll ever change it and it's so nice to see so many girls with it now. Even from the small walk from the car to the store today, we saw about three girls with lavender hair, which is great because it takes a lot of bravery to step outside the box and have a colour that's not a natural tone. I have a lot of respect for any young girl - or any girl - who likes to play with their hair."
• The M.A.C Osbourne collection is available from M.A.C. counters from August 4.
Share this:
More Beauty & Wellbeing / Features & Profiles