Kris Fox's Beauty Routine
Beauty vlogger and social media star Kris Fox's fierce and flossy beauty routine
Kris Fox is a 23-year-old YouTube and social media sensation based in Auckland. Born in Fiji before moving to New Zealand at age one, growing up Kris says he always found himself different compared to "other boys".
"I was more feminine than they were, and just like any other 'different' individual, I got mocked and teased throughout my high school years."
Kris turned to performing arts, and by the end of high school had taken part in every type of school production and dance competition. "Taking part in these extracurricular activities helped boost my confidence and made me feel good about myself."
After school, Kris went on to study a bachelor of arts majoring in English and new media studies at AUT. While studying, he began posting beauty focused videos online because he missed entertaining people and says this is what led him into the world of social media. "Now I am able to entertain people all over the world and express myself freely."
First makeup memories
The first time I played around with makeup was in high school. I was 16 and my mother had one of the biggest collections I had ever seen. One day I went into her room, took her M.A.C foundation and bronzer, then caked it all over my face. At the time I thought I looked flawless but thinking back now, I'm pretty sure I looked like an Oompa Loompa.

Beauty ethos
Beauty to me is about being yourself and embracing your individuality. Everyone is beautiful in their own way, which is what makes us all unique. That's why I always tell my viewers to stay fierce and flossy, because I'm all about positive vibes. The world needs more variety, and we are perfect just the how we are.
Skincare routine
My skin is very sensitive and prone to breakouts so I always take extra care when looking after it. When cleansing my face I always go for my Antipodes Skin-Brightening Gel Cleanser. I find that this product works best for me and clears breakouts really fast. After cleansing my face in the morning I use L'Oréal Skin Perfecting Day Cream and at night I use Nivea Regenerating Night Cream. This is my go-to combo at the moment because it leaves my skin looking amazing!
Getting ready, start to finish
I generally start getting ready three hours before, because I like to take my time. I start off with priming my face to prevent breakouts and keep my makeup looking stunning. Then I move on to a high coverage foundation, set it with a translucent powder and fill in my brows so they look on fleek.
Once I've done my base work I contour with a bronzer to define my face, add blush and then mascara. I always use a pigmented highlighter to draw attention to my cheekbones and make them glow. Then to finish off the whole look I use a nude lipstick to tie it all in together.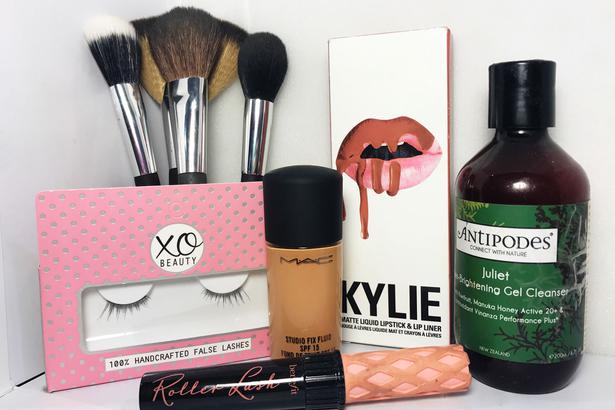 Top 5 beauty products
1. M.A.C. Studio Fix Fluid
I have used many foundations on my skin and find that this will forever be my holy grail. It's easy to blend out and lasts throughout the whole day without making your skin look oily.
2. Benefit Roller Lash Mascara
I am really picky with mascaras because I always want my lashes to look on point. The wand and formula of this product is a dream, It doesn't flake or smudge all over your lids and keeps your lashes lifted.
3. Kylie Cosmetics Lip Kit
This has to be my all-time favourite liquid lipstick. It literally stays on forever and leaves your lips feeling smooth. Oh and I also forget to mention that the formula smells like cupcakes!
4. xo Beauty Lashes
I only ever wear xoBeauty lashes because they're comfortable to wear and there is so many styles to choose from. Also I find that you can re-use a lot of the same sets which basically makes them durable.
5. Simple Kind To Skin Facial Wipes
Out of all the facial wipes I've tried, the Simple Kind To Skin wipes reign supreme. They are moist and you can basically get your whole face of makeup off with one wipe.

Signature beauty look
Bronzed, glowing and beat for the Gods! I always make sure that my look is simple yet stunning.
Day to night-time beauty look
During the day I hardly wear makeup because I like to let my skin breathe. The only time I'm ever glam is when I have events to attend or videos to film. There's not much difference in my beauty looks because it's always full coverage and ready to slay.
Beauty icons
My Mother! She is my original beauty queen and I love her. Growing up I always admired her style throughout the years she is definitely the reason why I am obsessed with style and beauty.
Best beauty trick
Conceal your mistakes away. Whenever I make mistakes while doing my makeup I find that a bit of concealer always does the trick.
Style and beauty evolution
My style and beauty look has drastically changed in the span of three years. Being involved in online beauty content has exposed me to the latest trends in makeup and fashion. This has definitely had a major impact on the growth on my own personal style.
What makeup would you recommend when it comes to Snapchat and Instagram?
There are no limits to what kind of makeup look you should have when posting on social media. I personally like going for an illuminated glowing look with stacks of fake lashes and a neutral lip.
Morning routine
First thing I do when I wake up is head into the shower to clear my mind and prepare for the day. Then once I'm out, I usually sit in my towel for about half an hour catching up on social media and emails. After I get dressed I head down for breakfast and watch some of my favourite YouTubers to get ideas on potential content that I want to film.
Share this:
More Beauty & Wellbeing / Features & Profiles