Les Mills Trainer Rachael Newsham's Beauty Routine
Popular Les Mills instructor Rachael Newsham is all about finding balance - and having fun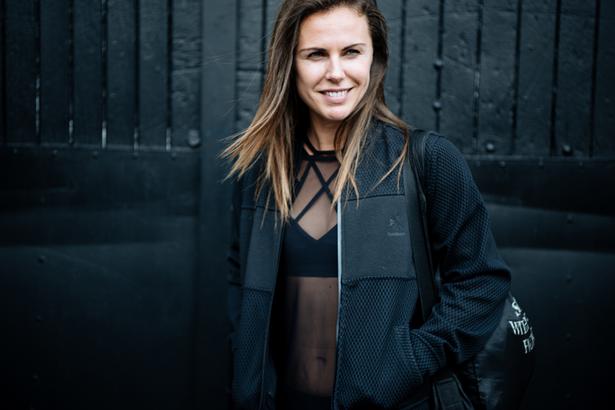 Monday Sept. 25, 2017
With a mission to help others fall in love with fitness, Rachael Newsham's beauty ethos is the same as her approach to exercise: all about balance and enjoyment.
The fitness instructor at Les Mills Auckland City is a popular face at the iconic inner city gym, helping shape the development of the famous Les Mills Bodycombat and Sh'Bam classes and programmes.
Frequently travelling the world to teach her skills and choreography to others, Rachael recently travelled to East Africa with Unicef, as part of an upcoming "exercise marathon" in November, to raise money for the charity.
First makeup memories
I was around 7/8/9 years old, and rummaging around in my mum's bedside draw, where she kept all her Oriflame eyeshadows and makeup. I think back in the 80s, the colours were silver and blue? I used to paint my face up pretty terribly, but at the time, I thought it looked great! The lip colours were mainly coral… Ah yes, the 80s!
Beauty ethos
I tend to think along the lines of: we are all born beautiful and makeup enhances that beauty. Some days, as a woman, you feel on top of the world and you don't feel the need for much, and other days, you get the urge to apply all the fancy things to your face and dial up the diva side.
Everyday makeup routine
My daily routine is a daily SPF15 moisturiser, Benefit eyebrow shading, mascara, matte bronzer on the high part of the cheek bone and a lip balm. Working out with makeup on looks cool, but I hate the way my skin can't breathe under all the layers. And I forget it's there and smudge everything as I wipe my face with my T-shirt!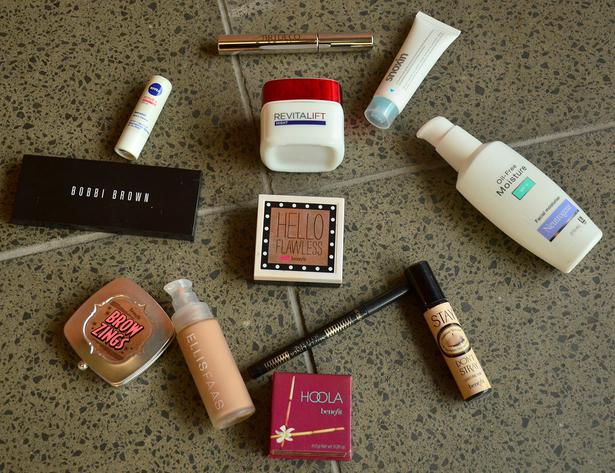 Rachael's favourite beauty products. Picture / Supplied

Top five beauty products
I always use a great night cream, one that feels rich. It makes my skin look happy in the morning. At the moment I have been using L'Oreal's Revitalift, with major anti-ageing ingredients. It's only this last year I decided it was time to dial up the night creams; I always used to use the same day cream at night.

I have started using a gel called Snoxin around the wrinkles – it is more about making me feel like I am showing the wrinkles some love – and to be honest, it does look like it works well when I use it. It's quite pricey, having a beauty regime, so I try and keep things simple and use sparingly.

I love Benefit's 'Stay Don't Stray' eyeshadow primer. I have combination skin, and the oils make my eye makeup slide off before I've even finished. This stuff ensures that it goes nowhere! It is fab.

I am a major fan of the PawPaw balm in the red tube. It is pure lush for my lips, and great to travel with, for any skin irritations or bites/stings etc.

I can't get past Nioxin hair products – my hair feels healthy and happy when I use it. It's because my scalp gets treated well, and nourished and not covered in extras. Well, that's my impression anyway. I really notice the difference when I travel and run out and have to use shampoo from the supermarket.

Day-to-night beauty look
I actually use foundation cream, then translucent powder, three different eye shadows, black liquid eye liner on the top lid, white on the inside of the bottom lid, mascara, eyebrow shadow and eyebrow wax (to make sure it stays in place). I add bronzer on the high cheek, a little blush on the apple of the cheek – then a lip colour to make the look complete.

Skincare routine
It's terrible...I wash my face with a face cloth in the shower, using the Johnson & Johnson shower lotion, then moisturise. No cleanse or tone for me!

Best beauty trick picked up on the job
Exercise and hydration! Water – drink it, if you want plump fresh, hydrated skin. If you feel like your skin isn't glowing, cut the sugar, the booze and drink more water. Give it five days and you will see the difference.

Secondly, workouts affect your mood; mood is relative to hormones and hormones affect your skin. If your skin's feeling dull and you're lacking in 'good vibes,' it's time to get your heart racing.

I have two go-to workouts: My Sh'Bam dance workout – which puts me in my happy place. I don't even realise I'm working out because I'm having fun and time flies. The second is Bodycombat, which I love for its ability to release tension and lift my mood instantly. Basically, if you look after the inside, the outside shines.

Style and beauty evolution
Always dress to suit your mood – it keeps things fresh. There's one thing women can really rely on changing. If you want to feel relaxed, wear comfy clothes. Note: comfy can't be grubby. Make sure it's not your 10-year-old trackies! If you want to feel in control, dress up smart and wear a small heel. Heels to women are like the hammer to Thor.

Hair routine
Bronwyn Illingworth-Kronfeld from Toni & Guy Auckland is one of my bestest friends, and has been responsible for the awesomeness that my hair is when I film my workout classes for Les Mills. She was there from the beginning and really helped me push the envelope of design and creativity. However, that kind of hair takes hours, and these days we just don't have that amount of time anymore.

Jules Armishaw is a hair and makeup magician and somehow manages to make me look fresh and stylish from head to toe inside 45 mins, and it's always different every 12 weeks. When I am not filming and want to feel a wee bit spesh, I hit up Hala at Wolf & Wolf for a blow dry. I have fine hair, and she makes it look like I have so much more.

Lifestyle balance
Well that's it really. I try and find it – I chase it – it escapes me. I work a lot overseas, which means my time here in Aotearoa is precious and limited. So, I live a diet of everything in moderation – denial equals disaster for me.
Share this:
More Beauty & Wellbeing / Features & Profiles