Lily Kate Vallance's Beauty Routine
All things vintage inspire the beauty routine of Lily Kate Vallance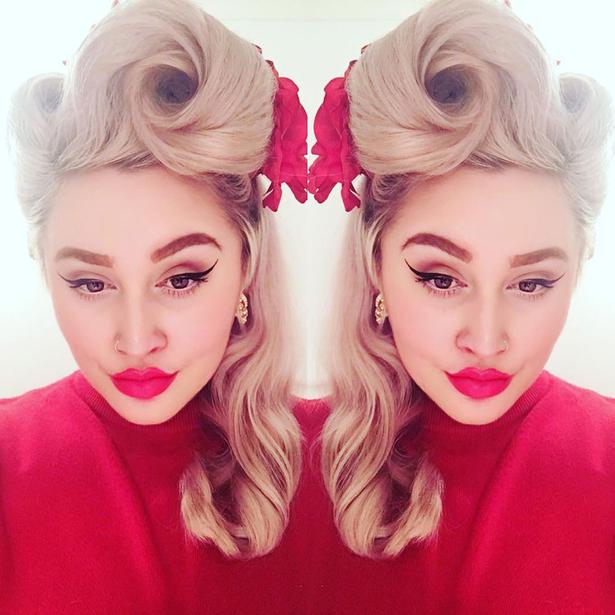 Wednesday Oct. 5, 2016
Auckland-based illustrator and graphic designer Lily Kate Vallance discovered her love of vintage in high school, and has never looked back.
"I loved the way the clothes fit me, being an hourglass. I love that it's such a classic, timeless look that embraces femininity and what makes me feel confident as a woman. I love that it's inclusive and promotes body positivity, and any shape and size is encouraged," she says about the pin-up lifestyle and beauty look she has adopted.
The 23-year-old grew up in the small beachside town of Whananaki, outside of Whangarei which she says had the most amazing opshops, full of authentic vintage garments.
She works as a full-time graphic designer and is in the process of illustrating a children's book. She also models for pin-up reproduction stores and reviews reproduction vintage clothing and lingerie brands via her Instagram account. Here Lily shares her top beauty tricks and the products she loves most.
Beauty ethos
I find people the most beautiful when they look comfortable with themselves. Beauty is so subjective — how I do my makeup everyday may seem gorgeous to one, and overdone to another. But I feel beautiful, confident and embrace each day comfortable with who I am. I find beauty in the unique, the quirky, and the glamour of Old Hollywood. I love dressing up every day — often people ask "what are you all dressed up for?" I just reply "life!" The idea of creating and embracing this look you love, and living it authentically — that is the essence of true beauty for me.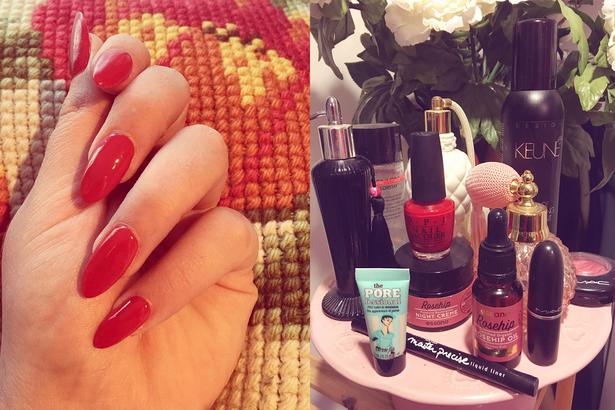 Makeup routine
'Pin-up', or a more classic vintage makeup look, is all about a matte base, defined brows, winged eyeliner and a matte lip.The products I use may change, but for me that is always the end goal. My daily morning routine goes something like this:
Prep: I have combination skin that tends to get dry after my lengthy showers so I try to keep it hydrated. My skin seems to be loving the Essano range — I use the Moisture Restoring Night Creme before bed and wake up with super happy, hydrated skin in the morning. Then before I pop my primer on, I'll use its Regenerating Facial Moisturiser.
Prime: Then I'll prime before my foundation using Benefits POREfessional Pro Balm. I've found this primer a saviour for those days that turn into nights out. My makeup stays intact and doesn't slide off my face.
Base: I get bored of using the same foundation all the time, so I switch it up regularly. At the moment I'm using Clinique's Super Balance Silk in 'SilkShell 02', it's such a smooth formula and sits on the skin, not sinking into pores. I apply this with a Clinique foundation brush, and it builds up really nicely, staying matte and not caking.Then I'll brush a little M.A.C Studio Fix powder along my T-Zone to control oil and set my foundation.
Blush: I apply a rose blush on the apples of my cheeks, using M.A.C Mineralise Blush in 'Please Yourself'.
Brows: I have quite thick brows naturally so usually I just define their shape by tracing along the arch and the beginning of my brow with NATIO Precision Brow Marker in 'Fair'.
Eyes: For the more everyday routine on my eyes I'll start with a cream/neutral shadow and cover my eyelids right up to the brow, then I go in with a light earthy tone in my crease, adding a darker brown on the outer edge. While working that in, I blend up and out towards my brow. One of my favourites at the moment is the Smashbox Glam Femme Photo Op palette. After shadow, I use the Elizabeth Arden Bold eye pencil in 'Platinum Glow' in the corners of my eyes to brighten, along my water line, and along my brow line to clean up and define the arches of my brows.
Liner: Eyeliner is probably the thing I am the most particular about as I use it everyday and need it to be easy to apply and long-lasting: this pin-up has places to go and I don't have time to re-do my winged liner three times every morning before I leave the house. I haven't found a liner that works better for me than Maybelline's Master Precise Liner with the 0.05 tip. You can get it from most chemists, it's relatively inexpensive, works like a felt liner, is true black and has the tiniest nib for the sharpest wing.
Mascara: After liner I apply mascara to my top and bottom lashes, using Smashbox Full Exposure.
Lippy: It depends on what I'm wearing but three of my main go-to lipsticks are are Antipodes' 'Hungry Like a Wolf', M.A.C 'Flowerscope' and Besame's 'Blood Red'. I always completely fill in my lips with a liner that coordinates before I apply my lippy that day — It really helps a lipstick stay put and prevents the colour bleeding from your lip line.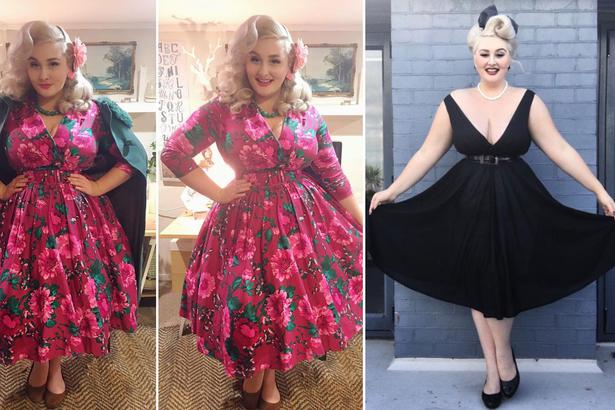 Best beauty trick
I do a lot of styling with my hair during the week, and being platinum blonde I need to take extra care of it. A hair mask once a week does wonders; I usually shampoo as normal, then lather my hair in a hair mask or coconut oil on a Sunday night. I will pop a shower cap on and go about my normal routine — super glamorous, I know. I wash it out an hour or two afterwards and my hair is silky smooth and ready to tackle another week of styling.
Style and beauty evolution
I started really getting into vintage pieces through opshopping when I was at high school. I come from the north and there are opshops galore up there, with some real 50s and 60s treasures. Over time I've narrowed down the eras I prefer to take inspiration from — I just don't feel myself or comfortable in a lot of modern clothing cuts anymore. Hair and makeup are also a journey: I look back on my first attempts at victory rolls and roller sets and have a giggle. Vintage styling is fun to have a play around with — it's definitely a case of practice makes perfect. Over time I've just refined the skills and got a lot quicker in the process.
READ: Celebrating Individual Beauty
Victory roll tips
Back comb! Back comb! And when you think you are done, back comb some more! Victory rolls are all about having a good base to start from, and all that teasing keeps the roll from collapsing, splitting, and falling flat. Section out your bangs, then take one-inch sections of hair and back comb from the root up. If your hair is too clean and has no product/oil build-up (vintage styles are always easier with day-old hair), spray a bit of hairspray at the roots before you back comb each section. Then using a soft bristle brush, lightly smooth over the hair before you begin to roll. Also, long bobby pins are your best friend.
Cat-eye tips
First: breathe — it's only liquid liner and you can do this. Start with an easy-to-use liner like the felt-tip pen style I mentioned above in my morning routine — this ensures you don't have to worry about fiddling with pottles and brushes, etc. I like to draw the wing with my eye open so I can see how it will sit. Start small, you can always thicken the line up, and keep a small cotton bud with makeup remover nearby for any touch-ups.
Share this:
More Beauty & Wellbeing / Features & Profiles