Local Brand Glow Lab Haircare Gets A Glow Up
The salon-quality supermarket brand has undergone a facelift of sorts, revealing its most effective haircare formulas yet
SPONSORED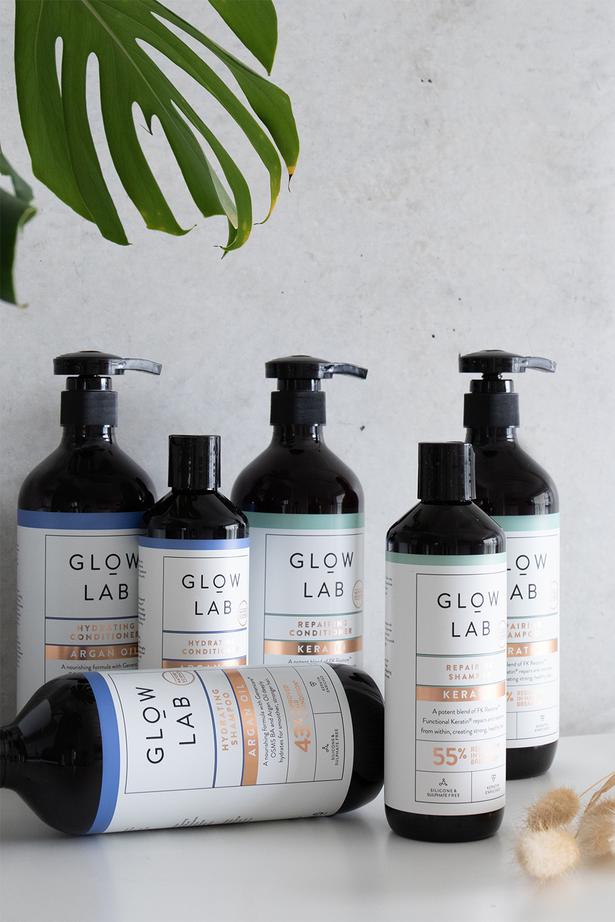 Thursday Sept. 16, 2021
It comes as no surprise that lockdown has left us feeling a little bit lacklustre lately. Missed hair appointments, overgrown bikini lines and too-bushy brows (if that's even a thing) have us dreaming of Level Two's imminent arrival (Aucklanders at least). Thankfully, salon-worthy hair is within immediate reach (in your nearest supermarket aisle) with Glow Lab's recently renovated haircare range.
Glow Lab is somewhat of a triple threat — hitting the sweet spot with its range of natural haircare products that are clinically proven to deliver real results but at an accessible price point compared to other salon-only brands. At only four years old, you may think the brand would be too young for a facelift, however Glow Lab brand manager Fenella Brown says its glow up was timely.
"We gave our shampoos a glow-up and updated our packaging to dial up the advanced ingredients that make these products much more than just another natural haircare range," she says.
"Our team has created a beautiful new shampoo formulation which combines the best of nature, perfected by science. We really are challenging the misconceptions that natural haircare doesn't deliver results."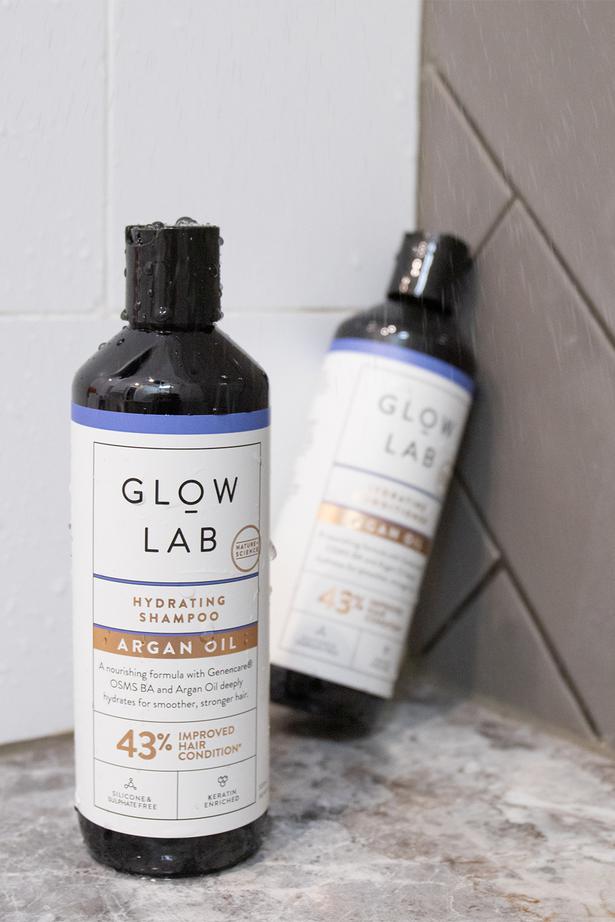 NEW LOOK, NEW FORMULA
As pleasant to look at as they are to use, the four newly relaunched shampoo and corresponding conditioner variants come housed in new-look packaging that won't go amiss in your next stylish shower #shelfie. Whether you're in need of something a little Hydrating or Repairing, an active formula to meet the needs of Thick & Full tresses, or a Purple range to fend off brassiness and yellow tones — these four hair heroes have something to suit.
Natural, active ingredients need not be reserved for skincare solely, rather their use in Glow Lab's four shampoo variants is to ensure efficacy that matches that of most salon brands (but minus the harsh chemicals). Plus, they act as the perfect complement to the existing Glow Lab hair selection of leave-in conditioners, hair masks and hair serums to round out a range that recruits natural ingredients to leave hair feeling nourished, hydrated and protected
THE LINE-UP
Most of us will have a mental checklist of sorts to tick off before we dabble in a new brand, so you'll be delighted to note Glow Lab has a few credentials worth noting. Each of the no-nasties formulas are developed minus silicones, sulphates and parabens, are cruelty-free, and are made right here in Aotearoa.
So, without further ado, let's meet the crew, shall we?
Hydrating
Dry, winter-ravaged hair is no match for this deeply hydrating duo. Brimming with nourishing actives like argan oil, keratin, vitamin E and Genencare® OSMS BA (Betaine), an active proven in an independent in lab study to improve the condition of hair strands by 43 per cent after just one treatment. Farewell frizz, hello silky, smooth, hydrated locks.
Repairing
Send in the big guns with this naturally strengthening blend that restores condition to damaged hair. With clinically-proven FK RestoreTM Functional Keratin at its core, this unique formula deeply penetrates the hair shaft from the inside out reducing breakage by 55 per cent after one treatment, as proven in clinical trials. This hero ingredient is flanked by omega-rich rosehip oil which helps form a protective shield to fortify hair and reduce future breakage.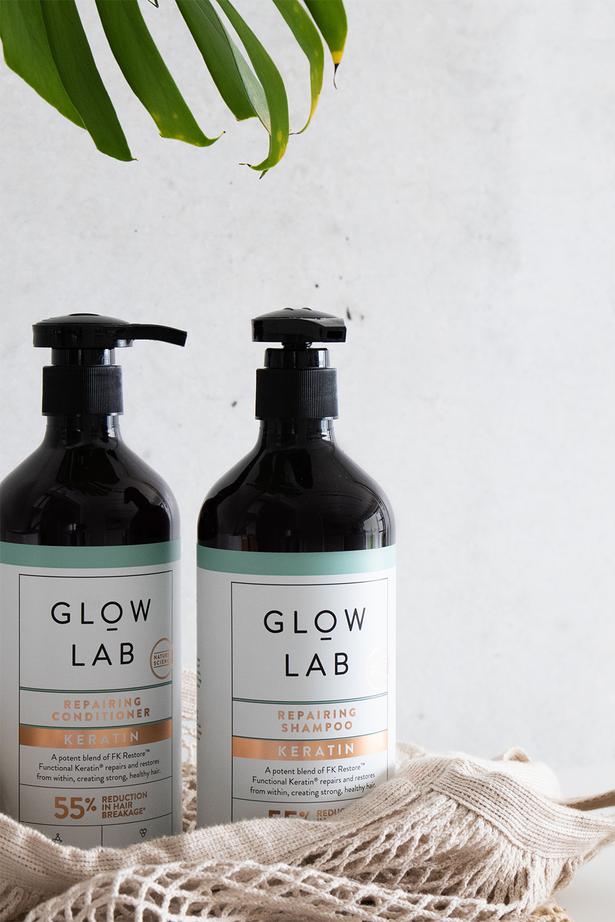 Thick & Full
Stress less about thicker tresses with this naturally reviving formula designed with thicker, fuller hair in mind. Brimming with powerful plant actives including collagen-boosting niacinamide for extra body and bounce; Rice Tein NPNF, a vegan friendly form of hydrolysed protein that's clinically proven to increase hair volume by up to 32 per cent after five treatments; argan oil to smooth the hair strand and lend shine; and amino acid betaine to add weightless moisturise.
Purple
No matter if you're blonde, silver or grey, purple shampoo is a must to keep tones cool and never brassy. This violet-hued shampoo colour-corrects while it nourishes — neutralising yellow or brassy tones for a shade that appears cool, creamy and more vibrant. Loaded with conditioning ingredients like keratin, betaine, vitamin E and pro-vitamin B5, colour-treated hair remains healthy and hydrated.
ARE YOU A GLOW GETTER?
Inspired by and created for the people, Glow Lab is on the hunt for its newest influencer — you! The new Glow Getter Programme offers you the opportunity to receive influencer kits, be the first to trial new, innovative products and have the chance to be included in Glow Lab's photo-shoots.
Head to Glowlab.co.nz/glow-getters for more information, or join the Glow Getters Facebook group *HYPERLINK*, where you'll be the first in-the-know for all things Glow Lab.
The new-look, new formula Glow Lab Shampoo and Conditioner range is priced from $15 for 300ml, or $28 for 600ml (available in the Hydrating and Repairing ranges only). Each is available from supermarkets and The Warehouse stores across Aotearoa now.
For more information, visit Glowlab.co.nz, or sign up for the Glow Getters Facebook group here.
Share this: