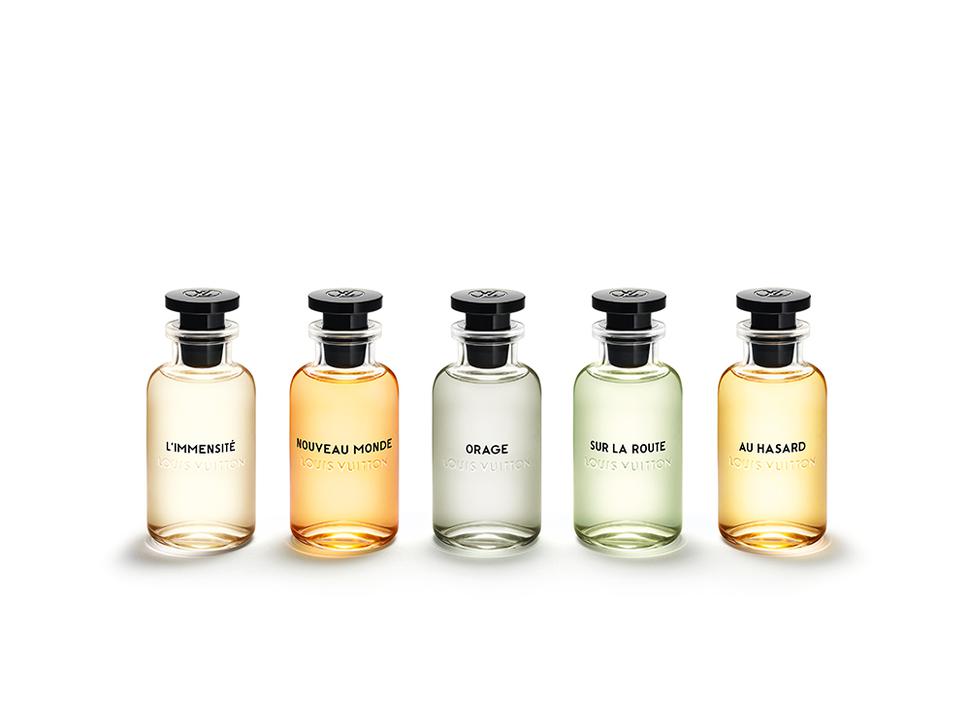 Louis Vuitton Has Released Its First Fragrances For Men
The luxury brand's perfumer searched the globe to uncover the finest natural ingredients for the five new fragrances
Wednesday May 30, 2018
 It took Jacques Cavallier Belletrud two and a half years to track down oud of a quality he was happy to use in one of five new fragrances he has created for Louis Vuitton.
The search for this prized perfume ingredient led to Assam, but finding an exceptional example was far from mission accomplished. The master in-house perfumer was told obtaining a supply was "complicated". The Bangladeshi family who had been producing oud oil for 100 years wanted to know if their extracts of the intense resinous agarwood would be in good hands.
READ: How To Find Your Signature Perfume & Popular Scents Right Now
"I said, 'I like it. I like it very much because this is my way of working.' I think in luxury, it's the way of doing things and being perenne [sustainable]," says Jacques. He arranged for the family members to visit the French home of perfumery in Grasse to judge if they were "compatible".
Convinced, they agreed a deal whereby the luxury goods house buys their entire production, with money supporting a small village in keeping its traditions alive.
"There are many things in the bottle. In this oud, is their story, their history," says Jacques.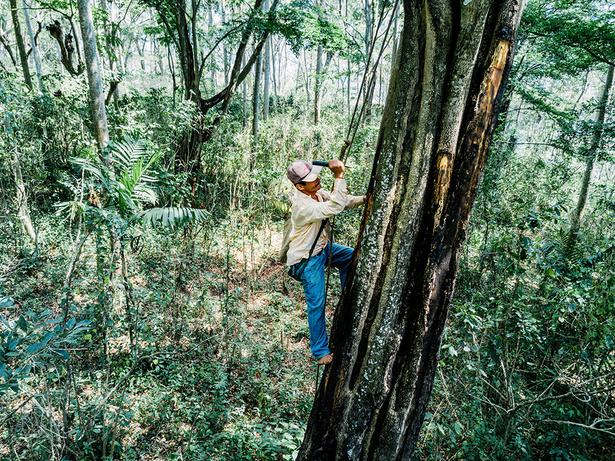 Extracting balsam resin in Guatamala. Photo / Supplied

"It gives me a great duty to try and do exceptional things." He is speaking about Le Nouveau Monde (a unique mix of oud, cocoa and saffron), but the same pride and passion went into the creation of each of the fragrances. Although these have been designed with men in mind, as with the collection Jacques created for women in 2016, their appeal crosses gender boundaries.

READ: Favourite Things: Curionoir's Tiffany Jeans

"For me, smell has no sex," he explains. Stereotypical approaches of men's fragrances: sporty, airy, urban and so on have been swept aside in favour of a more experimental approach. "Today, if we look at fashion, for me we see a lot of colours, we see a lot of flowers, we see a lot freedom. Less conservative. Much more creative. I think it's time for perfumes for men to be in the same mood."

Jacques says this means making sophisticated choices, with the wearer seeking out scents with unique qualities that add to his personality.

This son and grandson of perfumers — who has created noted scents for Giorgio Armani, Issey Miyake, Yves Saint Laurent, Stella McCartney and more — first came to Louis Vuitton in 2012. He set up their perfumery in a historic Grasse estate, Les Fontaines Parfumees, which he remembered from his childhood.

It comes complete with one of the springs that gave this town water for its start in both leather tanning and the steam distillations of flowers long grown in surrounding fields. The two crafts are linked from the old practice of perfuming leather gloves.

READ: Meet The New Artistic Director of Louis Vuitton Menswear

No surprise then, that Louis Vuitton, which began its luxury empire in making leather goods, also has a history with perfume; albeit only rekindled after a nine-decades long hiatus when Jacques joined the house.

For him, perfume-making is inextricably linked with history, culture and especially emotion. The search for these triggers has taken him across continents. From the Middle East and India, regions from where perfumery was invented thousands of years ago, to Asia, Africa and South America, home to rare ingredients or exemplary examples of more common ones.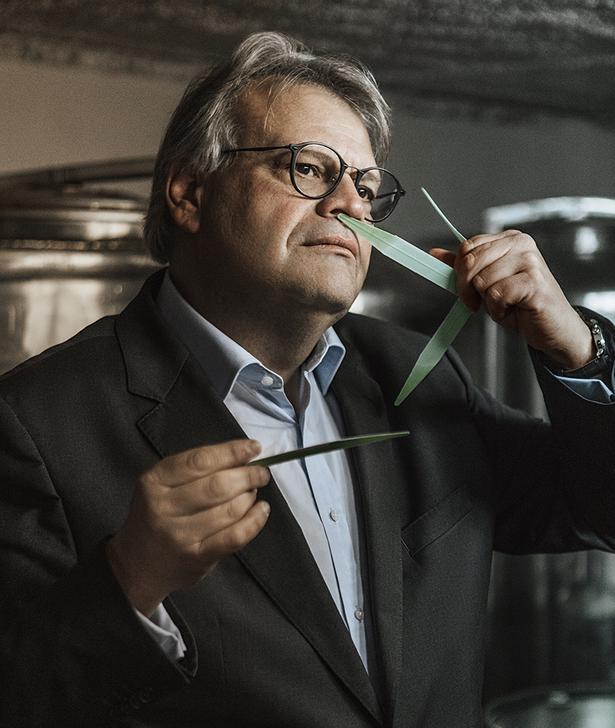 Master perfumer Jacques Cavallier Belletrud smelling the goods. Photo / Supplied

He has sourced ginger from Nigeria; a vegetal amber known as labdanum from Spain, and cocoa from the Ivory Coast. It was on one of several trips to Guatemala that the idea of using cocoa and oud together first came up, inspired not by the ingredients he was looking for there, but by the intense taste of a traditional Mayan hot chocolate drink enjoyed on a rest break.

The trip also yielded supplies of cardamom and Peru balsam, the later confusingly named because in earlier centuries it was transported from Guatemala and El Salvador through Lima, Peru for shipment to Europe.

The balsam is still collected in a very old way, high in trees that have sections of bark skinned off and the wood partially flamed. Cotton is applied to the tree wound to collect the resulting resin, then the cloths are immersed in water and later put through a wooden press to yield the oil. It has an incense-like aroma and was used in traditional medicine and cooking.

READ: How to Make Your Own Perfume Balm

"The smell of this oil is really something unique," says Jacques. It softens to a masculine aroma "like when you are wearing a very nice piece of leather".

The search for quality to enhance the modern popularity of citrus scents took him to Calabria in Italy. This southern region is famed for its bergamot oil, made from the bitter-sweet, orange-sized fruit that is coloured yellow or green.

As well as giving Earl Grey tea its distinctive taste, bergamot is much used as a perfume top-note. While visiting growers, Jacques came across what he thought were giant lemons, but he was told they were cedrat, a lemon precursor, originally from China. The crisp, fresh aroma excited him. "The lemon [in some perfumes] sometimes smells like dishwash, [or] carpet cleaners, which is not very positive."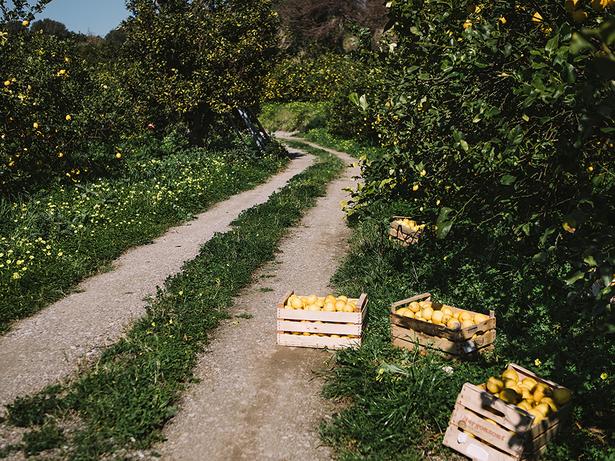 Citrus in Calabria, Italy, en route to transformation into perfume oil. Photo / Supplied

What he discovered in cedrat was an appealing verbena-like touch. "When you eat frozen lemons in Italy as a sorbet, you have this feeling. I wanted to reach this in a perfume." So he added cedrat to his bergamot order and then decided to blend it with Peru balsam. These are the key notes in Sur La Route, which is a study of contrasts, something he aims for in all his fragrances. In this case, crisp citrus sparkles off balsam's depth.

Of the remaining three fragrances, L'Immensite is a spicy oriental that juxtaposes the freshness of grapefruit with ginger and amber. The woody Orage has the powdery softness of iris over a patchouli base and Au Hasard is a musky ode to sandalwood, with "feelgood" cardamom added.

READ: We Meet Christine Nagel, Master Perfumer

This collection comes in refillable bottles, a point Jacques insisted upon to recognise that these were crafted objects, on which energy had been expended. "I don't want to see any Louis Vuitton thing in the garbage!" Refilling a bottle also makes it more personal and treasured, he says. "As it was 100 years ago, or 200 years ago."
The men's collection is exclusive to the Louis Vuitton boutique, 56 Queen St, Auckland, from Thursday May 31. 
Share this:
More Beauty & Wellbeing / Features & Profiles